The muzak: Sleep All Day - Jason Mraz


September 30, 2005
[@] <-- supposed to be a camera.

its fall break and i don't know why i'm up so early! i woke up at around 7:30am. so here i am, uploading some more pictures that have accumulated in my camera.
yesterday was a really good day so i bought 2 pairs of earrings! euphoria leads into impulsive shopping. and i reserved a skirt at zara cuz it was perfect for international night. yay! i'm soooooooo excited.

PICTURES!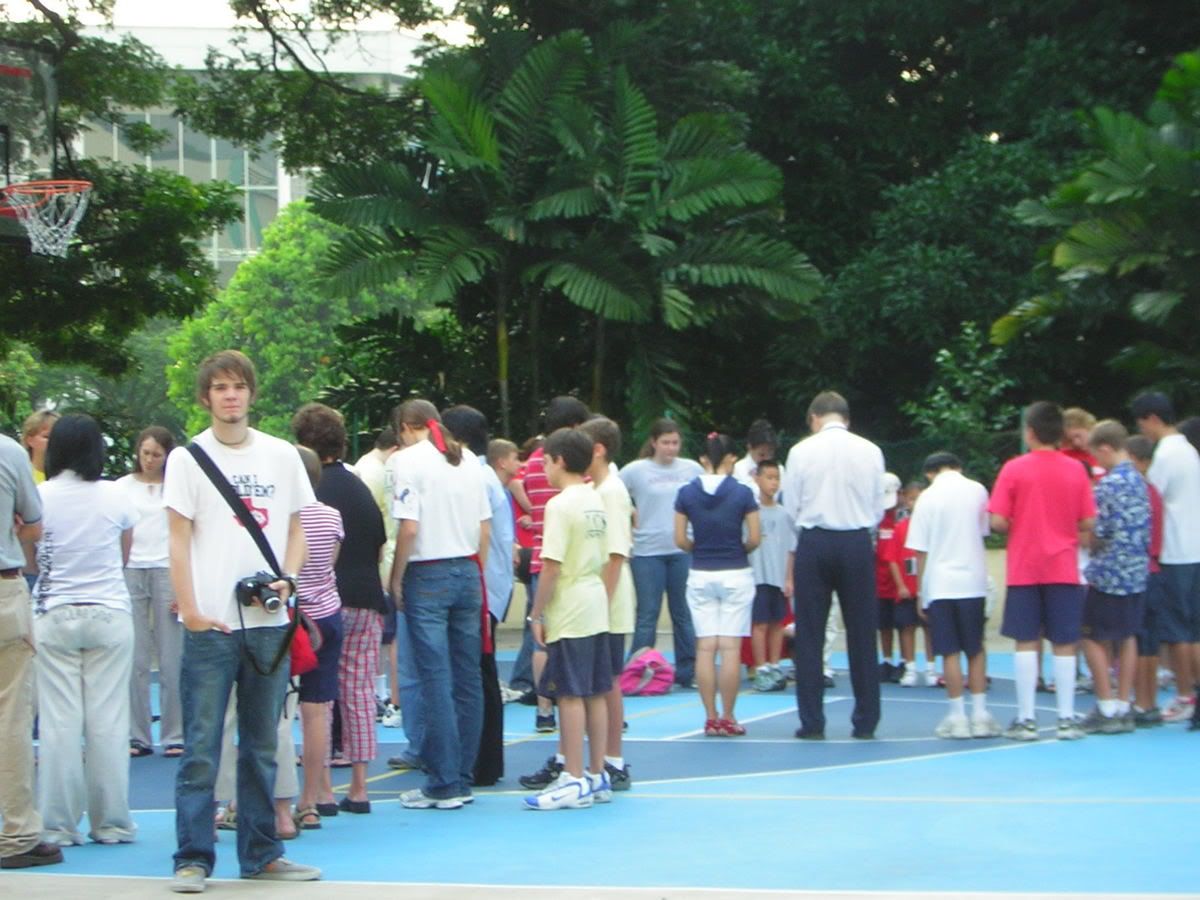 See You At The Pole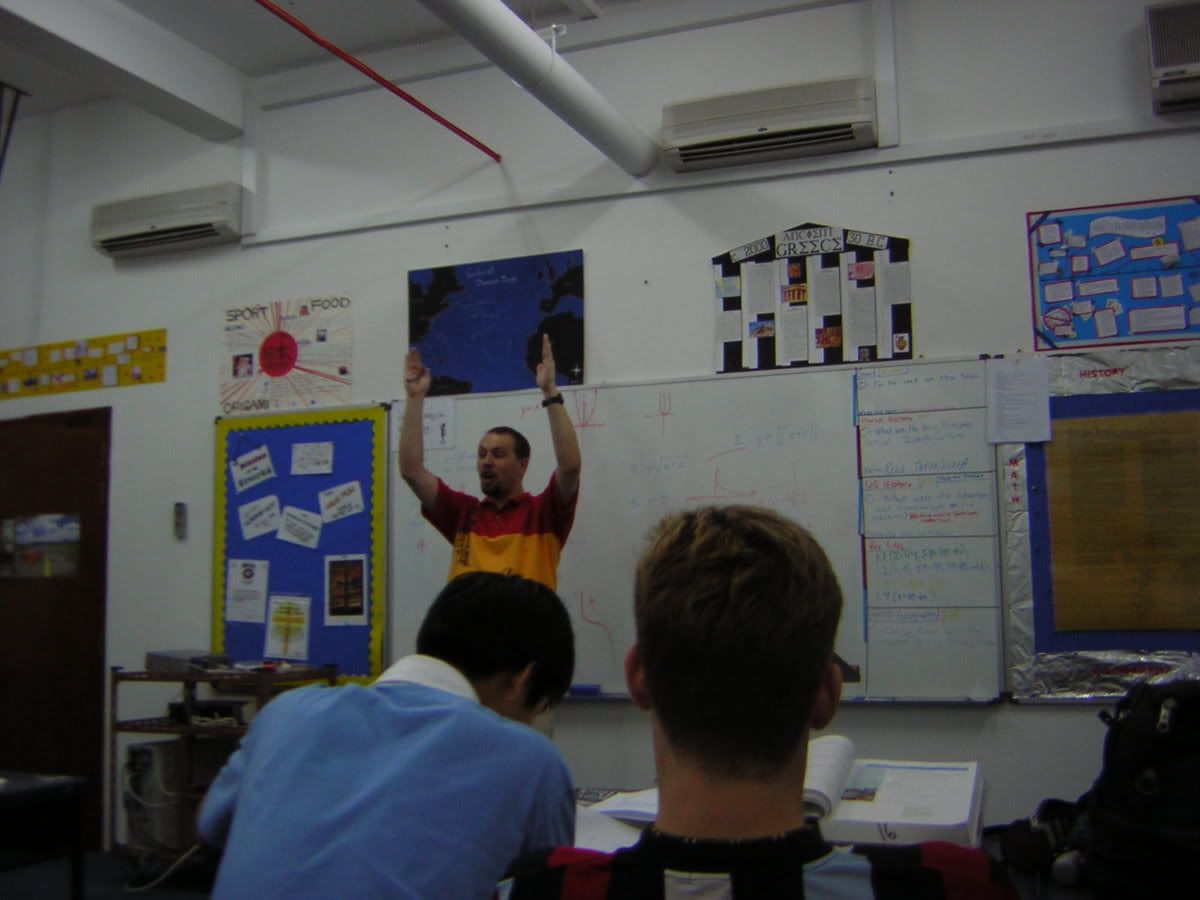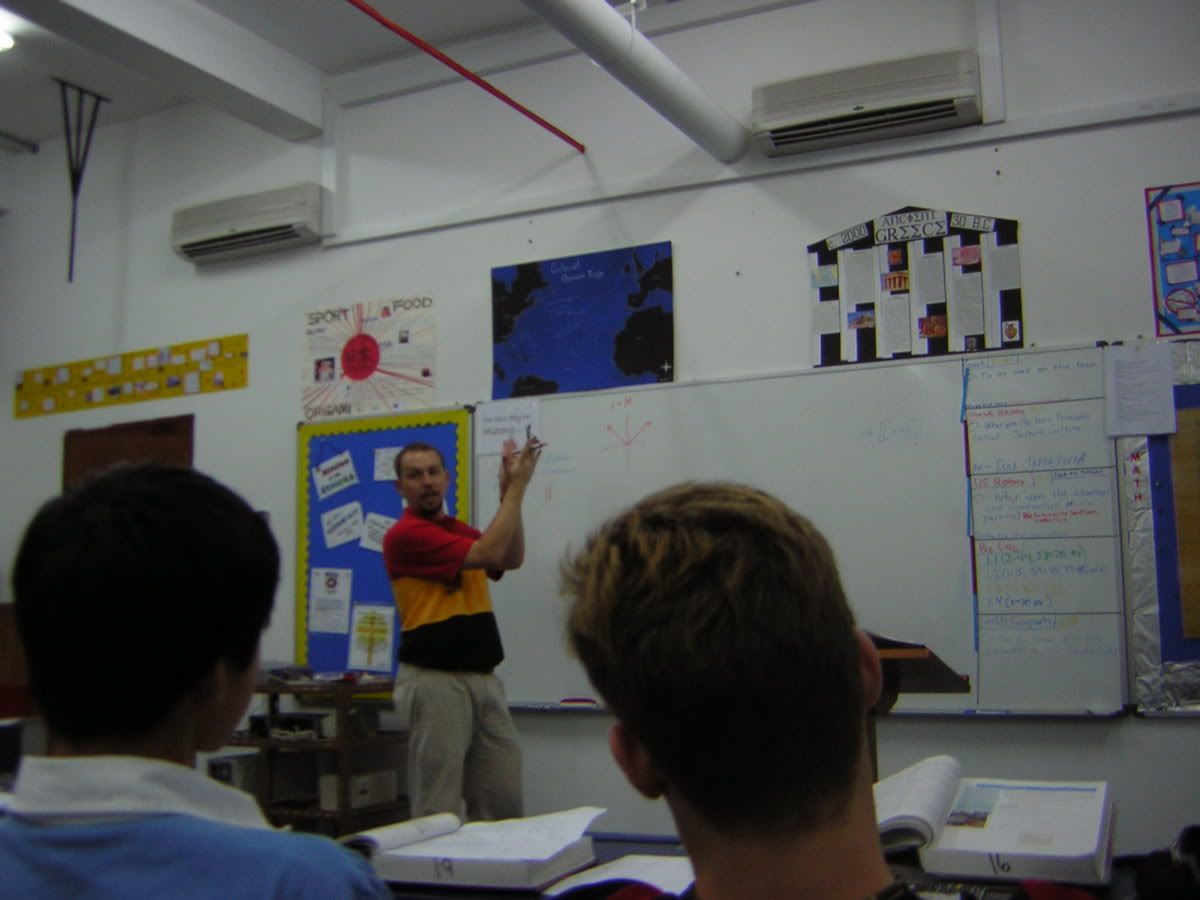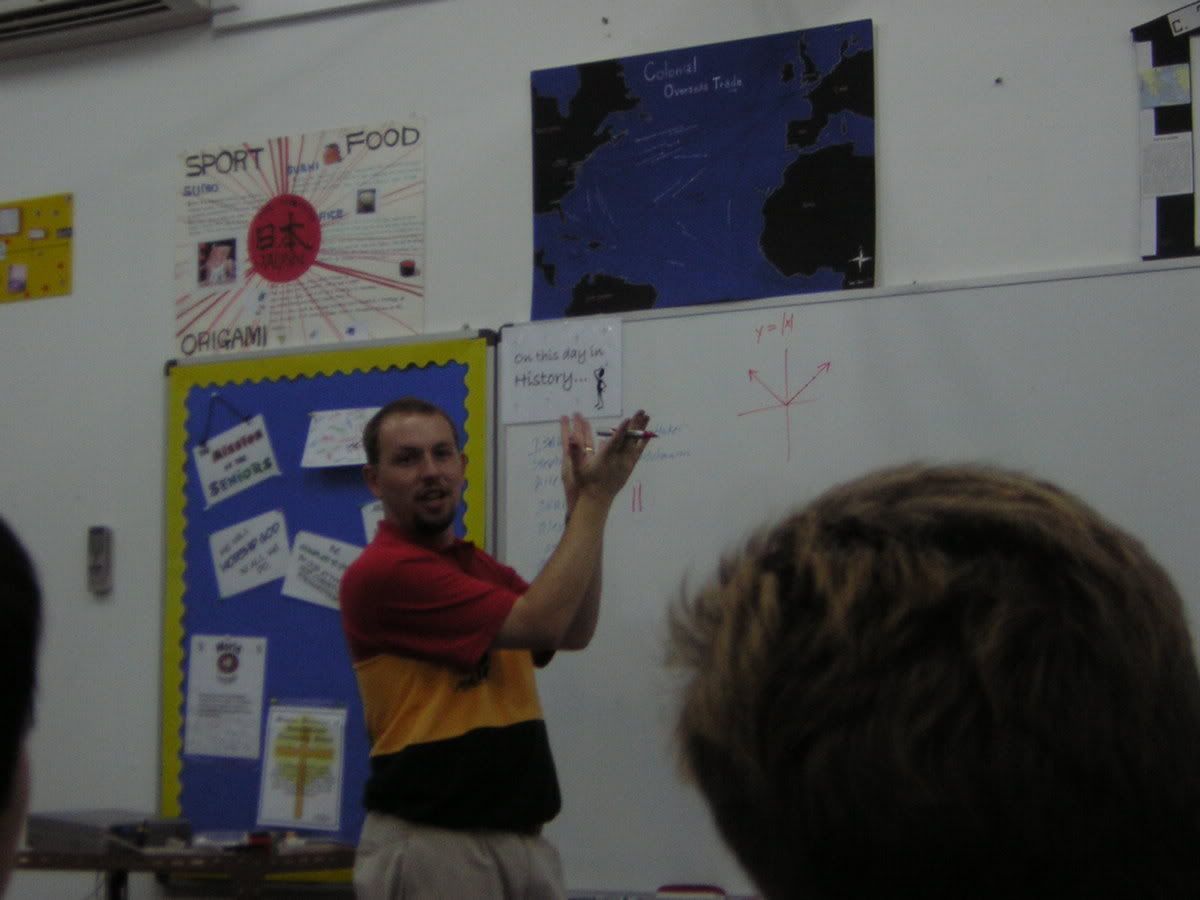 weird poses by The Math Teacher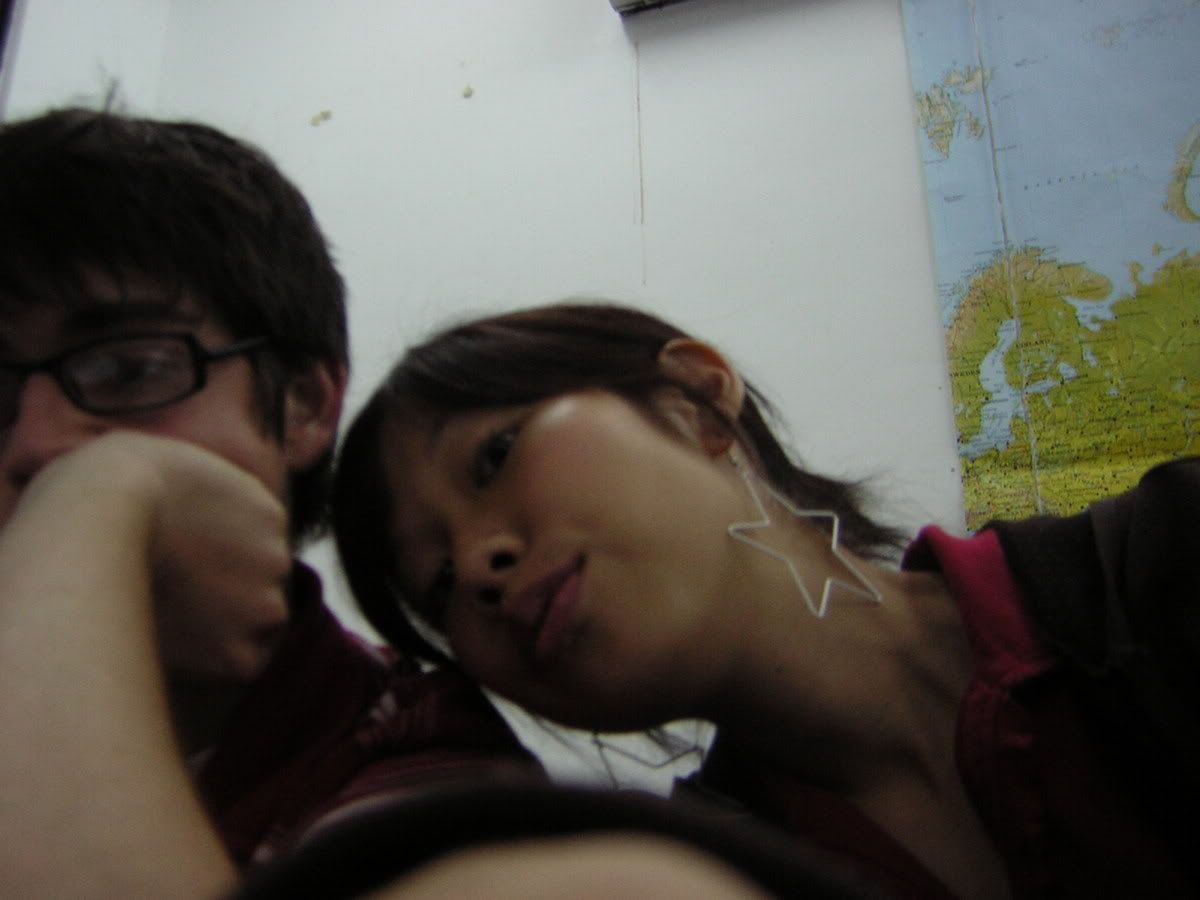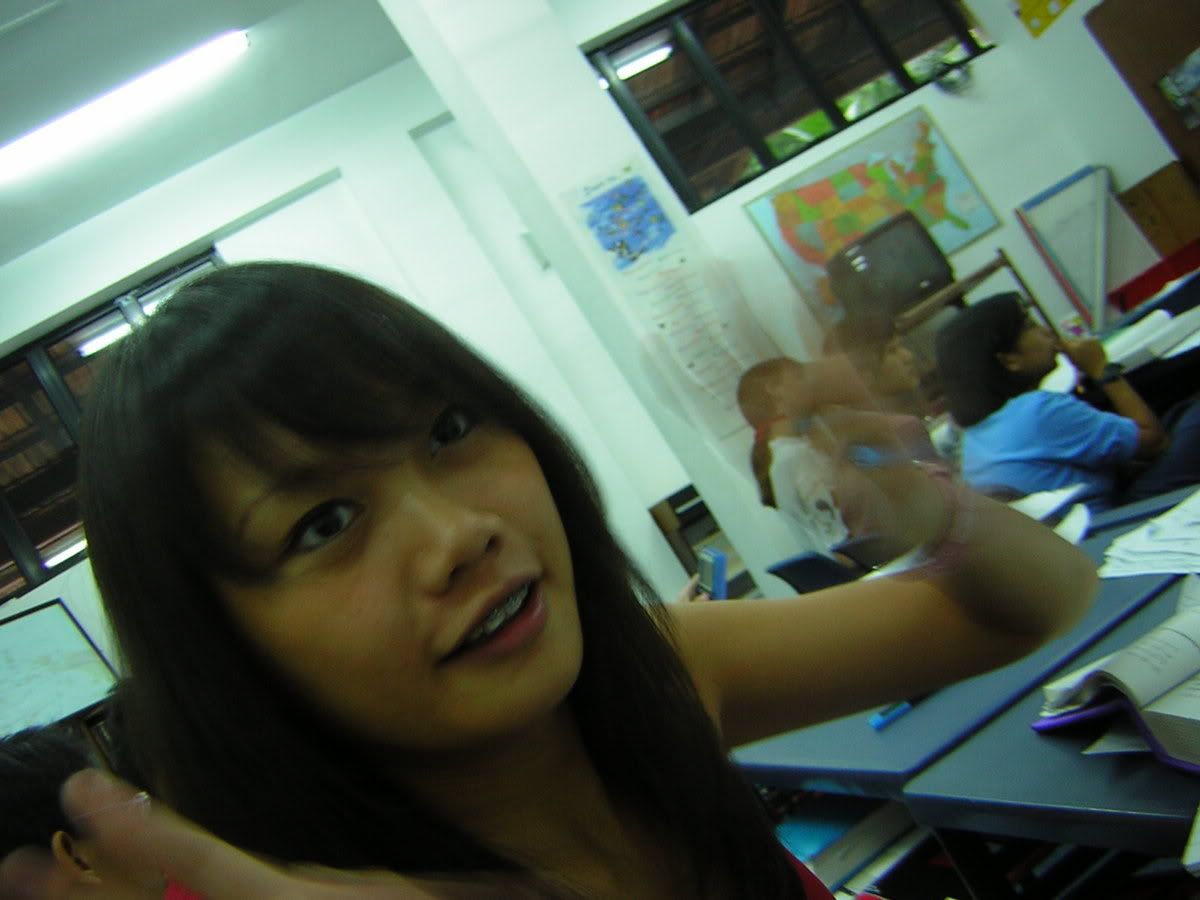 math class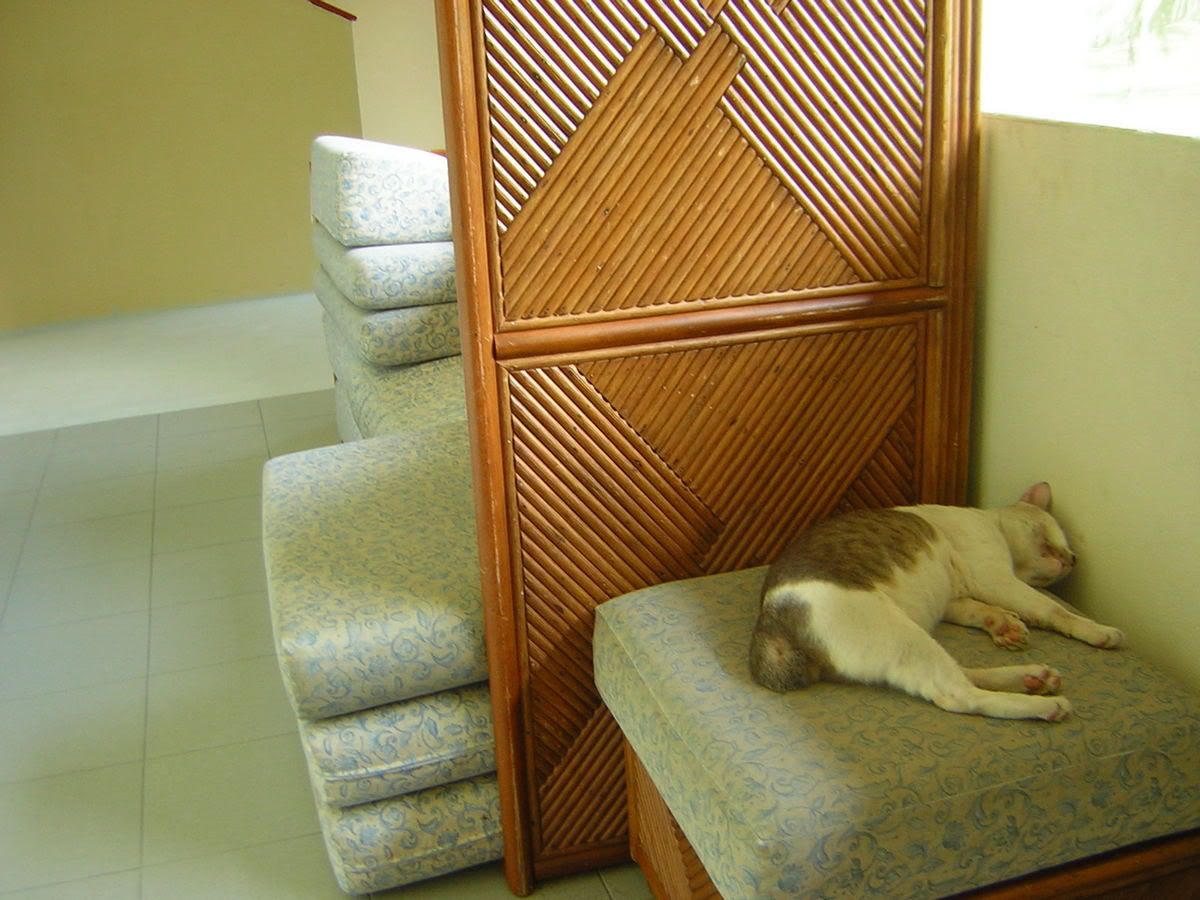 stray cat outside the library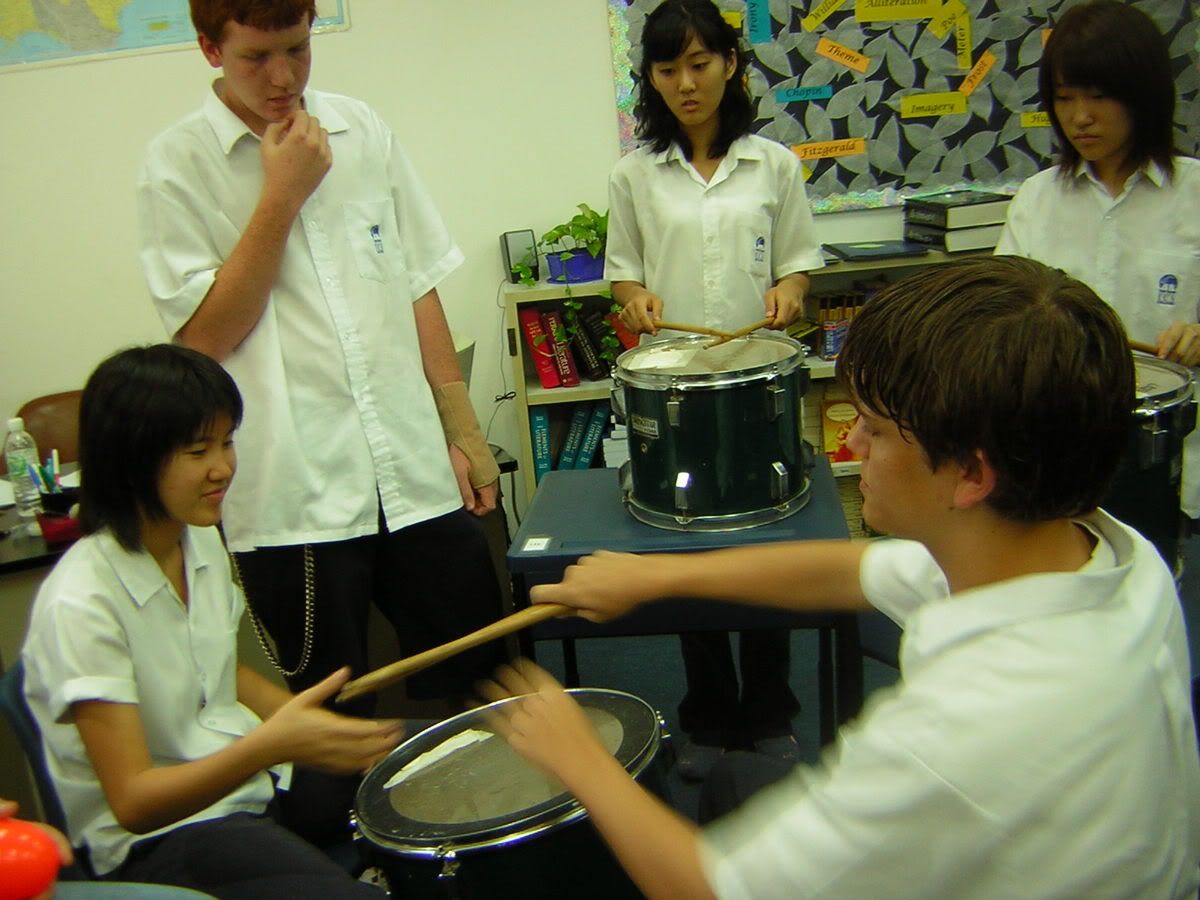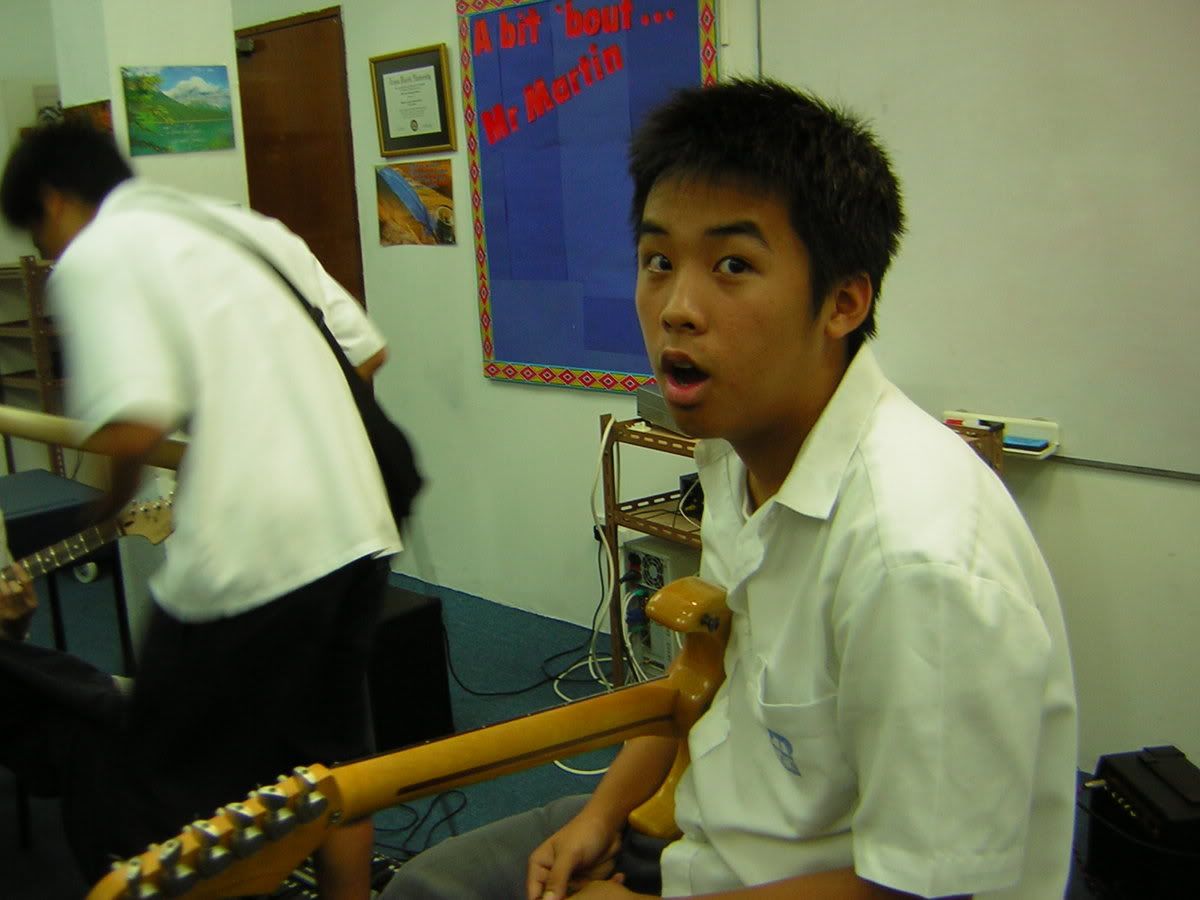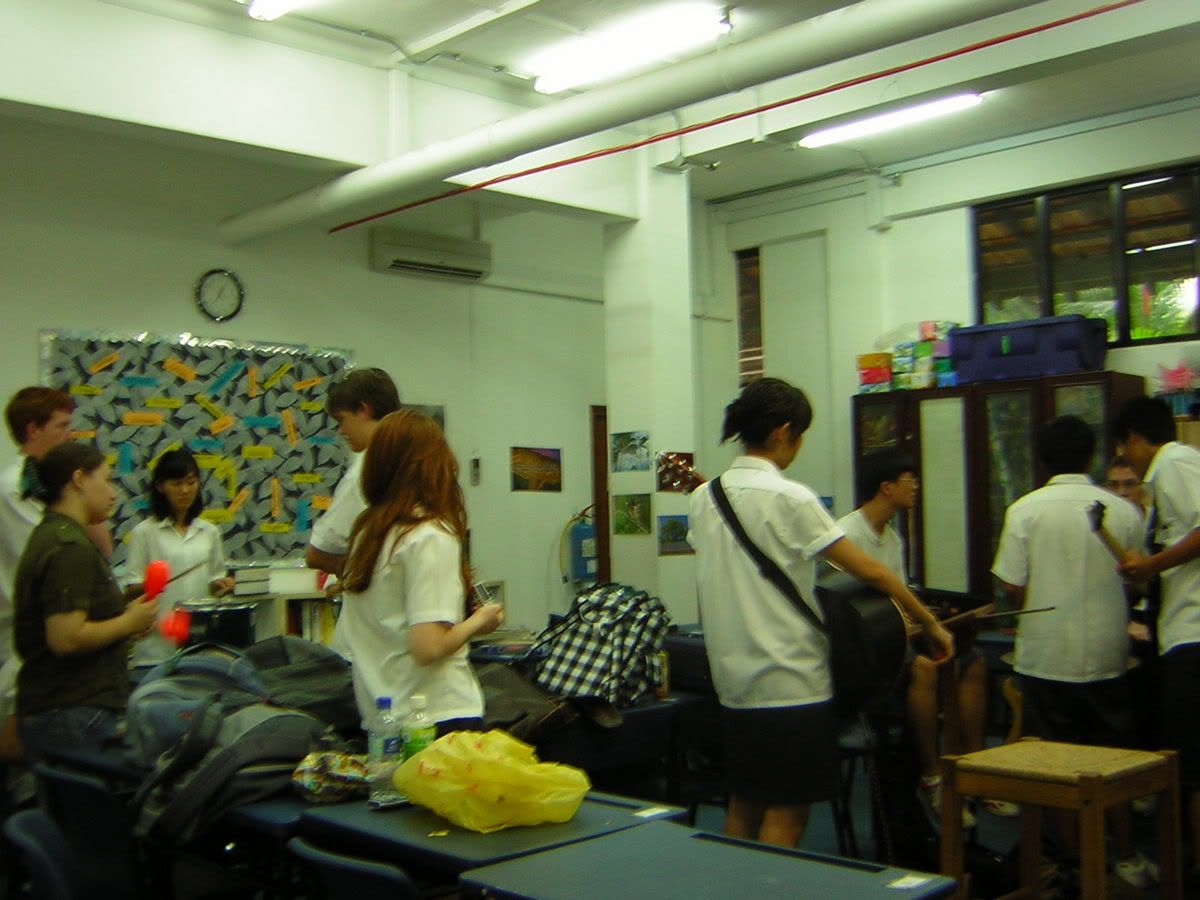 our first practice as The Latin Band *squeal*



maria wearing stephenr's shirt!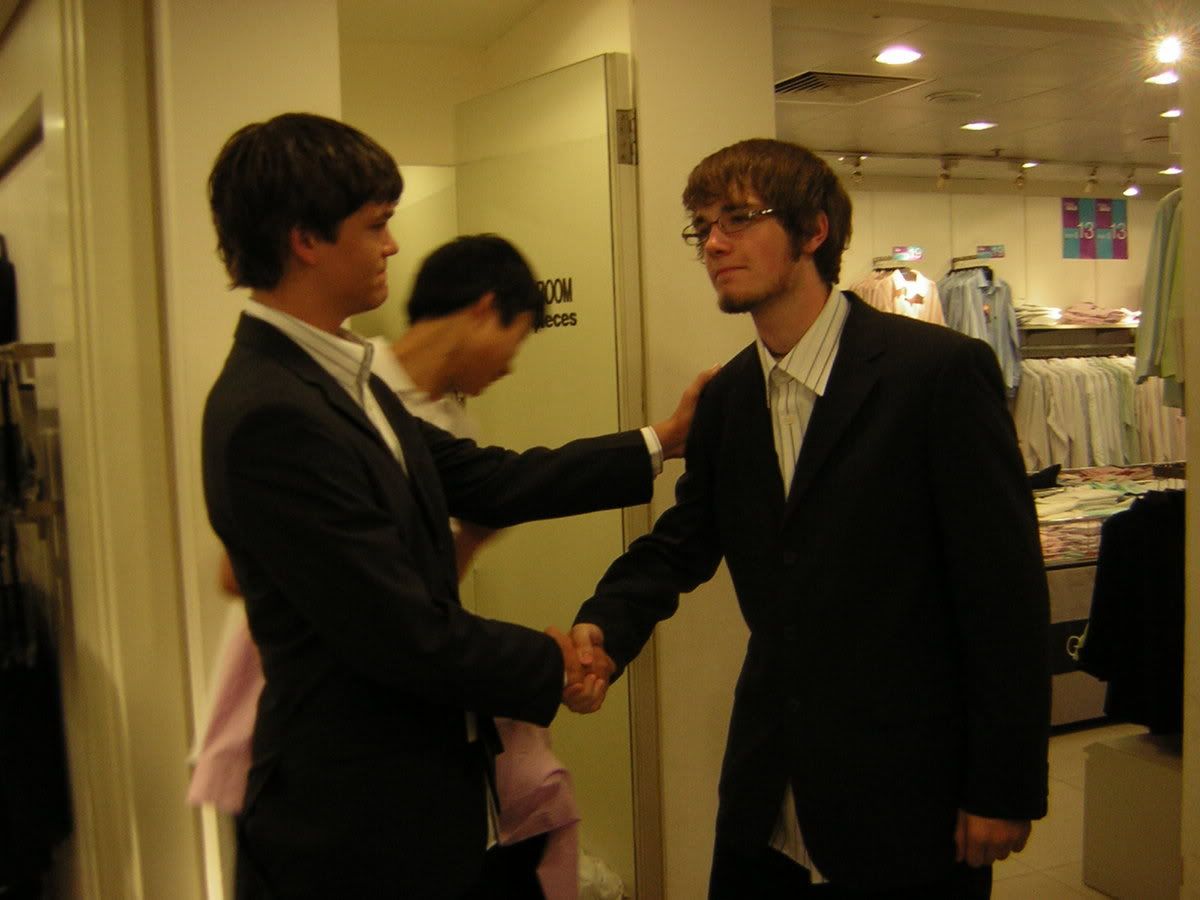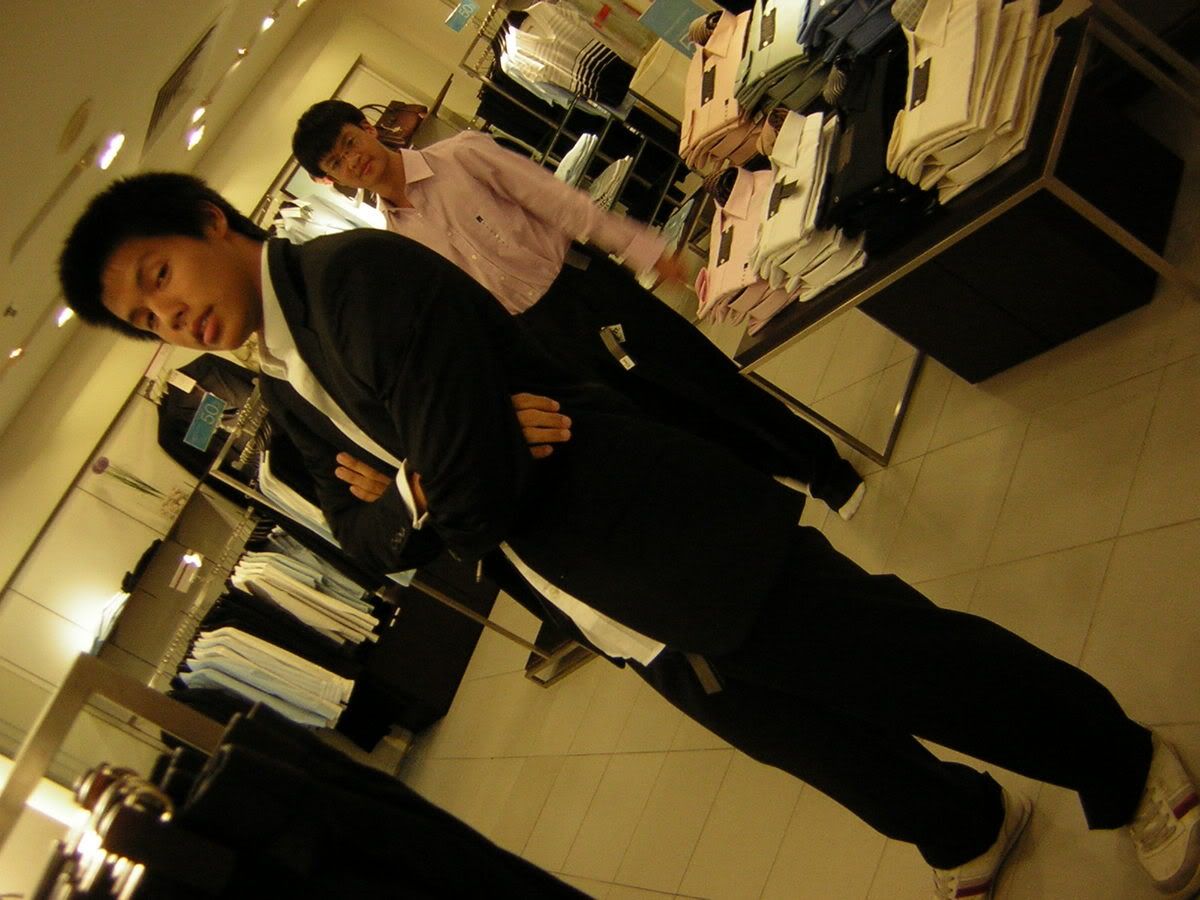 mandarin field trip! i was the sneaky camera woman :)



oh silly mrs butron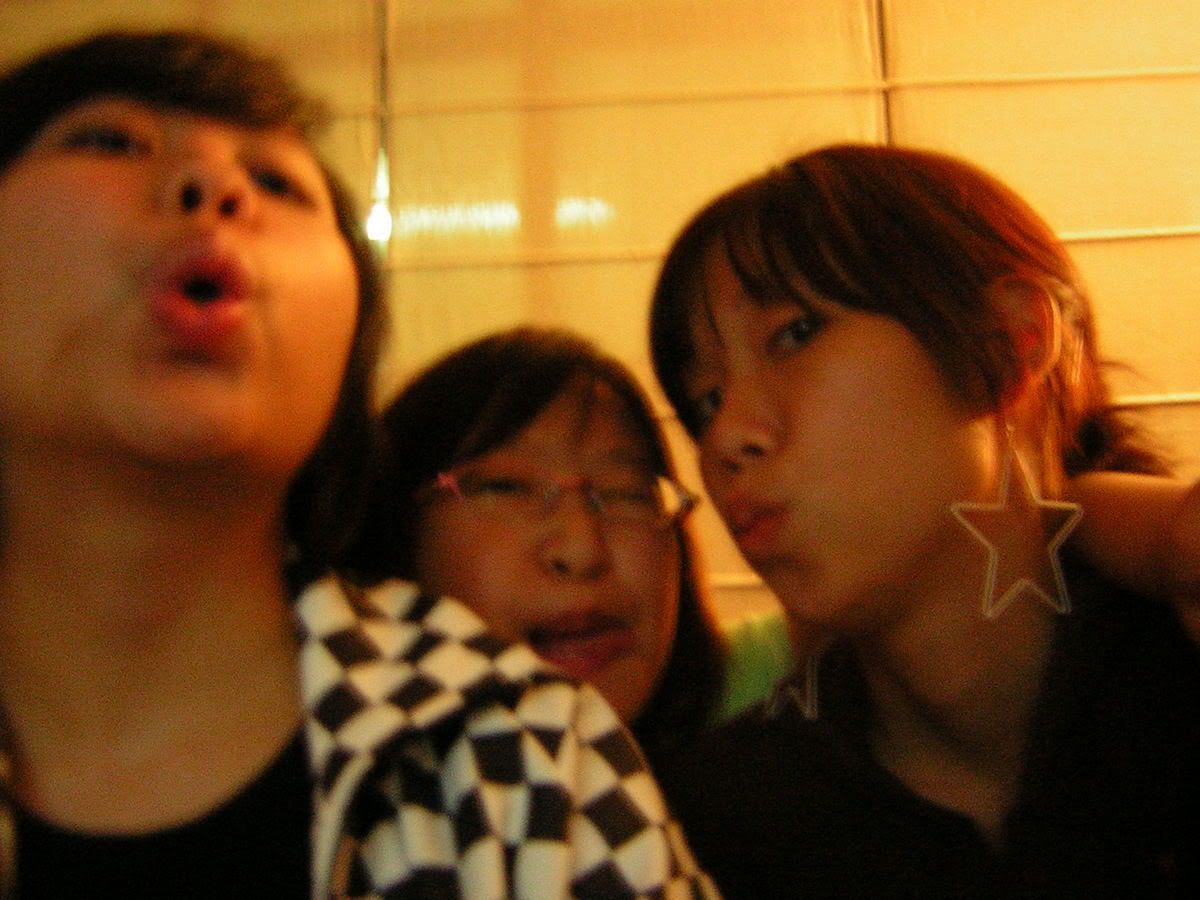 we love the camera.

last night, the zit on my nose erupted and thanks to clearasil VANISHING pimple cream, this horrifying growth on my nose has shrunk over night. yay! vanish! vanish! vanish! |
September 29, 2005
loves it.

yesterday, i got to conquer yet another ben and jerry's ice cream flavor!!!




it was good, but really really sweet and peanut buttery- hence the description below the name (they mention the word "fudge" and "peanut" twice each).
i am still wanting to try the mood magic flavors.
i hear that great world's gonna open an outlet. YES!
anyways,
audition for international night went well even though i messed up really badly. but hopefully no one noticed.
prayer meeting was a lot of fun yesterday. as usual.
aaaand we took our voice training to the next level (ooooh), so we sang the scales using a,e,i,o,u's.
"a a a a a a a"
no school tomorrow. HOORAY!

-meg.

la bellaza de uno spontaneio!(i don't think i said it right) |
September 27, 2005
moo.

hey!
i know i made a post on cinderella man the other day but it had to be deleted due to my very stupid 'blonde moment.' oh, it was one of the worst. so i'll just say that it was a really good movie and i loved it. made me wanna watch boxing on tv and learn more about the great depression (i haven't done either yet).

I want these!


cherry garcia socks!


so cute!

anyways, bed time now. i am needing more sleep! i hate feeling sleepy everyday. if there were 30 hours per day, i'd probably get 10 hours of sleep every night. but then again, if it was 30hr/day, the MOE would probably extend school hours to 9 hours or something. oh well. goodnight. |
September 20, 2005
can't think of one

hey! what is up cyber worldlings.
yesterday's basketball game went really well! except we lost by ONE POINT! (grrr) but it was pretty imressive how we managed to do some of our plays despite it being our first game. so, yay! go us! we just need to work really hard on our defense. we were honestly quite pathetic with our boxing out and rebounding. we gots to have more of the BUTT POWER!

college fair today at SAS was interesting. it wasn't as exciting as i thought it would be and it didn't help me THAT much but no harm done : ) felt a little out of place esp since no one seemed to have heard of ICS. timothy and i went to the sessions on interior design, hotel management, and nickelodeon. have no idea why i went to the nickelodeon one. totally irrelevant to my life. i don't even have nickelodeon on my tv channel. but i guess i learned today that passion is reeeaaally important. every single one of the speakers said it (including the nickelodeon guy from scotland). it made me think. do i really have a PASSION for interior designing? not exactly. i just have lots of fun doing it. my passion is to be in God's ministry! except, obviously, they wouldn't have had a session for that.

anyways, got lots of homework to do so later gatorrrrrrrrrz.

the zit on my nose is bugging me! it is huge! |
September 17, 2005
tabasco with pizza

yaaaaay my mom just brought me home made pizza and i've just drenched the whole thing in tabasco. i LOVE tabasco!!!!
anyways. had a pretty harsh beginning of the day today. ruth's dad recorded our worship rehearsal and my gosh, we need looooads of improvement. i need to work a lot on my voice too. gosh i felt so crappy listening to myself sing. thanks to uncle raymond, i know some weird voice exercises i can do (even though it makes me feel like an idiot sometimes) :D
and thanks to uncle raymond, i get "weather forecasts" on saturday mornings!
i finally got the open girl's basketball game schedule so here it is.

19 sep monday 4:30pm chatsworth (home)
26 sep monday 5:00pm waseda (away)
4 oct tuesday 4:30pm CIS (away)
18 oct tuesday 4:30pm TTS (home)
25 oct tuesday 4:15pm chatsworth (away)
31 oct monday 4:30pm CIS (home)
7 nov thursday 5:00pm waseda (home)
week of nov 21st tournament
26 nov (my BIRTHDAY!) saturday - finals at UWC

so, we have a game this monday and i'm nervous! there are more home games than away games this year so that's good for the seniors.
ever since isaku got obsessed with electric guitar, he's been listening to oldies rock like paul gilbert, jimmy hendrix, and eric clapton. they sound so funny. makes me think of flashy lights, big hair, and tight pants. | hold nothing back

hey i just woke up and heres a survey thingy i stole from ruth AGAIN. hahahaha :D

[my full name is]: megumi lim mei ern

[in the morning i am]: grumpy

[love is]: unconditional

[i dream about]: really random things. gummy pez's, pez in ben and jerry's, people, celebrities

-W I T H .T H E. O P P O S I T E. S E X-

[what do you notice first?]: depends. i mean, if the guy had really really unusually big ears, i would notice that.

[last person u slow danced with]: i don't think i've ever slow danced :(

-W H O-

[do you have a crush on?]: no one

[easiest to talk to]: ruth, isaku, sarah, josh, christina, rach, maria, kiyoko, ariel, timothy

-H A V E .Y O U .E V E R-

[fallen for your best friend]: no! no ruth! i would neverrrr

-W H O .W A S .T H E .L A S T. P E R S O N-

[you talked to on the phone]: mom

[hugged]: ruuuuth

[you instant messaged]: ariel

[you laughed with]: ruth or isaku ha ha ha ha ha

-D O .Y O U / / A R E .Y O U-

[could you live without the computer?]: it would be hard

[what's your favorite food?]: LOTS. i love spicy foood

[whats ur favorite fruit?]: mangoes and strawberries

[what hurts the most?]: wow.. um, a lot of things. like, knowing that lots of people in this world are going to hell

[trust others way too easily?]: sometimes

-N U M B E R-

[of times i have had my heart broken? ]: 0

[of hearts i have broken?] : 2?

[of boys i have kissed?] : 1

[of girls i have kissed?] : dont know. i mean, kissing my aunt or cousin on the cheek when i was little counts right?

[of drugs taken illegally?] : none

[of tight friends?] : around 6?

[of cd's that i own?] : about 30??? its a pretty sad collection

[of scars on my body?] : 2? i don't know! i dont' have that many.

[of things in my past that i regret?] : a lot of things! but i learned from most of them so...

-O.T.H.E.R.T.H.I.N.G.S.-

[i know]: the first 20 presidents of the united states!!!!!!!

[i want]: to eat breakfast

[i have]: to get ready to go out soon

[i wish]: school didn't give homework

[i hate]: satan

[i miss]: snow and sarah

[i fear]: airplane toilets

[i hear]: isaku's aircon

[i search]: on google. teeheee

[i love]: God and all my friends

[i ache]: when i try and touch my toes

[i care]: about living for God

[i always]: am HAPPY!

[i cry]: when i'm sad of course (but i'm still always happy!)

[i do not always]: do the right thing

[i write]: stuffff.

[i confuse]: myself with tyler and polk

[i can usually be found]: in school

[i need]: some food for my empty stomach

-Concerning.The.Friends.(You.Claim.To.Have)-

[impacted you the most spiritually]: ruth's dad. he is such an awesome pastor

[wish you saw more often]: sarah, josh, pat, junior, rory...? well, i usually get to see most of my friends so yay!

[wish you could meet]: GOD

[most sarcastic]: i don't know. they are all really nice people.

[wish you knew better]: everyone except ruth. i know her too well :)

[knows you best]: ruth, sarah, and kiyoko

[best outlook on life]: kiyoko

[most paranoid]: pat? hahaha

-Self-Analysis.You.Probably.Don't.Want.To.Do-

[your best feature (personality)]: generosity? i don't really know!

[your biggest flaw (personality)]: being immature about some things

[most annoying thing you do]: hahahaha probably a lot of things

[biggest mistake you've made this far]: dating reid

[describe your personality in one word]: can't

this weeks been such a loooooong week cuz of spiritual emphasis thingy and waking up early every day for worship practice. its been awesome, but i'm glad i finally got to sleep in this morning hahaha
ah, gotta go now so bye! |
September 12, 2005
so hungry

hola.
i am staaaaarving. thai food sounds really really really good right now. actually, food just sounds really good right now.
anyway, i've finally uploaded pictures accumulated in my camera over the past few weeks of my life, onto my computer (so RUTH, you should be proud of me.)

here are just a random bunch of pictures...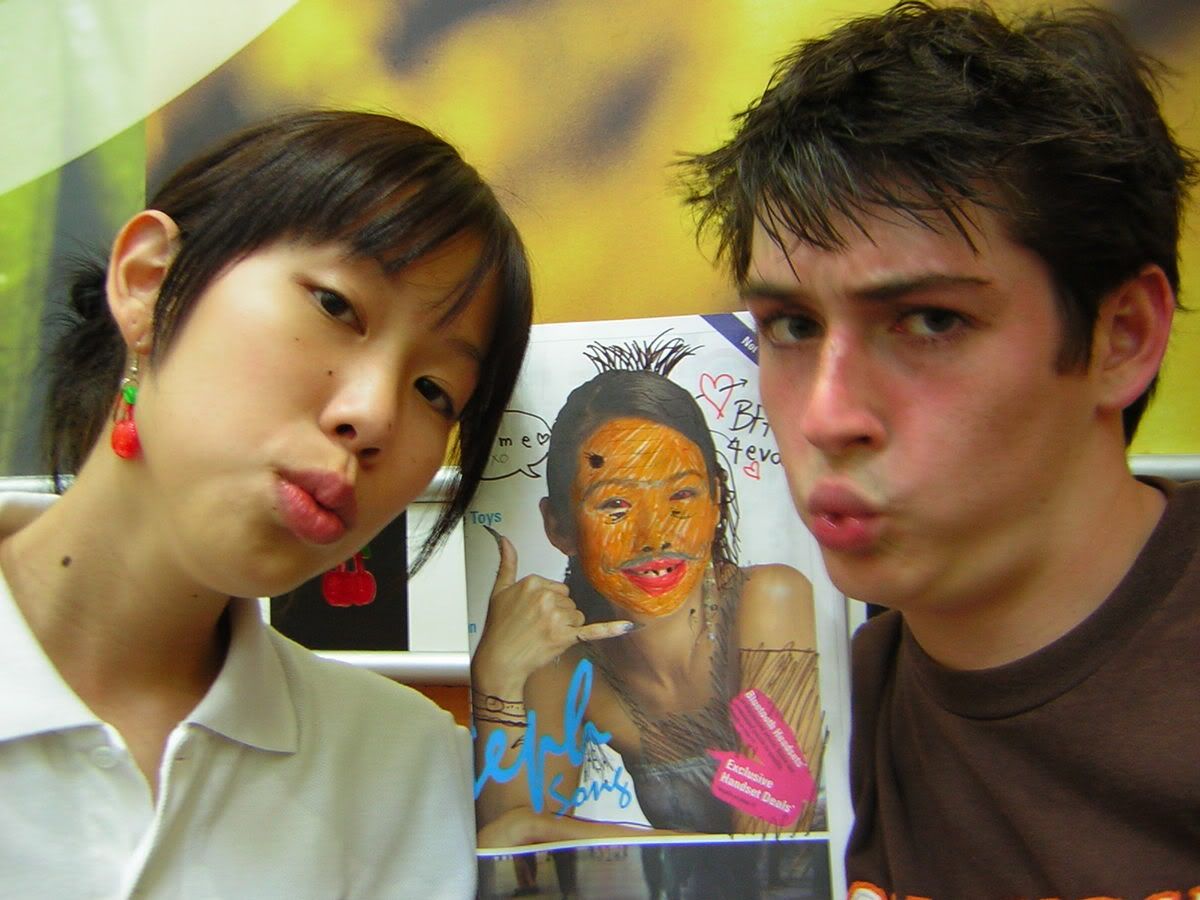 blue steeeeeeeel. say hello to our new BFF.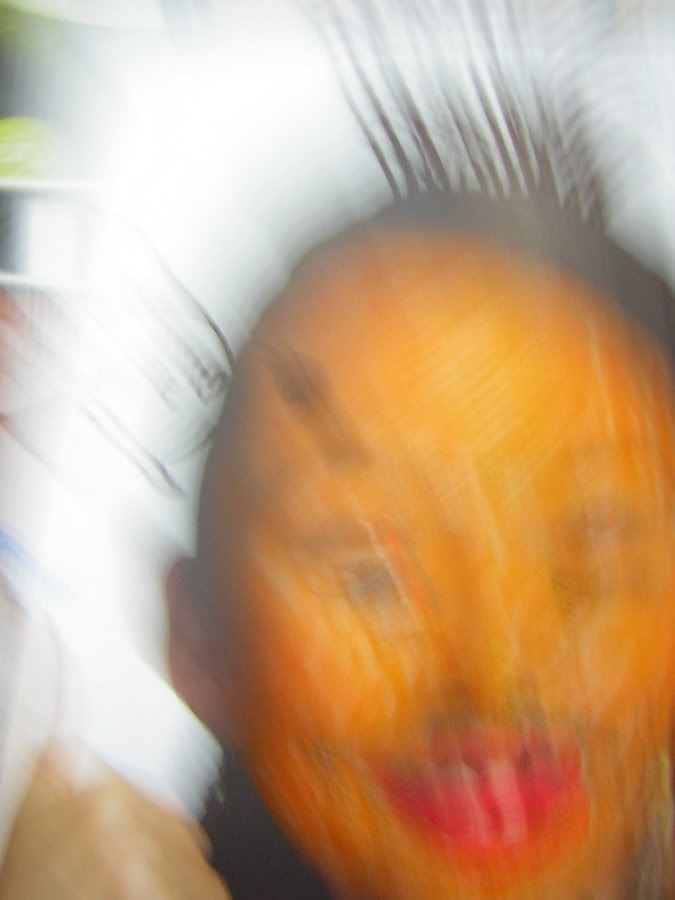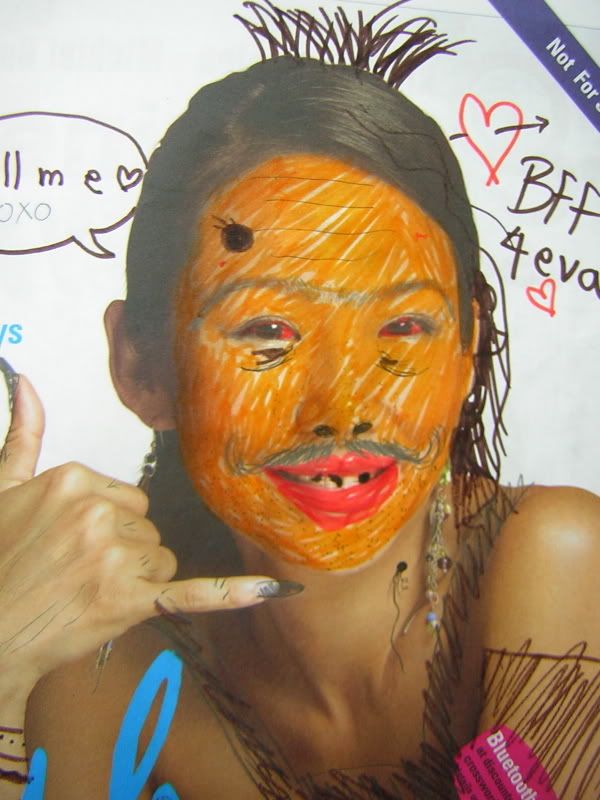 "BFF 4eva!"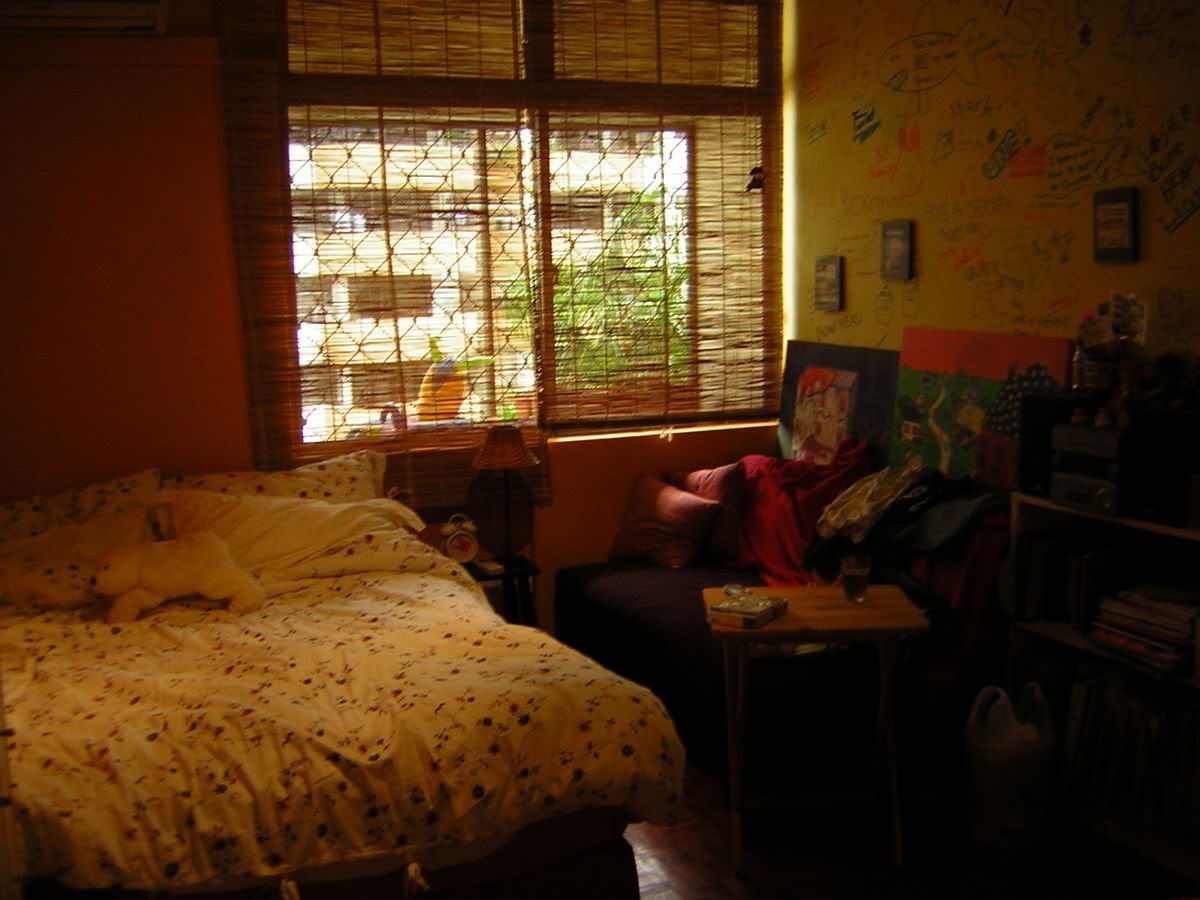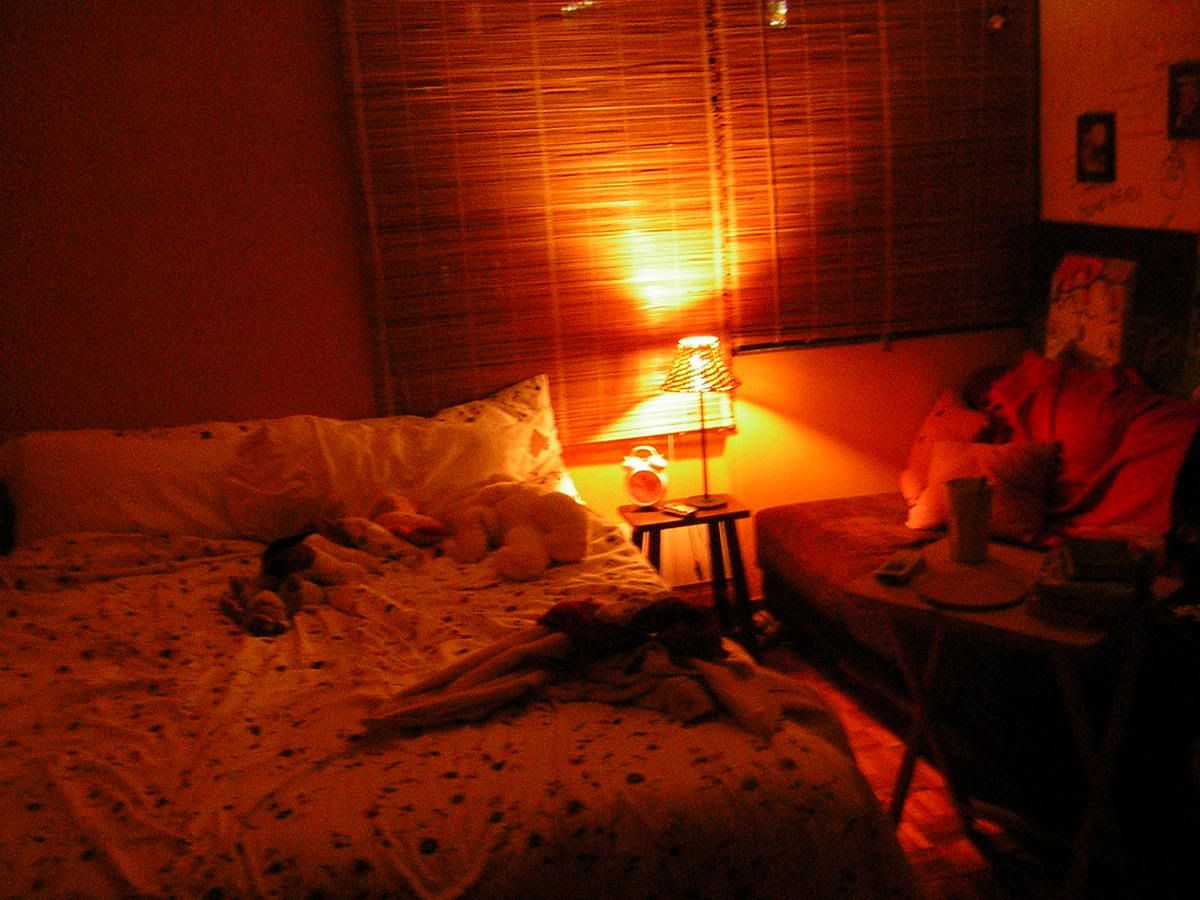 new look to my room. look through the window- its mrs lee's house!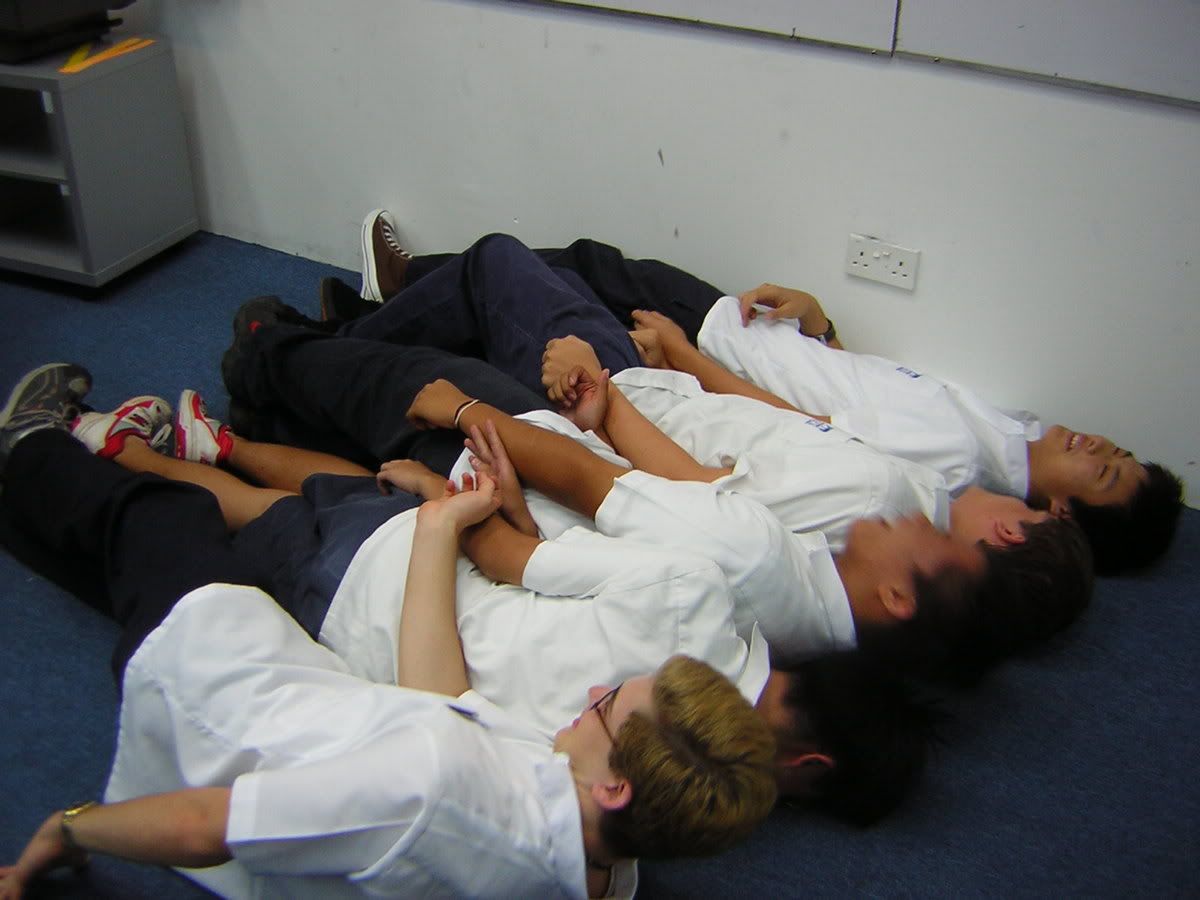 slaves on board a slaveship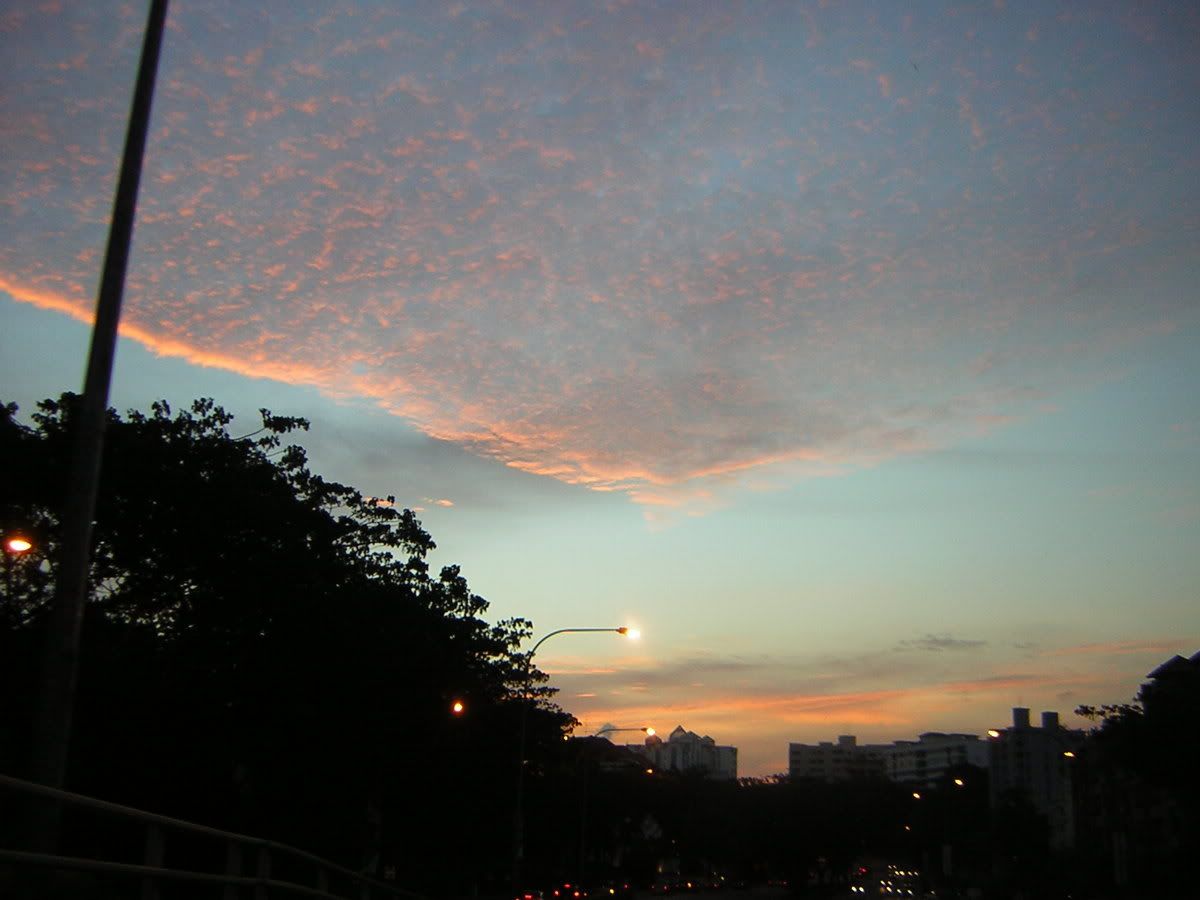 pretty clouds in the sky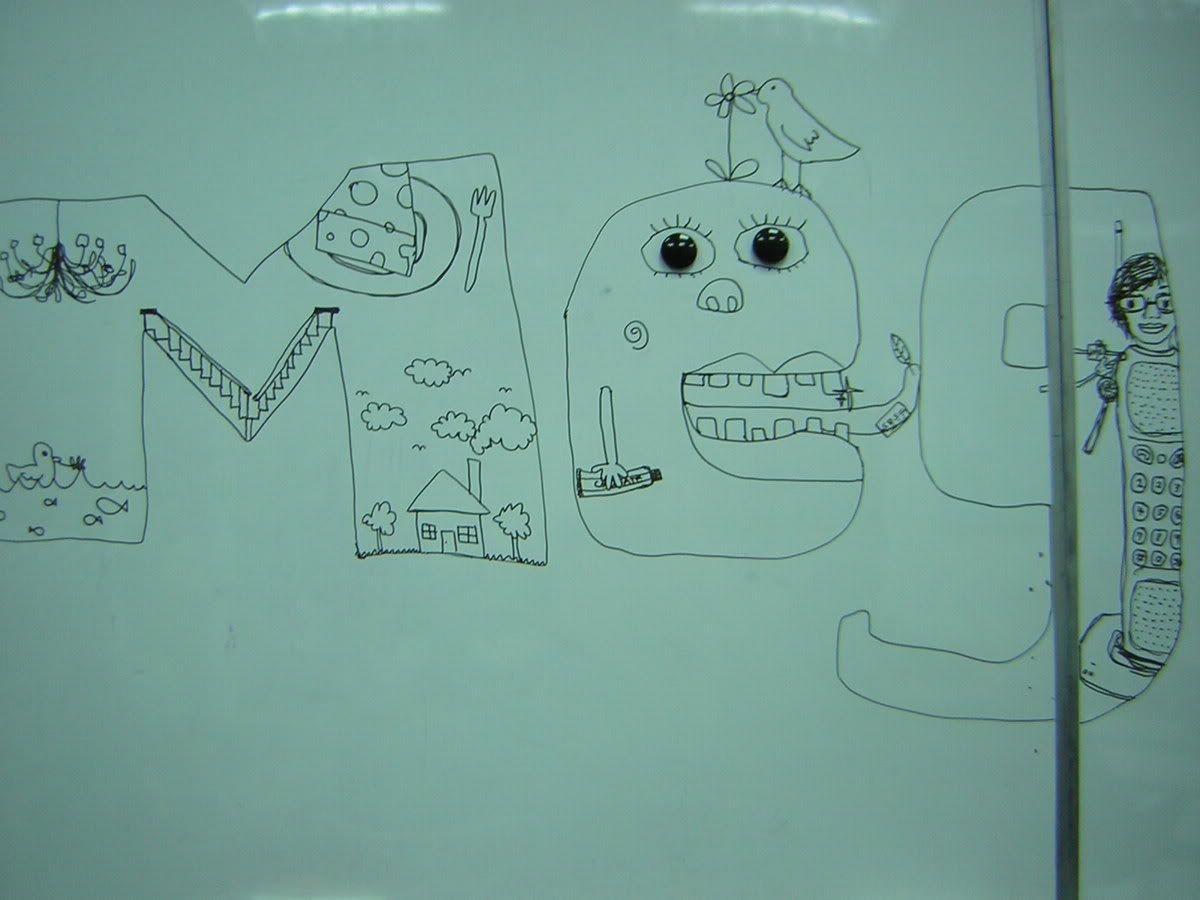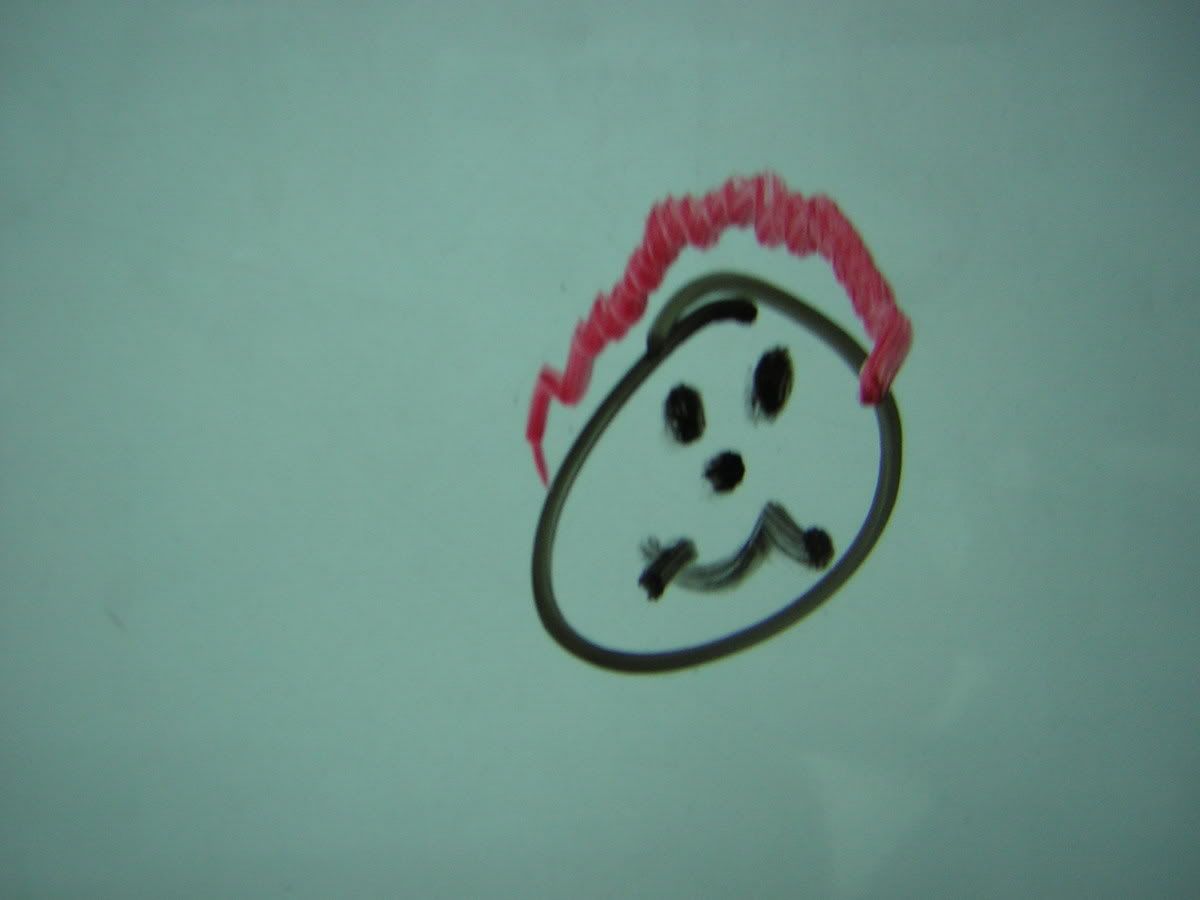 my name! and a portrait of ruth done by victoria on the right.

anyways....
i had a good day today, so, hopefully you guys did too!

-megggggggggg. |
September 08, 2005
no one really wins

hey! just came home from basketball practice and i am stinking lots.
i don't think i played too well today cuz of a few reasons: 1.) i haven't been going to the gym at all (zero stamina. ugh.), 2.) as ironic as it might sound, it seems that everytime we learn new plays and strategies, we begin to sadgjkgasdhsadjhg (sorry couldn't think of an appropriate word. don't wanna say "suck." we don't suck!) - probably cuz we get kinda lost. oh well, i'm sure we will get the hang of the plays soon so i won' t worry. games will be starting NEXT WEEK! yay! come to our games!

in history class.
"no! i wanna do world war II! that's my favorite war!"
"hey, whats YOUR favorite war?"

i'm thinking, "favorite war???" gee whizz. that is pretty sadistic.

right maria? ; )

"'I have it all planned out- plans to take care of you, not abandon you, plans to give you the future you hope for. When you call me, when you come and pray to me, I'll listen. When you come looking for me, you'll find me. Yes, when you get serious about finding me and want it more than anything else, I will make sure you won't be disappointed. I'll turn things around for you.' God's Decree"

Jeremiah 29:11-4 (The Message version) |
September 05, 2005
"chinatown... my CHINATOWN..."

the weekend was an incredibly crazy one. it was one of the funnest weekend i've had in a long time :D
so, updates about yesterday.
the sermon was hilarious. i almost died laughing watching people impersonate each other in church. if only i had brought my CAMERA!
oh yeah, timothy visited too! so after church, we went out for lunch at takashimaya with ruth, isaku, jeanne, rach, and tanessa (tan tan!). i finally got my new running shoes, and returned my overdue library books. i bought some sequins for my international night india poster from art friend, so i'm excited about working on that. its gonna look faaabulous. timothy got this really cute donut binder from art friend too.
on the mrt on the way to orchard, timothy and i made friends with some stranger, soo lim. she thought red eye was a freaking comedy! i couldn't believe it.
anyway, in the library, timothy read "the best of SISTERS IN CRIME." hahaha what in the world. so we just sat there pretending to cry because laurie committed suicide. poor mike. "i want laurie! i want laurie!"
we tried stalking this chinese guy around the library too. you know its freaky when you keep seeing the same person walk into the exact same aisle as you? didn't quite work out though cuz he ended up spending ages at the chinese comic section. it was worth a try :)
on the mrt back to church... (we had to go back cuz our church was hosting city celebration- all the relating churches coming to meet and stuff.)

timothy: "why do you build me up buttercup baby just to let me down, MESS ME AROUND! (turns to some lady while holding an imaginary mic) COME ON YOU KNOW THE SONG!! COME ON! LET'S SING IT TOGETHER!"
lady: *weak smile*

other then all that galavanting in town, 'twas a weekend full of setting up instruments, clearing instruments, and LOTS of singing- preparing for the many church meetings our church hosted.

i'm EXHAUSTED. |
September 04, 2005
washington v.s. dubois

YAY!!
i just finished my history essay!!! :D :D :D :D :D
2 1/2 pages double-spaced!
but it kinda stinks that i don't have anyone to share my joy with. everyone's already asleep...
i guess i'll go to bed too.
goodnight my lovelies |
September 03, 2005
meg meg meg

1. What is your occupation?
student and... a waitress at hagen daaz (i haven't quit! ugh!)

2. What color is your underwear?


3. What are you listening to right now?
nothing

4. What was the last thing you ate?
chips

5. Do you wish on stars?
no

6. If you were a crayon, what color would you be?
orange

7. How is the weather right now?
cloudy? its at night so its hard to say. definitely not sunny- *chuckle chuckle*

8. Last person you spoke to on the phone?
my daddy-o

9. Do you like the person who sent this to you?
no one sent it to me. i stole it from RUTH :D

11. Favourite drink?
i have LOTS

12. Favourite sport(s) to watch?
i don't watch sports

13. Have you ever dyed your hair?
many times due to early signs of aging

14. Do you wear contacts or glasses?
yes i do

15. Do you own a pet ?
yes i do

16. Favourite Month?
November

17. Favourite Food?
LOTS! almost everything.

18. What is the last movie you watched?
red eye!

19. Favourite day of the year?
probably christmas

21. What was your favourite toy as a child?
my dollhouse (except i only liked arranging and rearranging the furnitures inside), barbies, polly pockets, ultra man...

22. Fall or Spring?
Spring

23. Hugs or kisses?
hugzzzzzz

24. Cherry or blueberry?
blueberry. they taste sooo good with bagels.

25. Do you want your friends to email you back?
of course. but sometimes i don't really care.

26. Who is most likely to respond?
no one

27. Who is least likely to respond?
everyone

28. When was the last time you cried?
can't remember!

30. What is on the floor of your closet?
bags

31. Who is the friend you've had the longest?
ruth, rach, and jeanne

32. What did you do last night?
watched red eye and hung out

33. What is your Favourite Smell?
mango, strawberry, escada-sentiment, food, cookies, shampoo

34. What inspires you?
the bible

35. What are you afraid of?
small spaces and roaches

36. Plain, cheese or spicy hamburger?
SPICY

37. Favourite car?
i don't have a favorite.

38. Favourite dog breed?
beagles and golden retrievers

39. Number of keys on your key rings?
2

40. How many years at your current job?
0

41.What is your favourite day?
saturday

42. How many countries have you lived in?
one

43. How many countries have you visited?
3 : ( | niu zai ku

hi!
how are all of you?
its been so long since i've posted something in here... but quite surprisingly, people have still been visiting. i'm so touched : )
oh just incase... i'm not sick anymore (since my last post was about me being sick). i'm very well.

anyway, RED EYE was a great great GREAT movie! even though it freaked me out SO MUCH... (i kinda screamed at this one bit of the movie- along with roaf and timothy. we were such wimps.) both ruth and timothy were grabbing onto my arm so tightly, i got a little worried about my blood circulation. some parts were kinda cheesy though. i mean, fresh air airlines? what on earth! "thank you for flying fresh air..."

well, this weekend is a busy one for me. church hosting city celebration, leadership training time, and whatnot- i ended up spending the whole day in church today, which was a lot of fun (we have some crazy people in my church); and will be doing almost the same tomorrow (except going out to eat lunch and stuff). so i'm going to MAKE myself finish all my homework by tonight. ugh, ESSAY... i'm so bad at it.
have an awesome weekend- whatevers left of it.
bye bye! |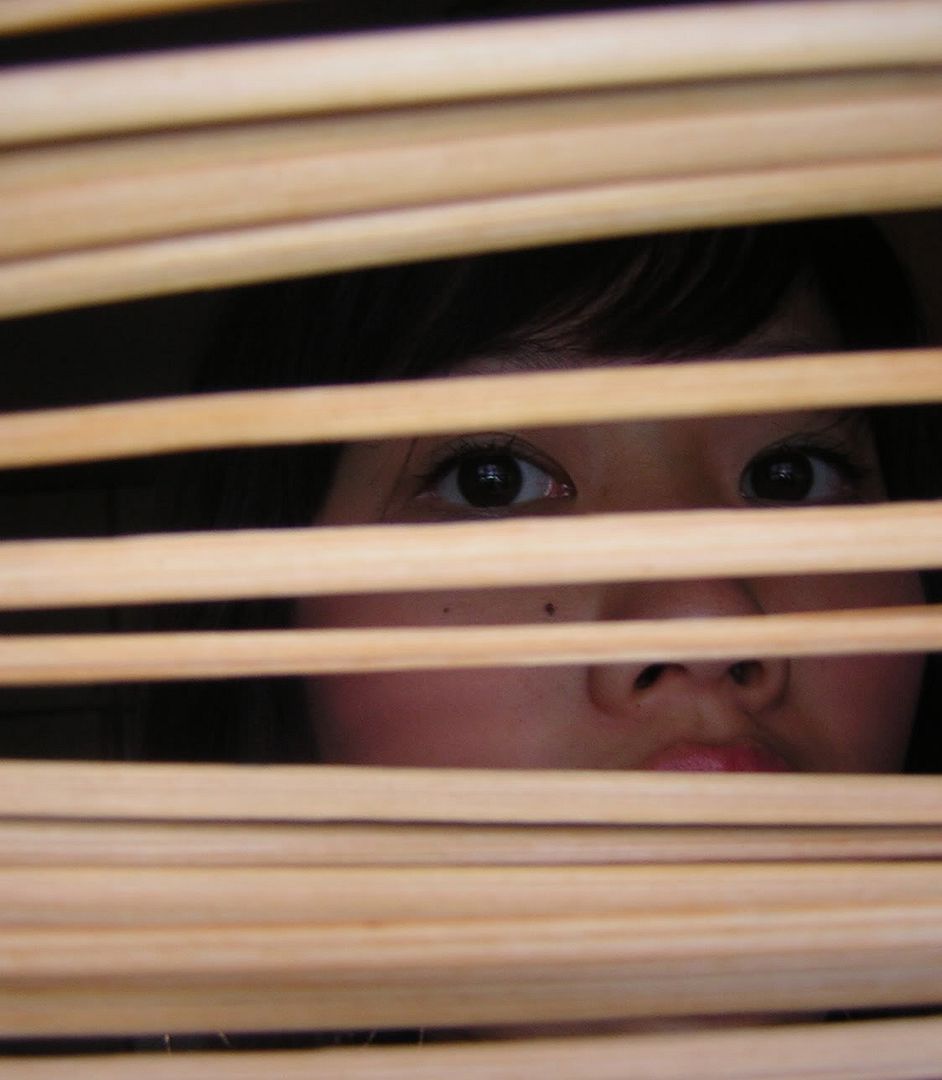 What goes "oom oom"?