The muzak: Sleep All Day - Jason Mraz


October 27, 2005
"i'm gonna go clear my head"

hey!
how are you guys doing. america's next top model is over and i'm a little sad cuz its the only tv show i've been loyally watching! but its okay, i'm sure i'll find better things to do. so congratulations to naima who won. they had the coolest runway show i have ever seen. the whole platform thingy was a few cm underwater encircling a fountain so the models looked like they were walking on water ("oooh you mean like the fed ex ad!"-- no!). i have no idea how none of them managed to catwalk and pose without slipping in their heels. amaaaazing. modelling just looks like such a fun career (from a shallow point of view hahaha) getting paid to wear the latest fashion and stuff.
anyways! some pictures from last weekend...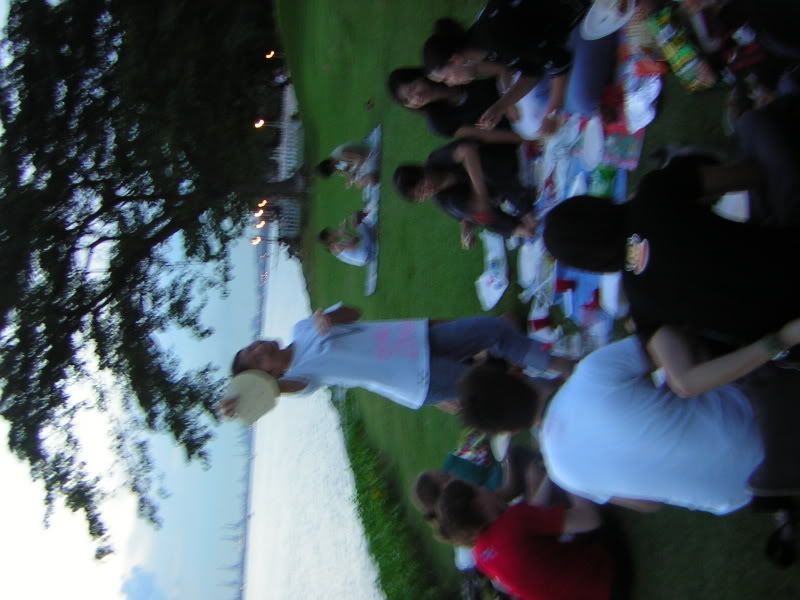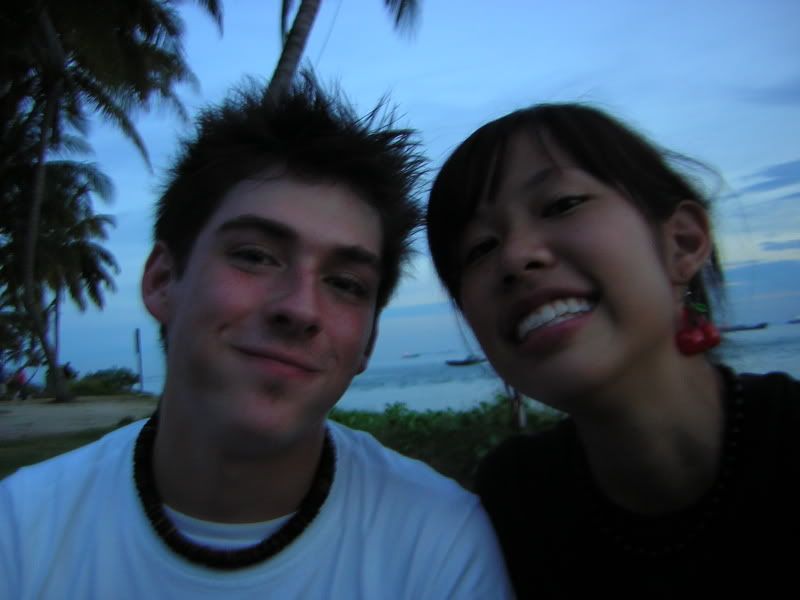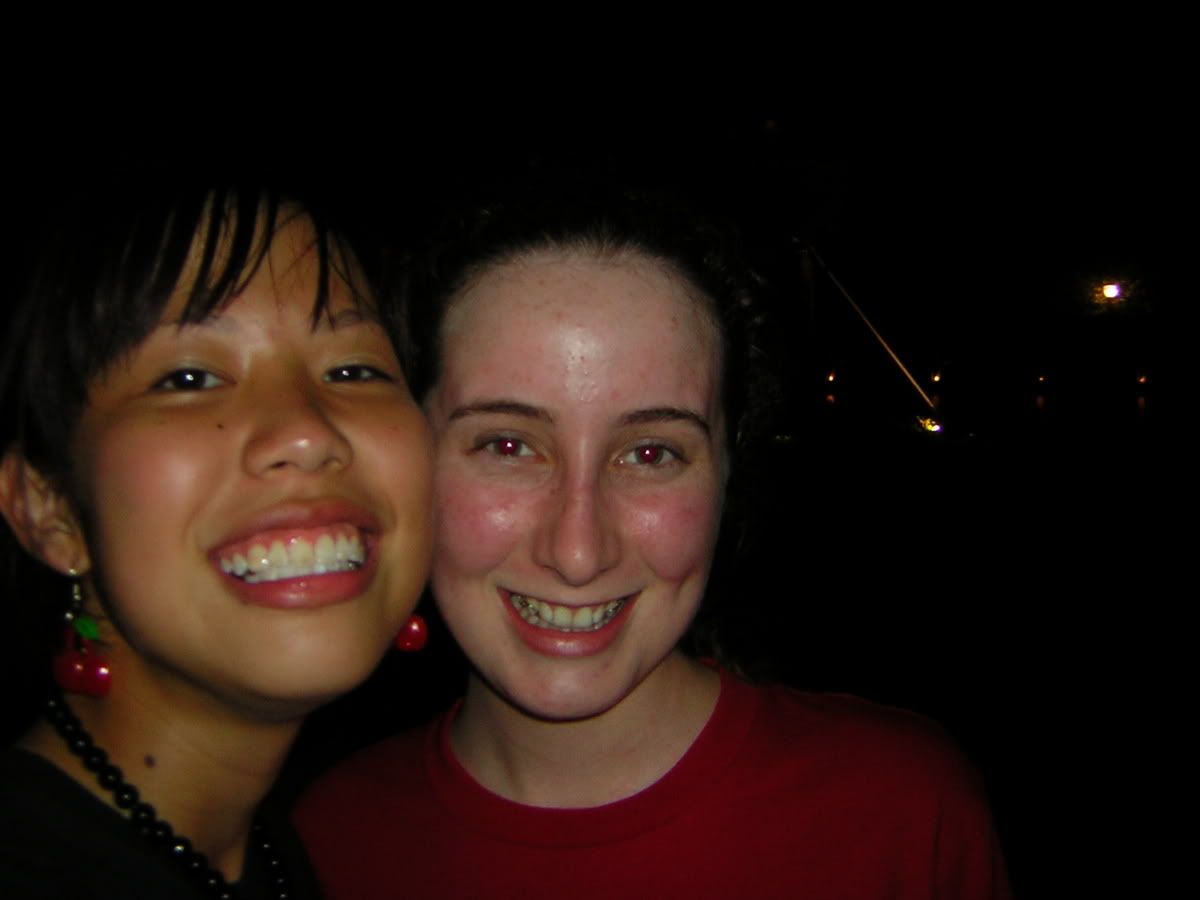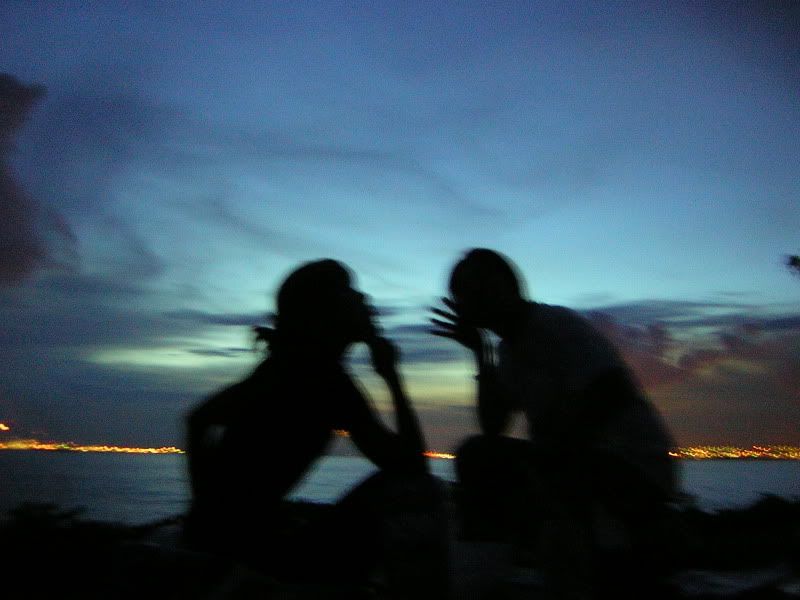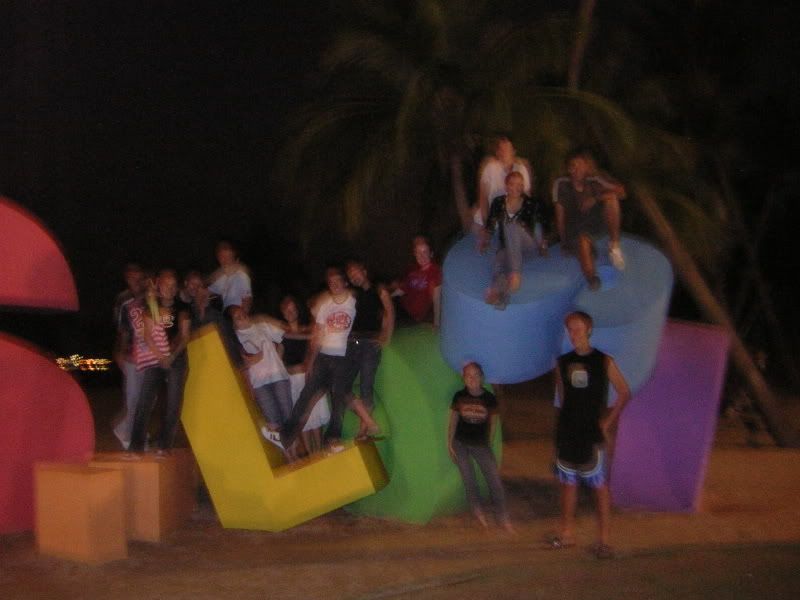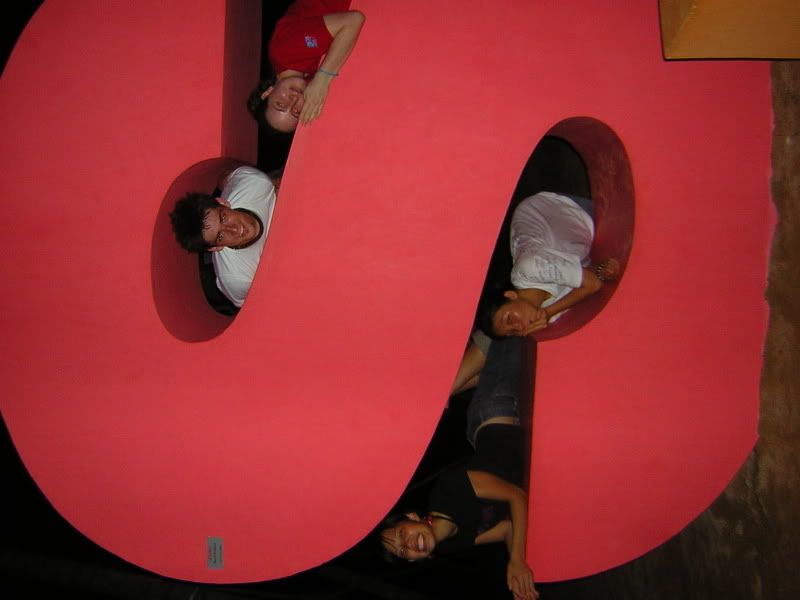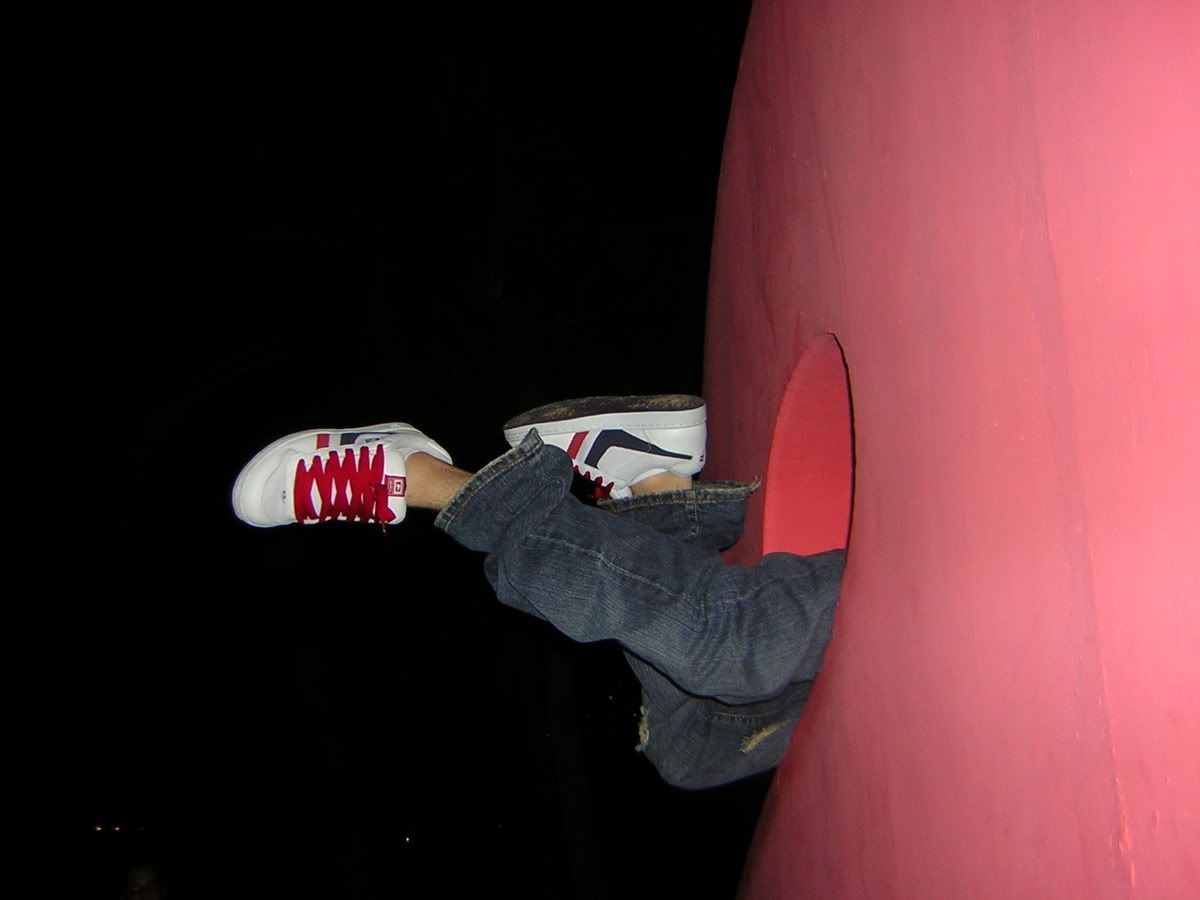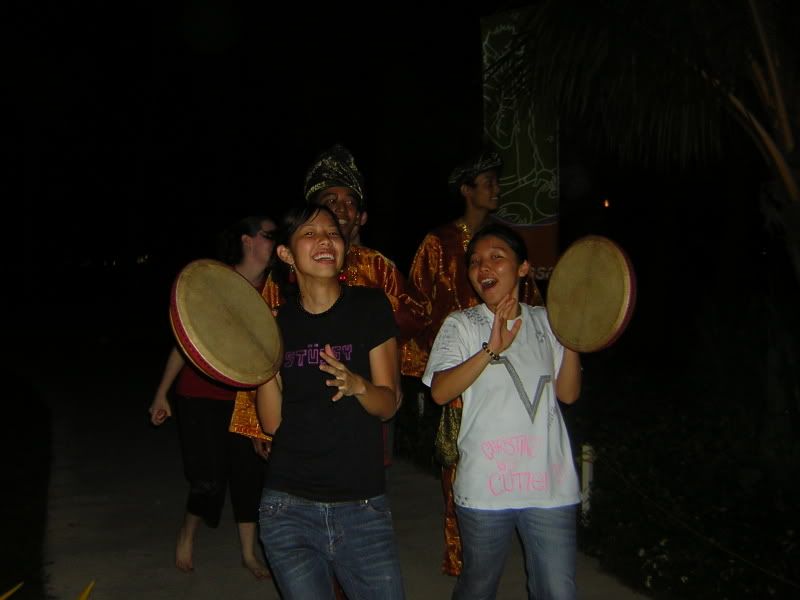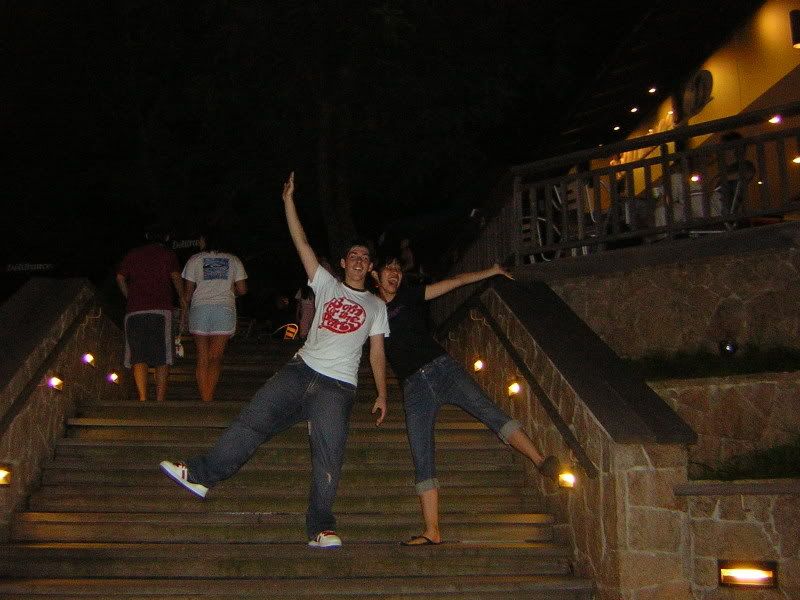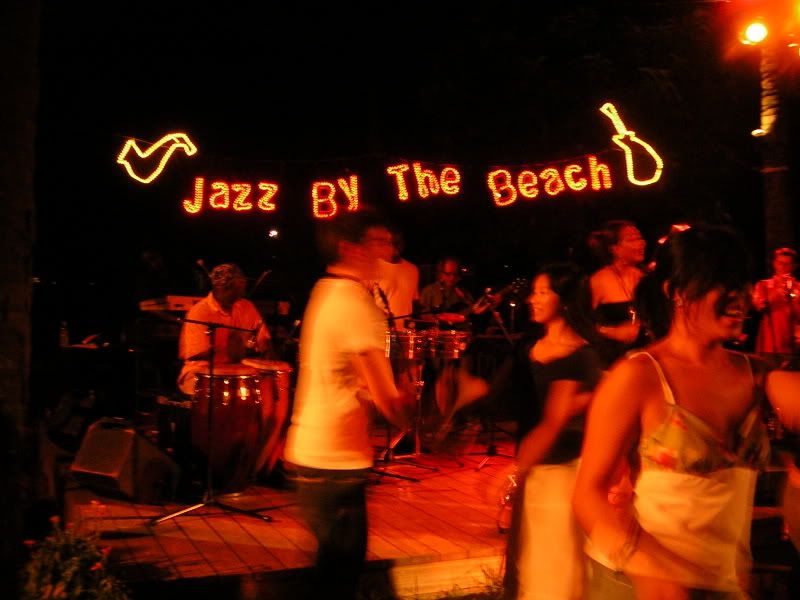 i can't wait til this week's over! i have to memorize all the presidents of the united states + years in office, all the states and capitals of america + year of statehood for tomorrow. and that's not very fun. there's just so much to do. so i better be off! |
October 25, 2005
love from the center of who you are; don't fake it.

i wanted to put up a picture of meiji strawberry yogurt but images.google.com didn't have it! its the best yogurt i've ever had and everyone should try it.

anyways, some good stuff i read today.

Romans 12:3b (The Message version)
The only accurate way to understand ourselves is by what God is and by what he does for us, not by what we are and what we do for him.

v11-19
Don't burn out; keep yourselves fueled and aflame. Be alert servants of the Master, cheerfully expectant. Don't quit in hard times; pray all the harder. Help needy Christians, be inventive in hospitality. Bless your enemies; no cursing under your breath. Laugh with your happy frends when they're happy, share tears when they're down. Get along with each other; don't be stuck up. Make friends with nobodies; don't be the great somebody.
Don't hit back; discover beauty in everyone. If you've got it in you, get along with everybody.

Get the Message Remix TODAY! hahaha it's really good.

|
October 24, 2005
quizzes

These things are so inaccurate.
but they're kinda fun!





Take the quiz: "What kind of eyes do you have? (with pictures)"


Eden
You have eden eyes. Eden is the color of water. Your eyes symbolize your great flexibility. You are a creative person. You can think of many good ways to get your point across to people as you have very good communication abilities. When someone feels down or is hurt, you have the remarkable ability to help them and heal them. If you have too little going on in your life, you may be withdrawn and depressed, timid, manipulative, unreliable, stubborn, or suspicious. Some words to describe you: peaceful, sincere, affectionate, tranquil, intuitive, trustworthy, pure, loyal, healing, and stable.

Take the quiz: "Which Mean Girls Character Are you? (girlz)"


Cady Herron
Your a math freak, your a dork.

Take the quiz: "Who's your perfect teen Celebrity BF? (Teen girls)"


Daniel Radcliffe
You're celebrity BF, has just fallen into fame. He's very sweet and kind. He puts you above everything else, but expects you to understand his career priorities. He loves music, but loves you more than anything. His accent makes him even more irresistable! Rumor has it he has not had a girl friend yet, but I guess he does now. YOU!
|
October 22, 2005
seedless watermelon ohhhh

thank you God, this busy school week is finally over! and i managed to turn in my first research paper rough draft yesterday, even though i know i didn't do my best for it. i really need to work harder to cross over that line of mediocrity into actually striving for excellence (esp in school. i really suck at school sometimes). i'm living for God, and he's the king of endless worth. his worth knows no end. why would i not want to do my best in everything for him? its just really hard : (

anyways, heart to heart was really really goooooooood. i mean, some people may be like "pfft. heart to heart. such cheesy crap." but nooo, it was great. the topics were life after high school, beauty, and being God's girl. the last two sessions really hit home for me. i'm just gonna be honest here, i need to begin my day by reading the bible before i waste time in front of my mirror! i loved mrs. fleishmann's analogy. she was talking about how she doesn't really like to do laundry. so, sometimes, her husband would run out of undershirts to wear and he'd grab an undershirt he wore 2 days ago and put it on saying it'd be fine if he wore a clean polo shirt over it. later during that day, she'd walk by him and he'd be STINKING SO BAD. its the same thing with inner beauty. no matter how gorgeous you might look on the outside, if you're really rotten on the inside, its gonna show. it reminded me of a verse in proverbs 31.

beauty is fleeting and charm is deceptive, but a woman who fears the Lord is to be praised.

lots of girls wanna be attractive to guys, but i believe that when a girl begins to have that fear-of-God, she would attract a guy who has that same fear-of-God too.
and i didn't know mrs. fleishmann was miss alaska! it was cool though, how she was able to share Christ with the other girls in the pageant. none of them were christians. so maria thinks i should be miss singapore now. HA HA HA. we shall see about that. i don't wanna be walking around the stage in a bikini.

the last session- God's girl, was the best i think. it covered almost everything about being this age. the insecurites, the longing for significance, the pressures, the different traps. mrs. findley shared her testimony, which was really good cuz she was being really transparent about her life, helping us understand how God with his goodness helped her through the really hard times she faced when she was around our age. i mean, i thought i was the only one facing the problems i'm facing now, but yay i'm not the only one!

youth group last night was sooooooo much fun too :D i reached nick's house and could already smell his wonderful cooking. we had nick's yummy home-made burgers, which were huuuuge (he even baked the bread bit himself. amazing.), and cheese fries! so so so goood. i couldn't stop eating even though my stomach was running out of space. we ch1ll3d for awhile... and then we talked about evangelism. really good stuff cuz nick became a christian only a few years ago, and he shared about how his own friends evangelised to him. so it was good hearing it from a real aspect. so yeah, i learned that its important to build relationships while evangelising. it has a greater impact on that person's life cuz it shows how much you care for that person.

1 Thessalonians 2:8
We loved you so much that we were delighted to share with you not only the gospel of God, but our lives as well, because you had become so dear to us.

after that we had dessert, which nick made as well. oreo cheesecake with chocolate whip cream! so goooood. i hope i gained some weight from eating that much last night.

anyways, moving on to shallower stuff. maria, ruth, nathan, stephen, pete and i watched FLIGHT PLAN yesterday. it was hilarious. nothing like a thriller, but it was worth it. i never thought i'd see jodie foster in a movie again ever since panic room 5 years ago. everyone should watch it.
i'm just waiting for the day where a movie poster would say "thriller" and really be a thriller.

have an awesome weekend! |
October 17, 2005
lao hong

so, updates on my wonderful weekend.
i worked mostly on research paper, but i had a blast on friday night at youth group :D
i arrive at jeanne's house and hear ruth's incredibly loud laughter spilling out from the windows, but the gate is locked. i can't get in! i shout her name but she doesn't hear me. feeling frustrated by the fact that i could hear her voice, but she can't hear mine, i call jeanne on her phone and she opens the gate for me. thank you technology and thank you jeanne :)
dinner was SOOOO GOOD. julian cooked seafood pasta. it was spicy and i loved it. the only annoying thing was that my nose was itching so badly (one of those occassional nose itch syndromes i get) so i had to put ice on it; it helped, but it made my nose freeeeze. i don't really know why i'm being so detailed with this post! oooh and rach and i somehow ended up coming up with different techniques for communicating with your eyes. oooh. it was really funny! i spelled out p-r-a-w-n-s with my eyes and ruth got it! GENIUS!
"look into my eyes....."
oh yeah, nick's dessert was heavenly. some chocolate mousse thing but even better. it was just really really really really goooooood!!! i feel like having some right now! so good job to nick and julian.
aaah, i'm too sleepy to elaborate some more. but i'll be putting up pictures soon! (if jeanne gives them to me)
well, today was a good day. wasn't a good idea skipping lunch though, cuz i felt like my stomach was gonna disappear during basketball practice. maria thought i looked anorexic! aw, i need to gain weight!

anyways, america's next top model's on! yaaaaay.
goodnight!

xoxo megahot. | --

ooooh this is a long one. but i'm ready. here we gooooo.

1. WHAT IS YOUR FULL NAME? Megumi Lim Mei Ern

2. WHAT COLORS ARE YOU WEARING? Christimas colors!

3. WHAT SONG ARE YOU LISTENING TO RIGHT NOW? coffee- copeland. not gavin degraw, for once

4. WHAT WAS THE LAST THING YOU ATE? japanese curry

5. IF YOU WERE A CRAYON, WHAT COLOR WOULD YOU BE? orange

6. HOW IS THE WEATHER RIGHT NOW? don't know

7. LAST PERSON YOU TALKED TO ON THE PHONE? ryaofie!

8. THE FIRST THING YOU NOTICE ABOUT THE OPPOSITE SEX? depends. if he had a weird nose, i'd notice that first. so basically, it'd be looks

9. DO YOU LIKE THE PERSON WHO SENT YOU THIS? i love ruth

10. MARMITE OR BOVRIL? neither!

11. SPIDERMAN, BATMAN OR SUPERMAN? i'd say spiderman. i don't like the batman or the superman actors but toby maguire's pretty cool. and his costume's the best out of the three!

12. FAVORITE ALCOHOLIC DRINK? don't have a 'favorite' but breezers is pretty good

13. FAVORITE SPORT? basketball!

14. HAIR COLORS? dark brown with some white here and there

15. EYE COLORS? dark brown

16. DO YOU WEAR CONTACTS/GLASSES? contacts

17. FAVORITE MONTH? November

18. FAVORITE FOOD? thai food!

19. ARE YOU TOO SHY TO ASK SOMEONE OUT? hahaha no. but i don't plan to ask anyone out ever, anyways.

20. SUMMER OR WINTER? i love both!

21. RELATIONSHIPS OR ONE NIGHT STANDS? relationships

22. CHOCOLATE OR VANILLA? chocolate

23. DO YOU WANT YOUR FRIENDS TO WRITE BACK? it doesn't matter!

24. WHO IS MOST LIKELY TO RESPOND? nobody

25. WHO IS LEAST LIKELY TO RESPOND? everyone

26. WHAT BOOK ARE YOU READING? the bible, and bits of the student's guide to F. Scott Fitzgerald for research paper.

27. WHAT DID YOU DO LAST NIGHT? research paper and slept

28. LAST PLACE YOU WENT ON HOLIDAY? KL!

29. FAVORITE SMELL? good food, escada sentiment, shampoo, cookies, mangos, leather in new cars...

30. WHO/WHAT INSPIRES YOU? Jesus and the bible

31. BUTTERED, PLAIN, OR SALTED POPCORN? Buttered or salted

32. FAVORITE CAR? he he he.

33. FAVORITE FLOWER? frangipannies, hibiscuses, white roses, and really pretty ones i don't even know the names of

34. HOW MANY KEYS ON YOUR KEY RING? twooo

35. CAN YOU JUGGLE? only two objects max.

36. RED OR WHITE WINE? white

37. WHAT IS YOUR STAR SIGN? saggitarius

38. ARE YOU A DONOR? no

39. WHAT IS THE FIRST THING YOU THINK OF WHEN YOU WAKE UP? "oooh i'm awake"

40. EVER BEEN IN LOVE? maybe

41. WHERE IS YOUR FAVORITE PLACE IN THE WORLD? i haven't been to enough places to say but i love being in the mountains, and really nice and big shopping malls

42. HAVE YOU SHOWERED TODAY? yup, i just did!

43. DO YOU HAVE A BOYFRIEND/GIRLFREIND? nope

44. DO YOU HATE THESE THINGS? no, its pretty fun!

45. WHAT SONG ARE YOU LISTENING TO NOW? nothing |
October 11, 2005
gasps

movies does wonders to people.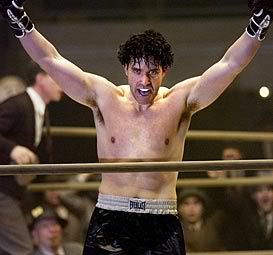 okay, this is craig bierko in cinderella man (as max baer). he looks absolutely disgusting.



now THIS is craig bierko real life! he's actually pretty hot!!! (and i'm saying he's hot only for greater effect. honestly, i wouldn't call him "hot"-maria would- but yeah, he is pretty good looking.)

gosh, i still can't believe they are both the same person.

oh, here's a better picture from maria's blog. | chocolate covered cherries

i'm drinking orange juice now. i find it so cool that i get to drink liquid that is my favorite color!

anyways, for once i'm home from school really early. usually i have a basketball game or practice or something but today shall indeed be the day, i finally start on my research paper!

america's next top model was hilarious last night! brittany got eliminated, and i'm gonna miss her cuz she was so funny.
"keenyah, you started crying because YOU wanted to open nelson mandella's cell!!"
"you didn't even know whether he was dead or alive!!!!"
"SHUT UUUUPPPPPPPPPPPPPP!!!!"

hahahaha okay maria's probably the only person i know who'd get this. so moving on.

since the first quarter ended and my team in mandarin class won, lao shi got us two tubs of ben and jerry's ice cream! CHUNKY MONKEY AND PHISH FOOD - two of my favorite flavors. how did she know? she's too awesome.
i'm not feeling too happy about my grades for last quarter. no blue or yellow paper for me for sure :( i need to work harder this quarter, and hopefully i get a yellow paper (high honors!) |
October 10, 2005
pish posh!

helloooooo
thisis hilarious.

no homework today! that's one thing to be really happy about :D
so i'm juz chillin in front of dis computa listenin to good old gavin degrawwwwww. chariot. on repeat. hahaha surprise surprise.

i am not gonna miss american's next top model today! i missed last two week's episodes cuz of school work. i already know who wins though! okay its on! bye! |
October 09, 2005
O Chariot

international night was fantastik! it was the best yet, among all the other years i've been in ics. (4 years. oooh that's the longest i've been in one school.) probably cuz there were proper auditions and stuff. food was really good too! except i ended up throwing up everything :( i was either really nervous, or my stomach was being racist against a specific culture or something... (i'm kidding!) anyways, our latin thingy went well :D and i LOVED sofia's indian dance thingy. that was just... just...too awesome for words. i have to learn it someday.

we had youth on saturday after worship rehearsal (and when i say 'had youth,' it doesn't mean i ate a bunch of human beings. stephenrrr.) it was really fun! thanks nick for leading it. we ordered mcdonaaards, so halfway through our meeting, the mcdonald's delivery guy came in to the church office with a bunch of mcdonald's paper bags. seems like its gonna be a trend ordering junk food everytime we meet. we had pizza last week :D

and i finally got my gavin degraw cd today! *squeal* timothy and i set out on our degraw hunt right after church. actually, we had burger king first, and then we went on our hunt. yes yes, we kept our priorities right. food comes first :D the lamb burger is really good! its the best burger i've had at burger king. booger king.
our hunt wasn't much of a hunt though, cuz HMV had a bunch of his cds. hahaha oh and jamie cullum has a new cd! i got all excited for about 5 seconds until i scanned the back of his cd and saw some song titled "Oh God." it really stinks when an artist you like inserts 3 minutes of crap in a cd that could've been clean. but guys, NEVER, EVER compromise.

we invaded a few stores in heeren and tried on a bunch of winter clothes. so fun! they were all men's but hey, they were nice. we decided we will go to switzerland one day. mmmm my mom just brought me pear. i like pear when its a little overriped, so its soft. anyways, FOSSIL was the last store we invaded. we couldn't resist. those amaaaazing watches... i ended up stepping out of a store with the cutest watch strap. thank you ruth and timothy! thank you thank you thank you. i LOVE it. i just need to save up for a watch face now : ) which means, i'm gonna have to call hagen daaz... ugh i hope they aren't mad at me for my disappearance.

well, i better get back to my homework. have a good evening. Jesus loves you :D |
October 03, 2005
shame on inaccurate search engines!

i just checked out my site meter and it seems that some random person in missouri typed "sexy brazilian booty" on a yahoo search engine, and somehow stumbled upon MY site. how in the world did that happen!?
thats why i search on google.
hmm gavin degraw's songs are pretty good. timothy made me listen to his songs and now i feel like sitting at the beach and be reflective and sappy. hahaha but HEY, it beats trying to study for english and doing weird history activities.

sarah just called! i miss her soooo much, but she's coming back to visit in november. hopefully on my birthday! hahaha i can't wait. i am missing pete loads too. i hope he visits soon. its not fun missing people...

anyways, pictures from today's CAREER DAY! ooooh exciting stuff!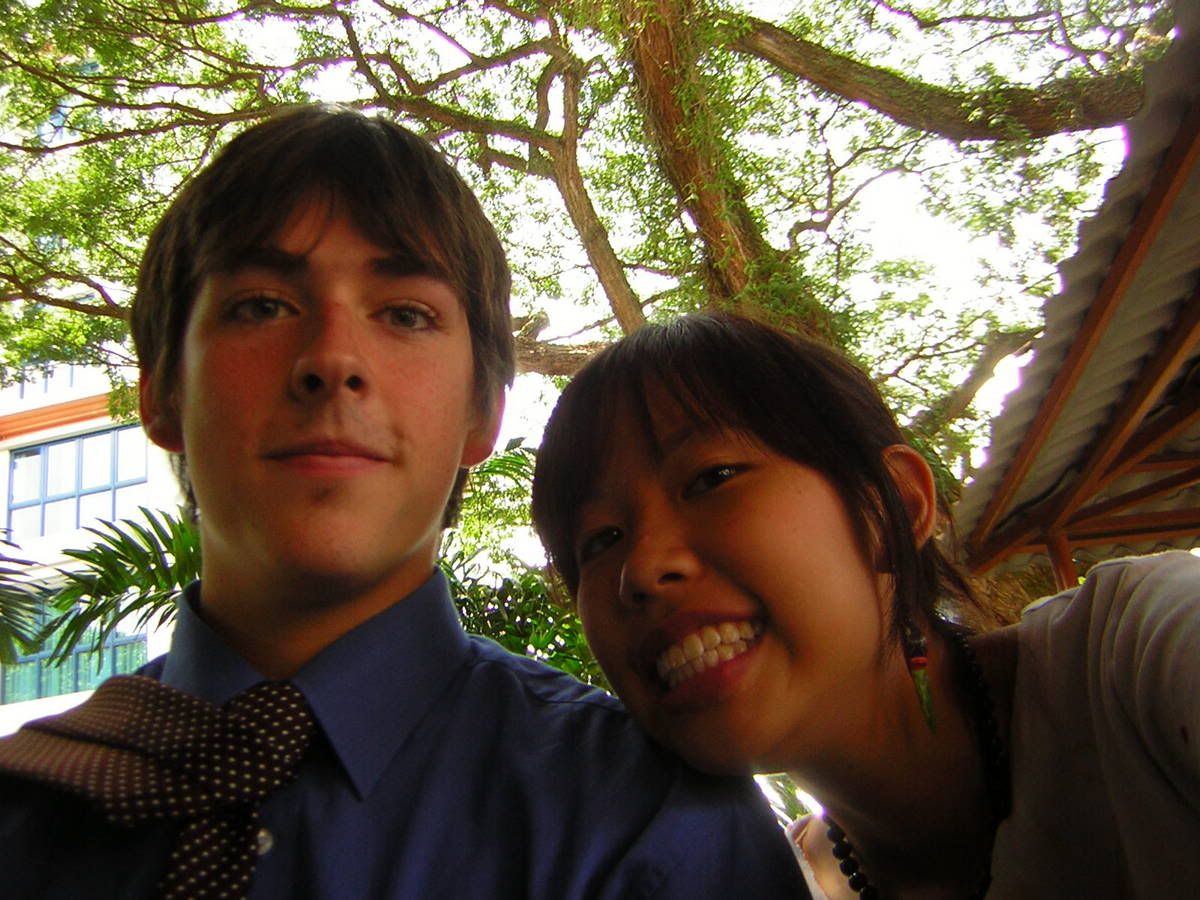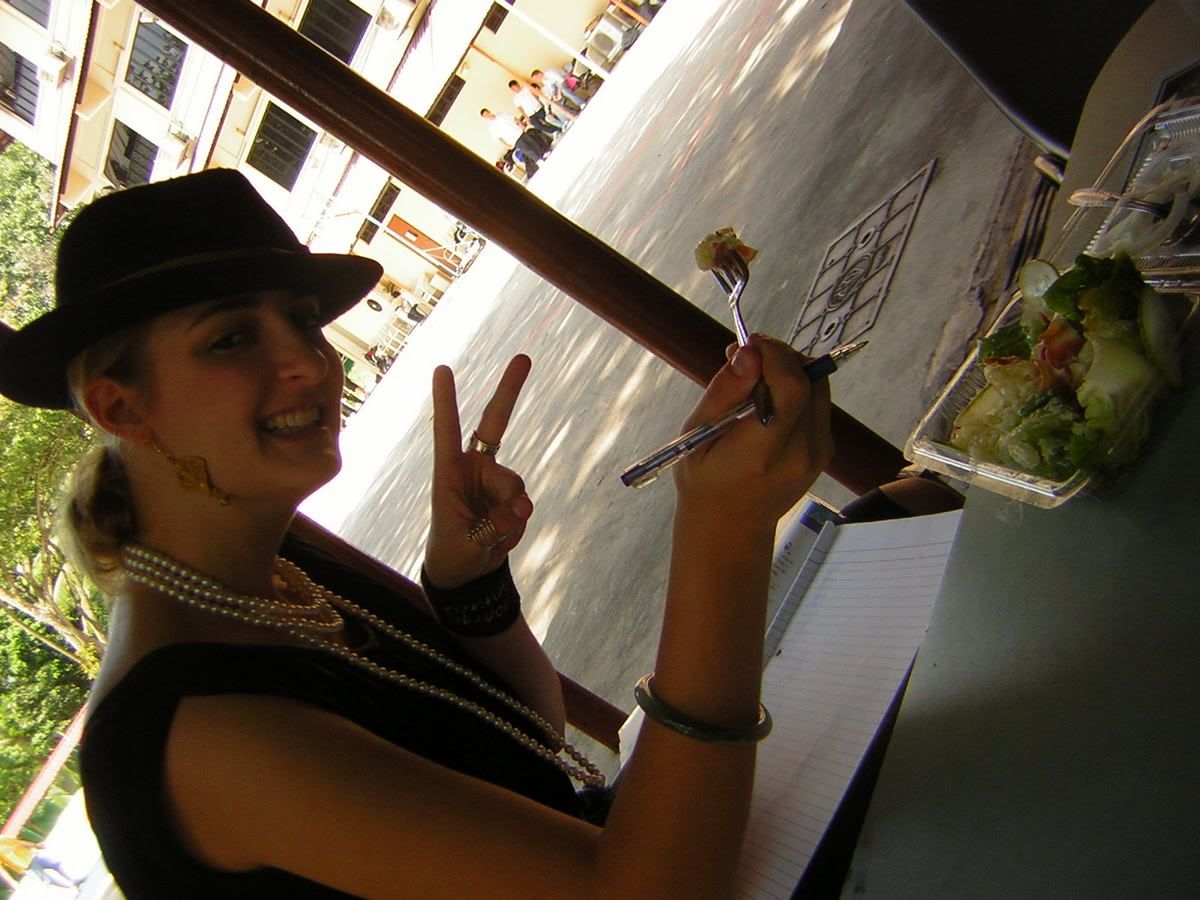 me and timothyyyyyy. he was a hotel manager hahahaha i guess college fair did have an impact on him :)
sanna's a (white) japanese rock star (even though i think she looks like someone on broadway)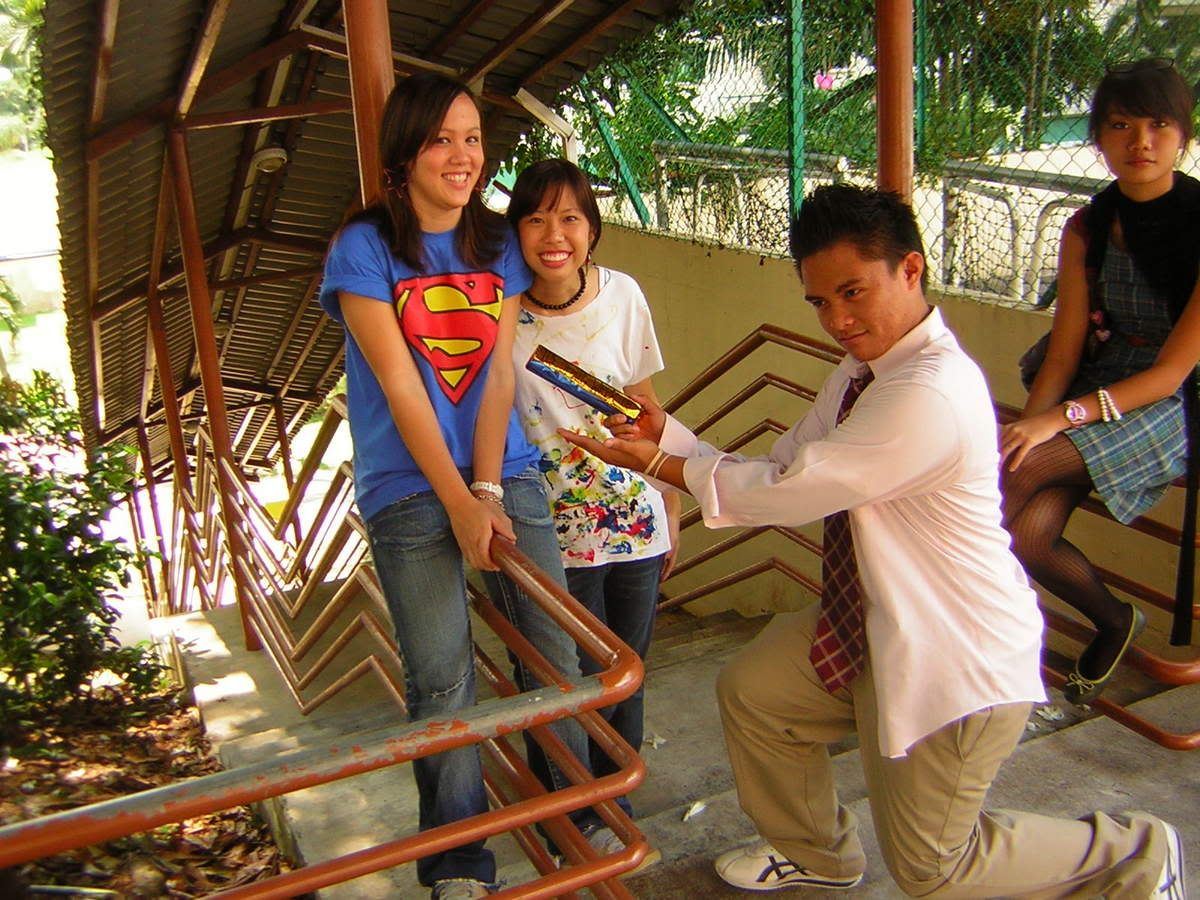 me and stephenr, who was a hip hopper?/ drug dealer/bum/whatever. he won!
yay! superwoman! and deranged business man.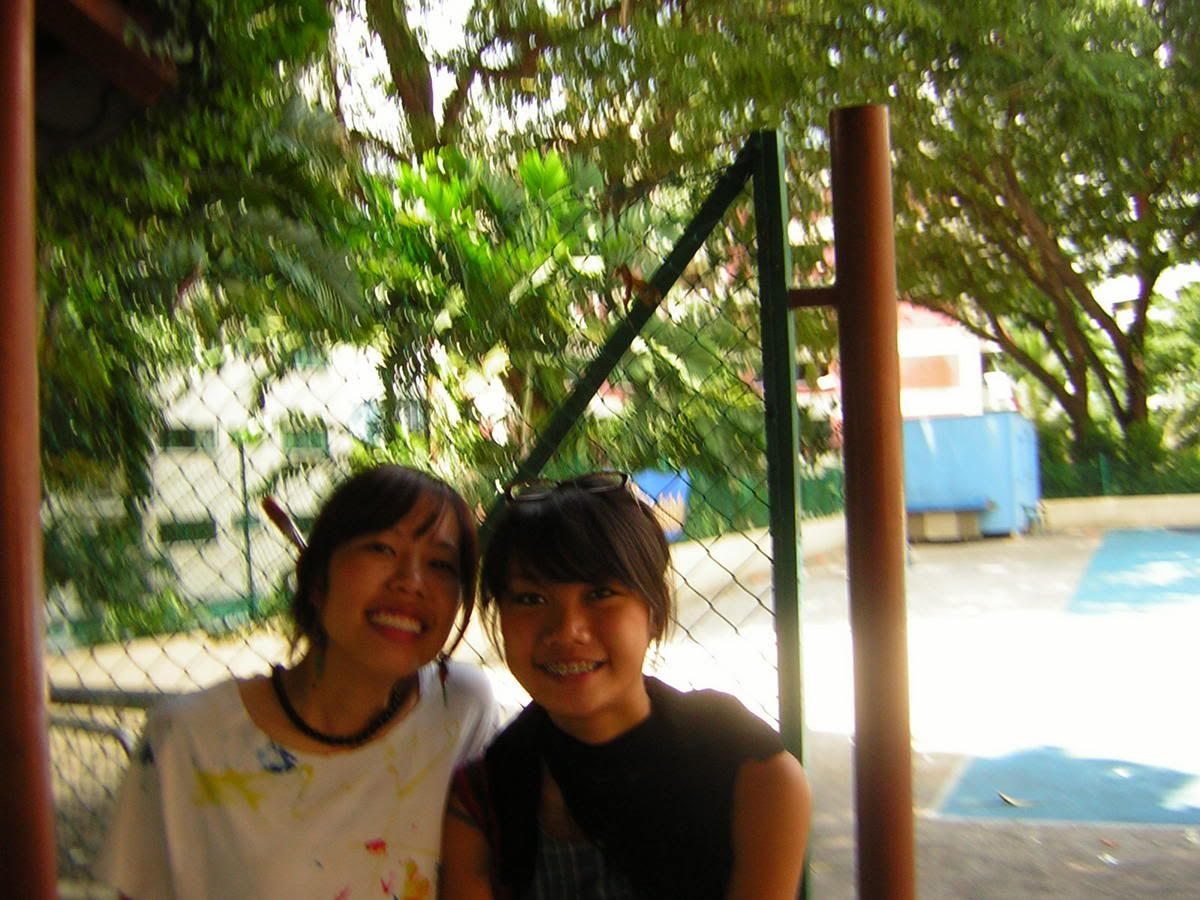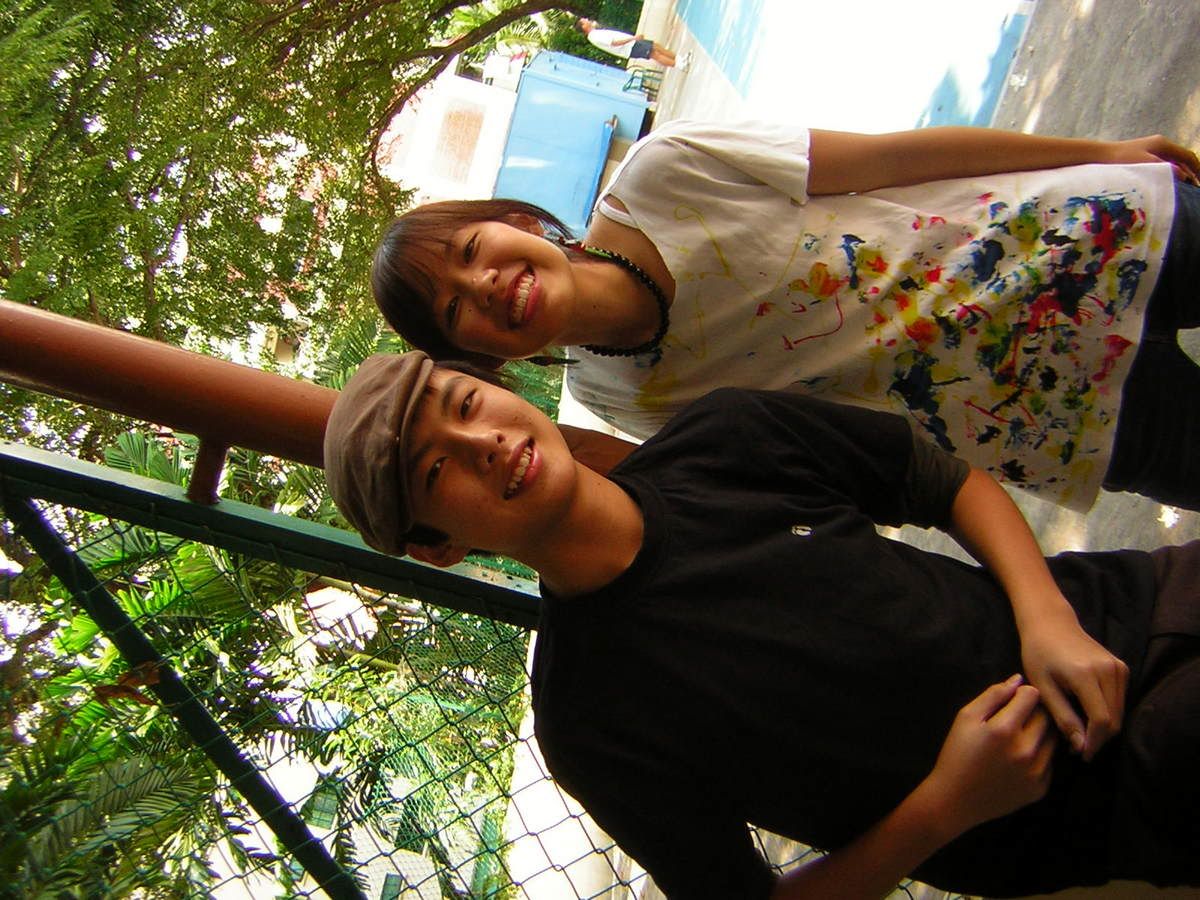 me and val! sexy librarian.
me and nathan! he was a poet with an awesome hat. i thought he looked more like a movie director.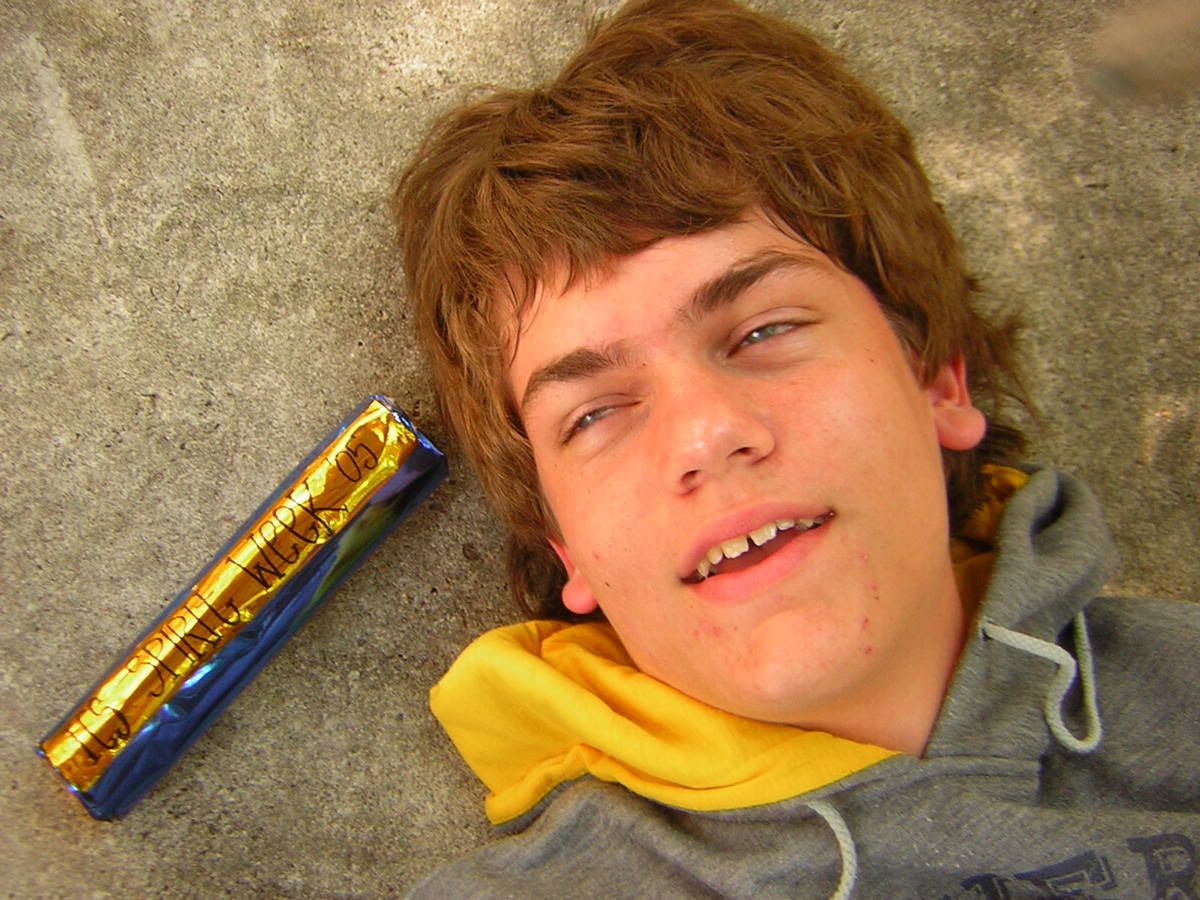 LARRY KILLED THE CAREER KING. nooooo......

goodnight my loverliessss |
October 01, 2005
garbage in, garbage out

HELLO!
i just ordered mcdonaldsssss cuz my parents aren't home, my fridge is in a sad state (as usual), and i can't cook. my stomach, on the other hand, is demanding for food food FOOD. i'm just gonna have to wait for 45 minutes for my mcspicy double. mmmmm junk food.
anyways. weekend's going okay so far. not very productive even though i got to borrow some of scott fitzgerald's books for research paper from the library (which are now sitting on my bookshelf...), and got yelled at by this crazy fat balding man. ooooh it was so SCARY!
oh and i went to collect my zara skirt. it cost a lot more than i thought it cost so every pin number i punched in to the machine thingy came as a dart to my very fragile heart.
youth meeting on friday night went well. we ordered pizza, and nick baked such GOOOOOOD cookies. i truly marvel at his wonderful baking/cooking skills (and am put to shame at the same time). and we got to play the game of life again! i was the first to retire after those treacherous years of being a boring, low-paid accountant. i just realised, i've never really thought about my retirement. its pretty crazy though cuz i still have around 50 more years! crap, that's LONG. hmmmm i guess i'll be happy as long as my husband's still alive when i retire.
anyway....
oooh yaaay mcdonald's just arrived at my doorstep!




hmmm, something about saturday nights and movies... |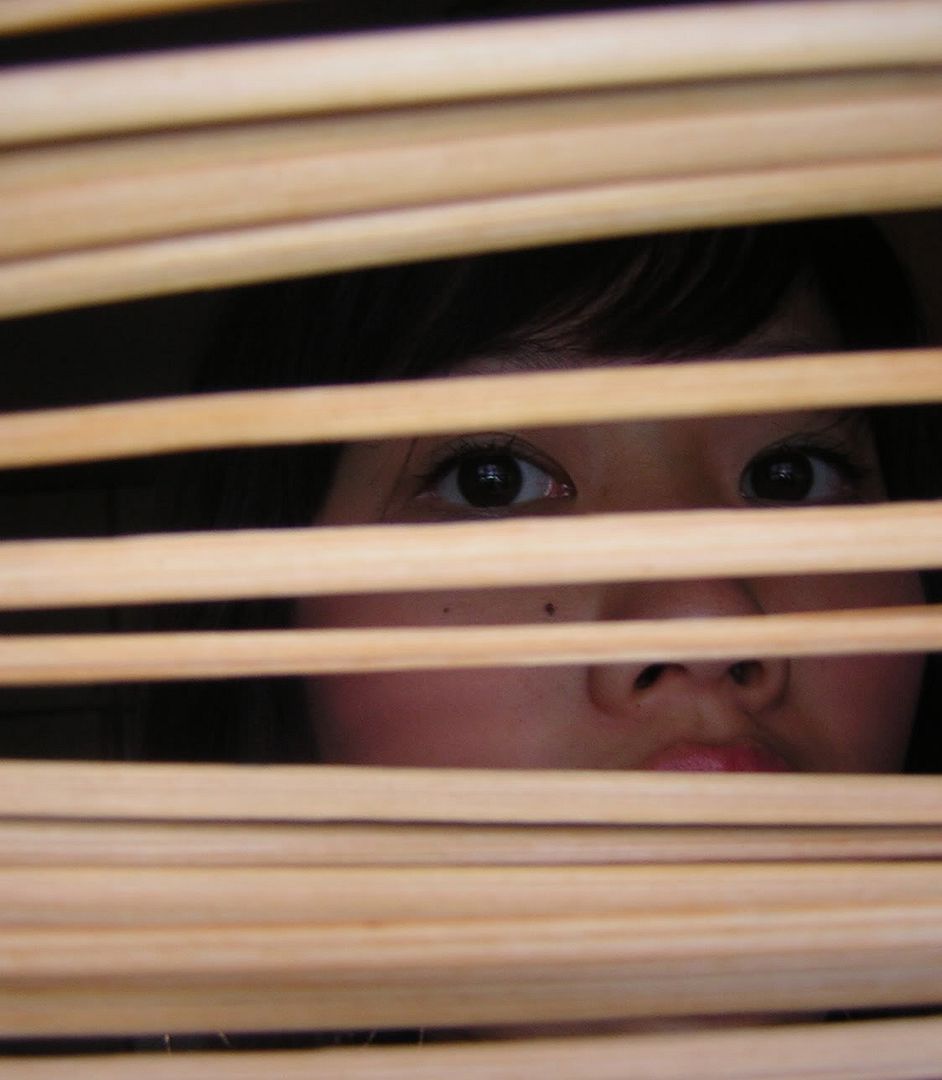 What goes "oom oom"?