The muzak: Sleep All Day - Jason Mraz


November 30, 2005
yo-yo

hey!
i really hate pms. but i don't think menopause would be any better.
anyways, this week has been the first week without basketball practice and i already miss it a little. it was fun just getting all excited for our next games, having scrimages and stuff. even though i've complained about coach before, i've realised that she is a pretty awesome coach. i loved how she encouraged us with verses before our games: perfect love casts out all fear. and God did not give us a spirit of timidity but a spirit of power and discipline. next season, i'm gonna play harder and actually go to the gym! (right maria!)
so, i got to go to anna's house just now after so long, and finally got to see her green walls. i really love her house. it looks bleh from the outside but the inside's really cool i think. i mean, its like a freaking penthouse! she has a little garden on her roof and her room smells so good. so yeah, it was really nice just talking and catching up while we ate leftover turkey and peanut butter m&m's (not simultaneously). i just can't believe i've already known her for almost 5 years, and we've seen each other grow so much in so many ways. we used to think we were soooo cool in the 8th grade. we used to pass notes in class ALL THE TIME. and about the most insignificant things. like "lets go get milo at the hawker after school!" or "peter's legs are like pillars of marble built on gold." fun times :D

i heard ben and jerry's opened at suntec! sooooo totally have to go check that out.

so, there has been so much to do in school, i can't wait til christmas break! |
November 27, 2005
windex

hey,
we won the ISIBL championship yesterday! we won! we won!!! and congratulations to the U16 guys who got first place too. its the first time in ICS history (supposedly) that the open girls team got first place so good job guys! and thanks christina for letting all the other girls play. i'm gonna miss having you on the team. you really deserved that game ball :)

anyways, yesterday, i turned 17 too. it hasn't quite sunk in yet. but yeah, i'm 17 now! we had really good food at brewerkz, near clark quay (thanks nick for the suggesting that place). i had a good time with all my friends. they are all so awesome, i really don't know what i'd do without them. i love all of you guys. aaand not to mention, i got really really cool presents :D thanks to everyone who contributed. LOVES IT.
and i happily became a conformist too. he he he.

so, it feels like i haven't gone to school in forever. but tomorrow, school shall resume. and tomorrow, i'm 17 and 2 days old. yikezzz i'm getting old.

i've got so much i want to say but bleeaughh its dinner time so, laterrr. |
November 23, 2005
YAY

we beat the canadians at semi-finals yesterday!
it was one of our best games ever. the refs had a hard time calling fouls fairly cuz our defense was so strong. i really think we've improved A LOT (esp with our defense), we actually know how to rebound now. so COME TO OUR FINALS THIS SATURDAY (12pm at UWC) and support us :D |
November 19, 2005
righteous

hey! nothing much's new, school's been busy as always. i would have been out with ruth and rach in town right now but they told me they'd have to ditch me cuz they were planning to buy my birthday present. hoooohoooohhoohoho so exciting :) so i decided to come home instead of being a loner on orchard.
so anyways, nick got a iPod VIDEO and its just amazing. the graphics are excellent and having color added to your volume bar and stuff really takes listening to music to a whole new level. well, it beats taking out a bunch of mic stands and music stands for worship practice. but uncle raymond got a little mad... sorry! i also discovered jack johnson on nick's iPod and decided that i liked his music. i will finally make an outright declaration that i am OVER POP PUNK. and emo. oooh i can't believe i had my emo music phase. ruth, i'm sorry, i should have listened to you all along. even though i know you don't like gavin or jack johnson, i know you still love me. so if jack johnson's cds good, ima go buy it if i have the moolah.




oh it was awesome, i met my hagen daaz colleague at borders and it turns out that she's "MISSING IN ACTION" too! just like me! so we decided that we will be a moral support to each other and go quit our jobs together. goodbye hagen daaz... you never gave me free ice cream... or my pay...

last tuesday was ruth's birthday and since its my tradition (since when?) to wish happy birthday to my loved ones in big letters on my posts....

happy belated birthday ruth!

its my turn soon :) so yeah we went to hardrock for dinner. i had to rush out to town after school to get 17 balloons and a birthday cake before my basketball game at TTS at 5:30. it was pretty hectic. but nathan helped out a lot and everything worked out fine. thanks nathan, you're the best. even though we did nearly get spotted by ruth and rach since they were in town too. hahaha *phew* yeah, it was really fun :)

so there are these pair of boots i saw at ALDO that i fell in love with. i just tried looking for a picture of a pair but couldn't find one. they are kinda like eskimo boots. cream colored with a little bit of a flowery emroidery thingy on the side. if only singapore had winter, i know my mom would let me get them. if only...

anyways, i'm gonna go see the lum's (uncle jonathan, aunty juliana, and victoria) off at the airport soon. they're leaving for japan and i am gonna miss them soooo much. i really hope i get to visit them there soon. and lucky them, they get to spend christmas in tokyo. so bye bye,

have an awesome rest of the weekend!

xoxoxo |
November 12, 2005
%

i can't believe it! Hi5 was the first to wish me happy birthday! and its not even my birthday yet. that's soooo sad.
anyways, i just came back from a wildcats VS bullets game at the singapore indoor stadium. isaku somehow got free tickets from mr ericsson or something. it wasn't that great though! the kids sitting behind me were being so lame. and the hotdogs cost 5 bucks! burgers $6. rip-off. oh i learned how to say rip-off in hokkien. ka chai tau. i really wanna learn hokkien. it sounds really cool, and i'd be able to communicate with my grandparents better. and then i could reach out to them cuz they are getting old and they aren't christians yet.
i was cooking scrambled eggs the other day and realised how fun cooking was. the sound of oil sizzling in the frying pan. the lovely aroma of food that fills the kitchen. once i have the time, i'm gonna try and start cooking.
christmas is coming soon and once again i get to wear my snowflake earrings! i wear them every year only during christmas. so its a little sad that i can't wear them anytime i want. oh yeah, try the peppermint mocha frappucinno from starbucks. it tastes like CHRISTMAS! mmmmmm. |
November 05, 2005
mopiko!

hallo hallo.
i just put up JB pikchas on my ZORPIA so go see!
so, my day started out early. i had to go to school for play practice, which i was late for, and i blame my dream. i kept waking up and going back to sleep wondering if play practice was 9:00 or 9:30, and then i had a dream that play practice was 9:30, so i was like YAY! can sleep some more. but gosh, my dream was so wrong!

oh yeah, i took loads of cloud pictures in malaysia. they were soooo pretty. i'm too lazy to upload all 12+ of them so here's what i think was my BEST CLOUD SHOT! :D




those clouds were awesome. they looked like computer game clouds. like mario or something! God is so artistic.



hahaha mario clouds!

anyways, got work to do.... : ( |
November 03, 2005
LOVES IT
| "no matter where you go (pause), there you are."

soooo much has happened during the weekend and this whole week. i went to JB for mini church retreat from sunday to tuesday which was a lot of fun! some highlights:

-i went to a driving range!!!!! (and got bird poop on my shirt...)
-spend our nights in stephen/kurt/eddie's room watching stupid movies. buckaroo banzai wasn't that bad but glass trap was HILARIOUS. the guy couldn't count even with his stopwatch on. oh, the whole movie was a blooper.

but after watching DOOM today, i guess i've changed my mind about glass trap. glass trap wasn't that bad. but DOOM, DOOM was the crappiest movie ever! the whole movie was basically about a few men walking around in a dark sewer killing monsters with flying tongues. it was disgusting. if only i could take back those two precious hours of my life : (

-basically i just had lots of fun spending time with people in my church. they are aaalll such a blessing to me.

i'm gonna put up pictures on my zorpia anyways (haven't used that in awhile.)

sunday was really cool. nick's preaching was really really goood and we got an elvis impersonator come visit our church hahaha he was awesome! and his testimony was really good.

bah i wish i could blabber on some more, but no time for a long post so bye! |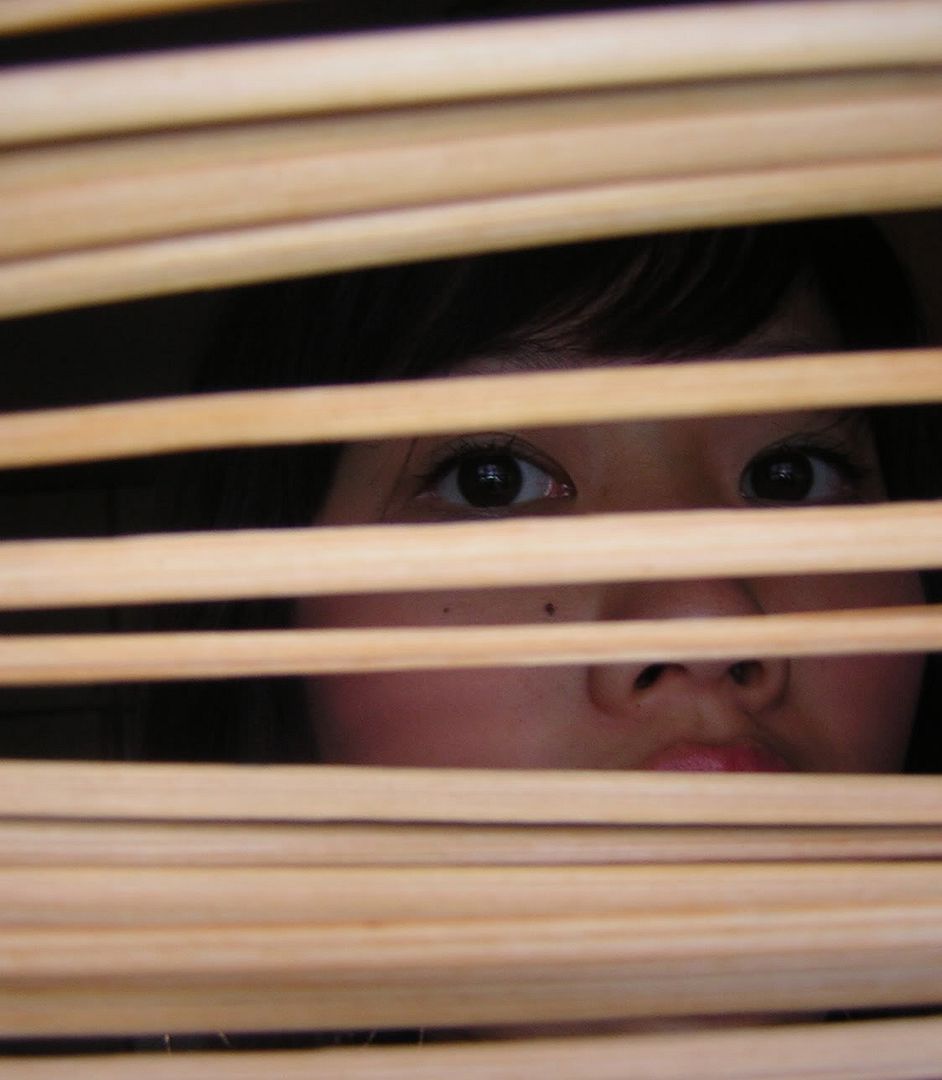 What goes "oom oom"?