The muzak: Sleep All Day - Jason Mraz


December 31, 2005
oh wells. anyways.

hey!
first of all...

HAPPY BIRTHDAY NATHAN!!!!!!
his birthday was on the 27th. we got to surprise him at his house :D

and...

HAPPY BIRTHDAY RACH!!!!!!!!

it was her birthday yesterday (29th). and i had so much fun. ruth and i slept over at her house last last night and the three of us spent the night at a hotel in changi village last night. it was such a cool hotel. good food places and the beach nearby. will put up pictures soon! got a really cool one of the rainbow cuz we saw a rainbow while walking by the beach. at night, the stars were visible too, but my camera wasn't powderful enough. while there are 12 mega pixel cameras already out, i'm still stuck with a 2 mega pixel one. shoooo shad.
yeah, so, break has been a lot of fun for me so far :) have to make sure i don't lose focus on God.. and also to FINISH MY ART. gaaah. got so much to do. we can do it nathan! i did some today in the library, and asked this random guy if it looked good. he stared at my drawing for awhile and was just like "...not so bad."
chey right?
oh wells! anyways! hahahaha rach.
the new season of america's next top model has started and it's very exciting. the house could be considered the best house out of all the top model houses so far. i mean, it came with clothes, shoes, bags, make-up, and perfume! so the girl's not only got a nice place to live in, but got new clothes, shoes, bags, make-up, and perfume! it's like a dream.

"fierce beauty, fabulous strut, fresh personality"
i love that show. and the show facelift with debbie travis is pretty cool too. i don't mind having a job like that in the future.
anyways.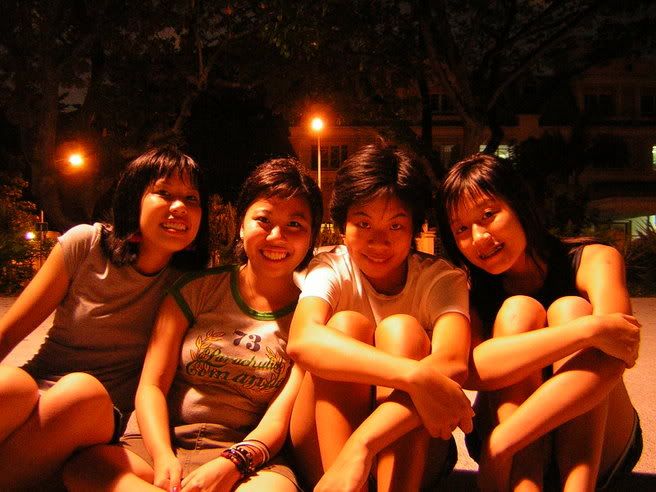 all 4 of us are finally 17 now! | uhhhh

a message i got in my myspace inbox:

From: CQUENCE

Date: Dec 25, 2005 10:03 AM
Subject: Hey wassup!
Body: Hey wassup!

We're Asian R&B/Hip Hop Group -- CQUENCE!

We've been consistently MySpace's number 1 unsigned R&B singing group!

Check out the unreleased singles "Wut U Want Mami" & "Cinnamon Sweetz!"

We also have 2 songs from our album "RUGGED N BUCKWILD" available for free MP3 downloads!

Add our songs to your page by clicking "add" on the MySpace Player!

Tell us what you think!

Much Love and Peace!

CQUENCE


are they for real? |
December 26, 2005
unreliable quizzes

yay! i finally got to sleep in today.
anyways, gonna put up some pictures from last week.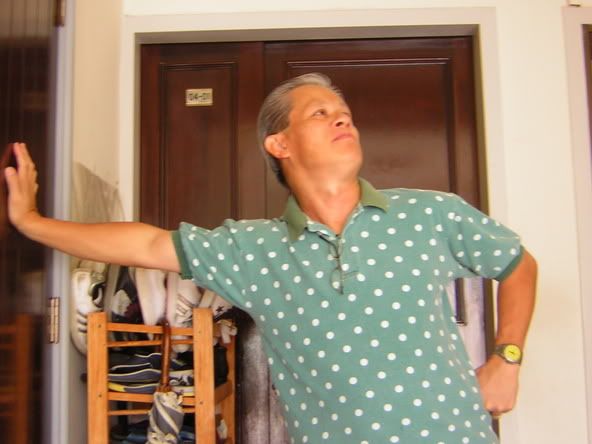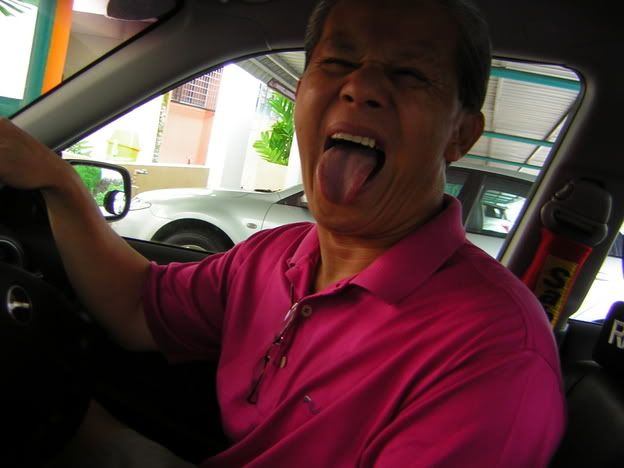 my dad and his stylo shirts. i love it!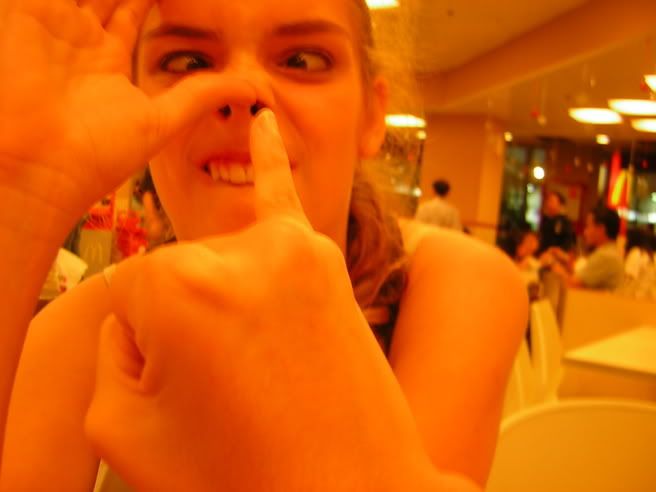 sofia and i, picking each other's noses using PERSPECTIVE.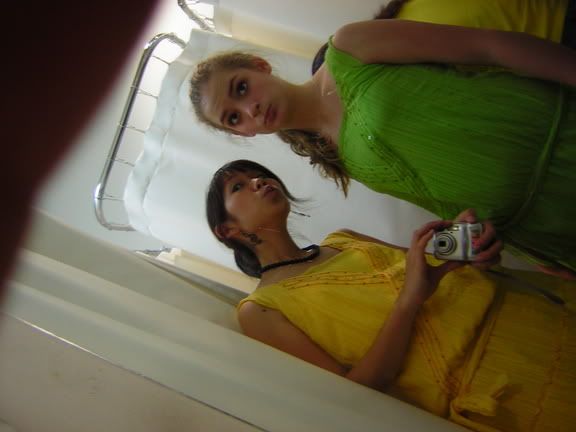 cheap dresses!



heheheh | cloud shot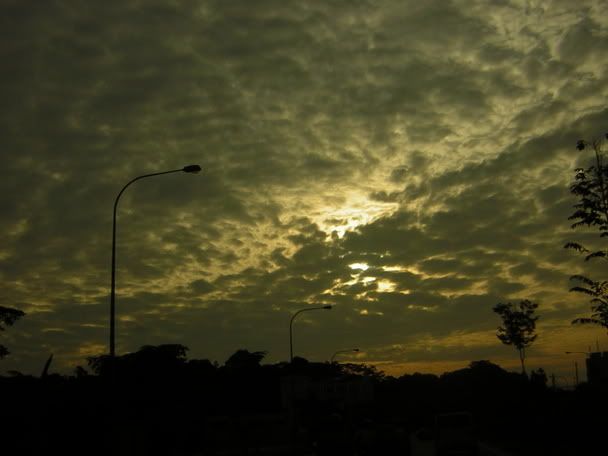 in the car, on my way to geylang. so pretty.
oh yeah, there were quite a lot of stars out on christmas eve. i saw the orion! |
December 25, 2005
yah!!

merry christmas!!!!!!

its been a really busy week for me, but its finally over. school ended on the 18th? but my break officially starts today since i wouldn't call last week a break. but being involved with the narnia performance thingy at jurong point was SO FUN and i'm so glad i joined. i was the dancer along with sofia, lauren, anna, and sarah. sanna was the witch, nathan was peter, chelsea was suzan, hannah was lucy, paul was edmund, hannah's dad was mr. kirk, and mr. whittaker was mr. tumnas.
i got loads of bruises from dancing but they are healing, and every night i'd get rashes from the layers of spandex, but ruth got me nappy rash cream. its all good.
so yeah, its been a really good experience. never thought i'd be a "disney sponsored entertainer" ever in my life. the money is good and without it, i wouldn't be able to buy everyone late christmas presents! i'm sorry they are all gonna be late. next year, i really need to cut down on being late, not only with christmas presents but with homework and meeting up with friends and stuff. hahaha grrrr. oh and worship rehearsals. making uncle raymond mad isn't fun.
so i got to hang out with sofia lots this past week, which was really fun! i might be 17 but i still feel like i'm 12 inside! getting matching $5.60 dresses from THIS FASHION (they were $7 but these two ladies offered us their privilege card-get 20% off), buying kinder surprise and building the toys while sitting on the dollar kiddy ride and amusing OSIM people. they took pictures of sofia and i on their handphones. and riding around toys'r'us in shopping carts. i still feel like i'm 12!
anyways, good job to everyone! the crowd was big, i was so impressed. can't wait to watch the movie now!

christmas eve was SO FUN! i went carolling with the youth from my church (including uncle raymond). we got to rent a mini bus thingy so we got to drive around places. the first destination was tan tock seng hospital to visit my aunty betty. i'm so glad she's doing better. thank you God. we sang 3 songs and the other patients in the same ward got to hear us too :D all my relatives were there too so it was a really memorable christmas for her. i hope she gets better soon.
the next stop was rach's house, and then grace's relatives house, and then aunty june's house, and the last stop was the poolside at uncle randall's house. it was so cool cuz someone had a video phone thingy, so we got to call the lum's in japan and sing to them too. miss them so much! the bus rides were really fun too. we got soooo loud on the bus.
and there was SO MUCH food at each house so i kept eating and eating and eating and eating. i couldn't stop eating! the food was so good. and no matter how much i ate, i didn't feel full. really odd. lots of turkey! so once it hit 12, we wished everyone merry chrismas, and got to sing happy birthday to jeanne and uncle karon and eat more food. HAPPY BIRTHDAY! i had such a good time :D

and after eating so much last night, i still woke up feeling starved this morning. i'm a little worried.... do i have a worm in my stomach?

i got to eat a lot too today cuz there was christmas lunch in church. more turkey! so i ate and ate and ate. and nick baked a huge oreo cheesecake which was heavenly. oh man, it was SOOO GOOD. he used 4 packs of oreos for it, but it wasn't too sweet which was good :) by the end of lunch, i looked pregnant and it was soo funny.
"meg! its monstrous!!!"-ruth
i wish i brought a camera to take a picture of my bulging tummy but oh well! hahaha it didn't look very flattering anyways.

i will put up pictures of narnia and carolling when i have more time.

so, hope you guys had an awesome chrismas too!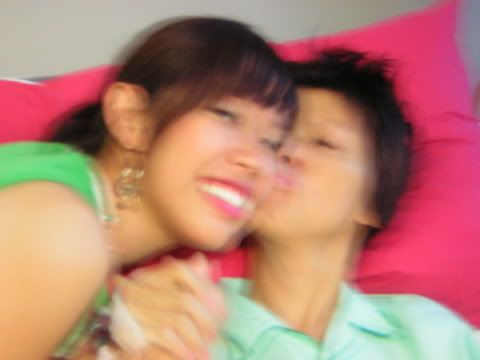 me and aunty betty!

"they find no place to born she child"- some christmas songs have interesting lyrics.

oh man, i'm starving right now so i'm gonna stuff myself some more!!!!!! mwahahaha. |
December 11, 2005
oh i forgot.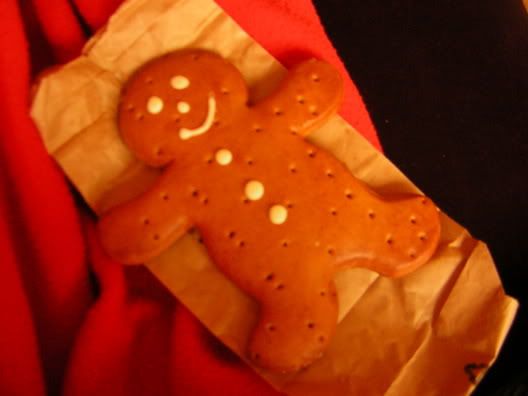 ginger bread man!

don't get the starbucks one. those are small and they cost around 5 bucks. i got this big one for ONLY $2.20 from coffee bean! | and the oscar goes to...

hey!
today, i hung out with tree 63. hahahahahahahaha just kidding.
anyways, scrooge play is over! and i really had lots of fun being in the cast even as a very minor role... i think we did a really good job. good job to scrooge especially. i loved the "bobz" part. i was laughing so hard backstage. and its really funny how no one in the audience knows what goes on backstage. no one knew that tiny tim's crutch was missing up until the last few seconds where he had to go on stage. no one knew that we were all boogie-ing behind the screen while we sang "i forged this chain." me and sarah practicing our awesome "perhaps a bull!" line while we walked towards the entrance. things like that. it just makes being in the cast all the more exciting :) and being in the cast means we get to spend lots of time together, and i had lots of fun being with people. helping them do their make up while some did my hair. the excessive use of hair spray and bobby pins. the frying of hair with hair irons. nearly frying my ear...

so here are some pictures!



me and ebenezer scrooge!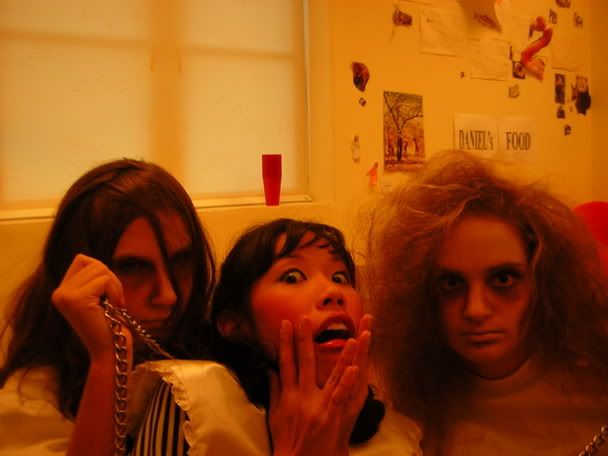 ...and the two spirits! sofia's hair was so cool. it reminded me of shandy in the sunglasses photoshoot in america's next top model. (remember that maria?)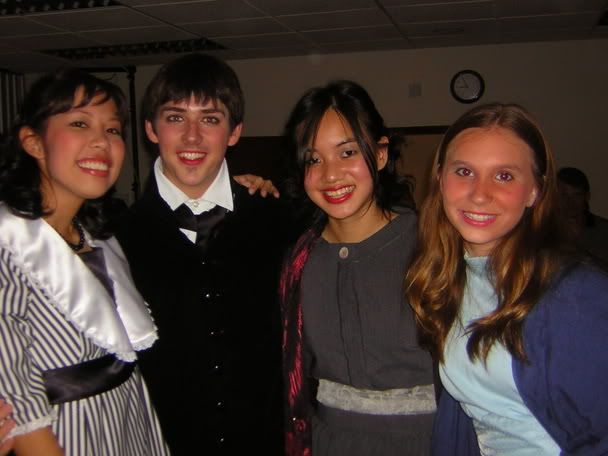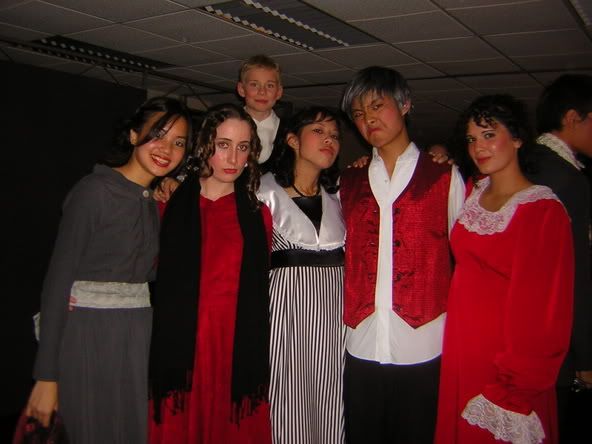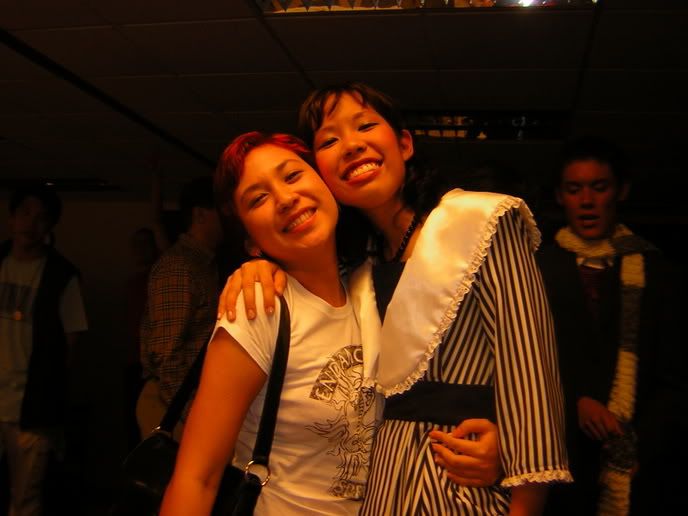 me and my bubble tea! missed you!
(i really am not schizo, and i really don't lead a double life hahaha.)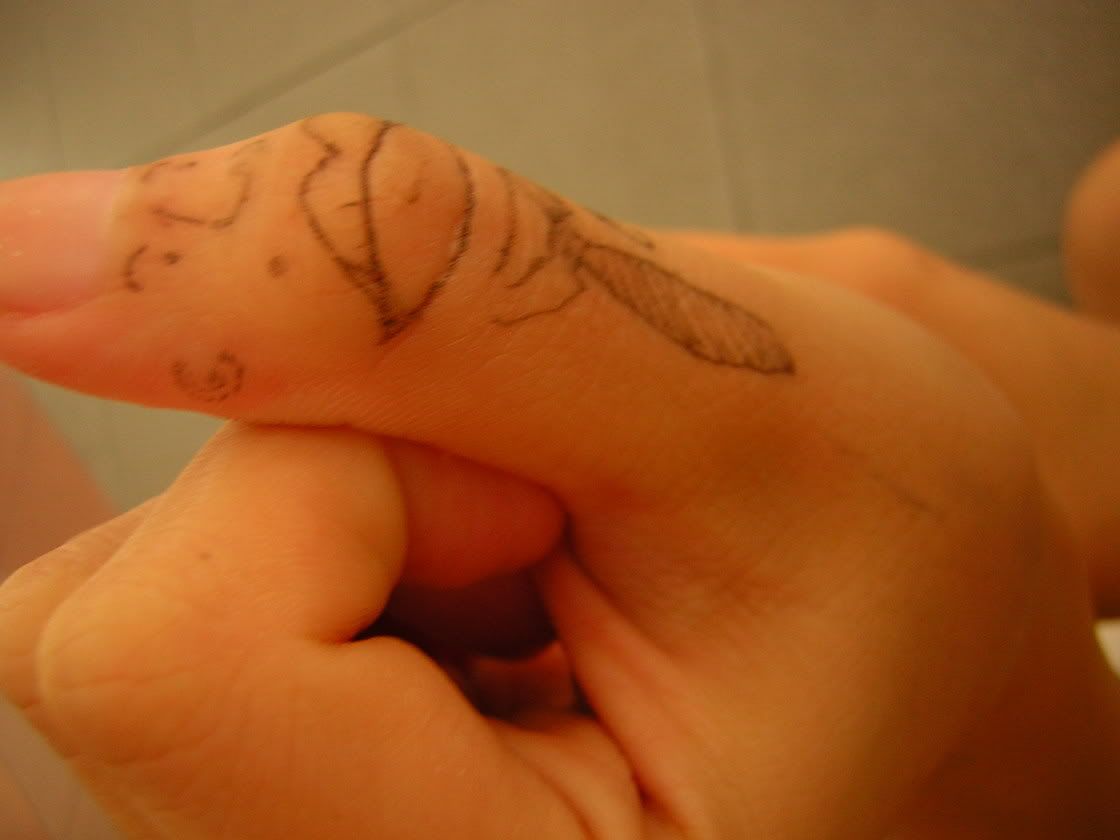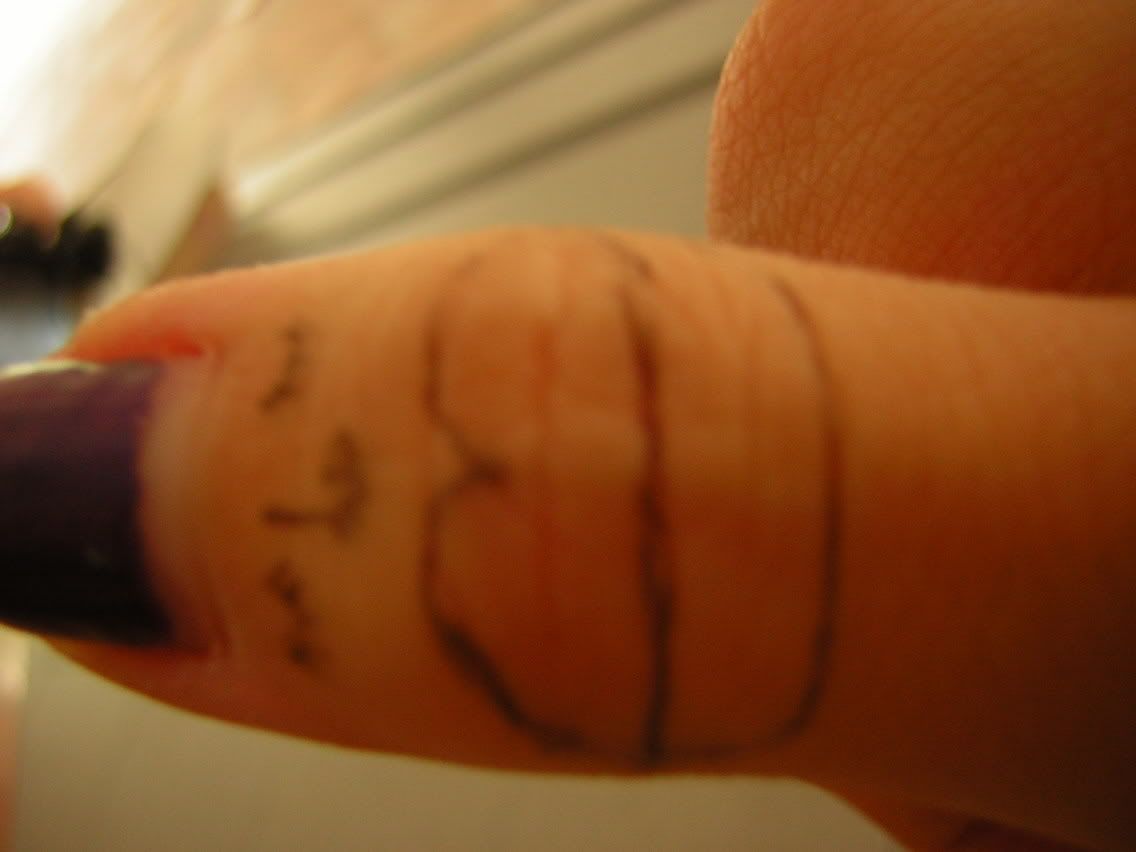 thumb art.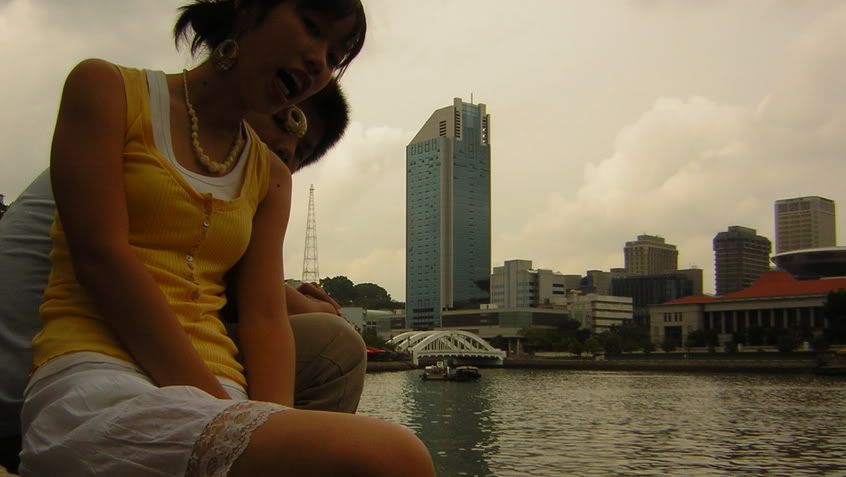 after church at boat quay. and after hanging out with tree 63. hahahahaha



my tonsils!!!!!!! hahahahaha sorry. |
December 08, 2005
a christmas bouquet!

my last post disappeared! oh well.
the last few weeks of school's always tough and i'm really feeling it now. very unfortunate that i have to fall sick before the scrooge play, which is tomorrow night! feeling extremely crappy right now, but i got to stay home from school today and sleep a lot so i hope i'm better by tomorrow.
i'm just glad scrooge isn't sick. he might be really mean in the play, but in real life, he's a really sweet man. hahaha i love scrooge!

oh yeah, here are pictures of my christmas tree!



i still need to buy a star to put on the top of the tree. and christmas lights!

anyways,
i read the story of esther just now as i was lying on my bed. i've never read it before, and i thought i'd make use of my time. i thought it was a really cool story; how God works in interesting ways through different people. i seriously think it'd make a good movie! catherine zeta jones could be esther.

i think chronicles of narnia came today? i want to watch it! and i was a little bummed that Rent's not showing anymore. but it was m18 anyways. i just thought it'd be cool to watch something at the esplanade theatre just because.

oh yeah, on tuesday:
when i told anna and maria the results of my jung personality test was ENFJ...
"yeah meg! you've always been an extrovert!!!"
i don't know if i've been delusional the whole of my life, but contrary to what a lot of other people say, i've always thought i was an introvert. i still think i am. well, its true that i'm a lot more open compared to before, but not a lot of people know whats really going on inside. oooooh.....
what about you?

on wednesday, we had a little beauty seminar type thing for the girls at church where aunty christine, whose been in the make-up/skin care industry for 21 years, gave us a talk. it was really interesting. i learned that your face has to have a good pH balance. you have to have both oil and water (moisture). people wash their face to strip off the oil on their face, but the water comes off too if the content of the face wash is too strong. on top of that, face oil comes back up to the surface of the skin in about half an hour, but water takes a long 4 hours. so, washing your face more than twice a day doesn't help much. it takes away the moisture, which is essential for your skin.
its also really really bad to put moisturizer when you have make up on your face. cuz unlike make up, moisturizer is made to seep in to the skin. with make up on your face, the moisturizer will seep in to the skin with the make up, causing milits (spell?)- little white bumps on the skin- to appear. and there is no way to get rid of it other than through surgery. its gross.

anyways, better be off now! have to work on president's poster. |
December 04, 2005
color toned loving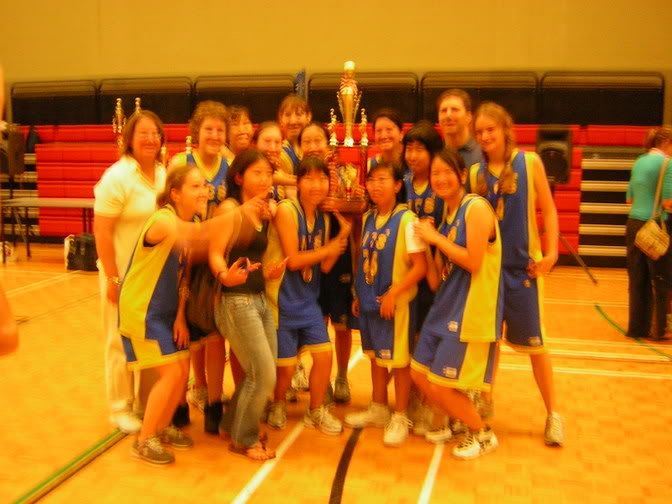 basketball finals!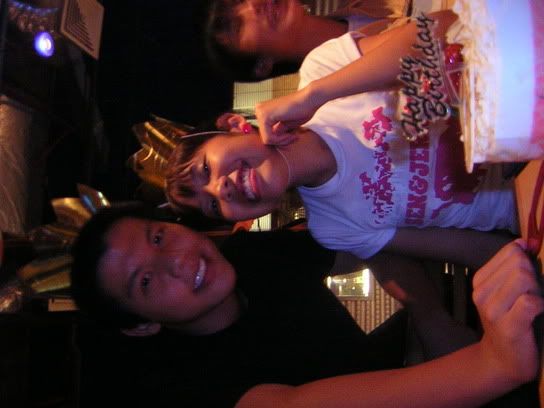 birthday at brewerkz.
(sorry was too lazy to rotate)



botanic gardens. i thought the duck was soooo cute. kelvin!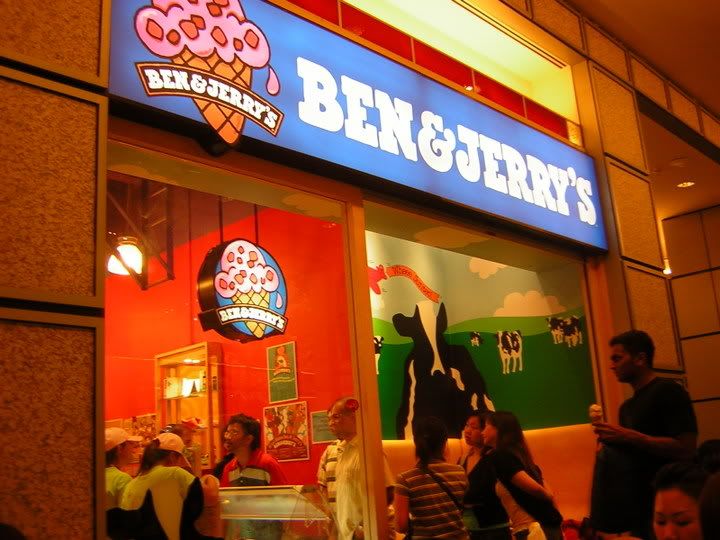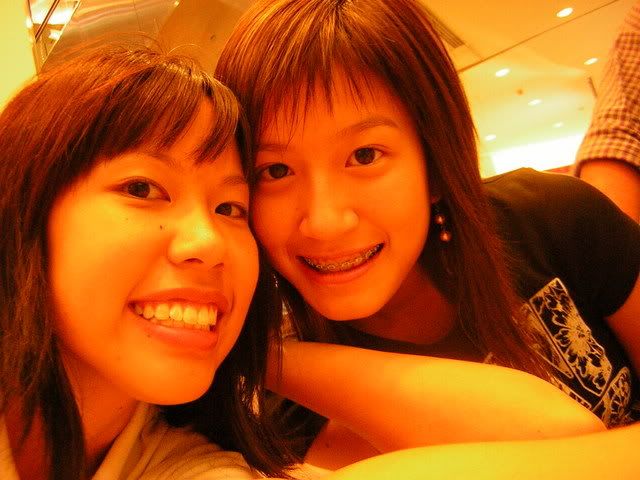 me and jeanne at ben and jerry's | better together

(continuation from my last post)
so, the food last night wasn't that great. they didn't even serve shark's fin soup cuz they were against shark finning. i became a little against it though, after ruth filled me in on how it's done. they basically catch a shark, slice off its fin and let it bleed to death in the ocean. how cruel is that?
anyways, even though the food wasn't that great, i had fun talking to ruth, and actually got to know some new things about her. you'd think i'd know everything about her but i found out that even though she doesn't show it outwardly, she is a big supporter of green peace. then everything started to make sense. the many times i tried to toss a cereal box or milk carton into a trash can, she'd panic, stop me, and save it to throw in the recycling bin at her HDB's void deck. it all finally made sense!
the wedding dinner itself was quite cheesy. the speeches and everything; how the couple met, how they both had so many conflicts, the bride's sister began calling them "cornflakes" hahaha. yeah, so ruth and i started talking about our own weddings. we reserved each other to be bridesmaids for each other :) hahaha i want my wedding to be really romantic. good music. definitely not during the wedding dinner itself. i remember i went to this wedding dinner and the couple said their vows while everyone was eating. so people were still talking in the midst of it and it didn't help that there were loud and obnoxious old women there.

what else did i do yesterday?
oh yeah, yesterday was full of little surprises. hahaha lets see, the first surprise was seeing reuben sitting in the church office. it was reuben in the flesh! back from australia! was really nice seeing him after SO LONG. the second surprise was krispy kreme donuts! reuben bought a bunch of sugarcoated krispy kreme donuts back from australia and oh man, they were soooo yummy. i had to wait awhile til i got to eat one though, cuz donuts aren't good for singing, and worship rehearsal had to come first. the third surprise was similar. nick came in to worship rehearsal with a chocolate cake. he was like "i felt like eating chocolate cake so i baked one yesterday." hahahaha that's so cool. i wish i could do that. i had to wait til after rehearsal to eat that too though. grrr. but the cake was really good. EXTREMELY chocolatey. the extent of its chocolatey-ness: only 70g of flour was used for the entire cake. 'nuff said. hahaha aaand the fourth surprise was getting a call from ruth to rush down to york hotel for the wedding dinner i guess?

other than that, i had play practice in the morning. tried my best to sound as enthusiastic (with my two lines) even though i was so sleepy, and even though my christmas cheer hasn't kicked in at all yet. then i went to meet maria and kiyoko to help out with christmas shopping. i saw the cutest bedroom slippers, and body shop smelled so good. ralph lauren has amazing clothes. i can't help it, i just LOVE SHOPPING. after i left, i went to collect my very own christmas tree that i reserved the day before. i found one for $9.90! i haven't done anything to it but its already standing in the corner of my room. O, tannenbaum, how i love thee!

i'm really excited about the carolling thing our youth's organizing. its gonna be so much fun. we're gonna have our own van to drive around in! we're gonna bake cookies and ginger bread men to give to people too. yay! its gonna be awesome!

anyways, today's sermon was really good. it was taken from matthew 13:47-52.
v47-48 "Once again, the kingdom of heaven is like a net that was let down into the lake and caught all kinds of fish. When it was full, the fishermen pulled it up on the shore. Then they sat down and collected the good fish in the baskets but threw the bad away."
my pastor brought up a really good point. its not our job to choose who to share the gospel to. all we need to do is cast our nets and catch all kinds of fish. to preach the gospel to anyone. its not guaranteed that a fishing line would catch something, but its definitely more likely that you'd catch at least something with a net. i thought that was a very clever analogy.
v49 "This is how it will be at the end of the age. The angels will come and separate the wicked from the righteous and throw them in to fiery furnace, . . ."
so yeah, its not our job to separate the wicked from the righteous. we need to remember that the gospel isn't about us at all. it doesn't have to do with whether we're good or bad. its about Jesus' blood shed for all. its about his righteousness. so we should all share Jesus to anyone at anytime by all means.

so, right now i'm listening to the jack johnson cd i just bought! yes! i actually bought it. its sooooooooo good. i love the first song the most. i don't care, i'm putting up the lyrics. hahaha

Better Together
There is no combination of words
I could put on the back of a postcard
And no song that I could sing, but I can try for your heart
Our dreams, and they are made out of real things
Like a shoebox of photographs with sepia tone loving

Love is the answer
At least for most of the questions in my heart
Why are we here and where do we go
And how come it's so hard
It's not always easy and sometimes life can be deceiving
I'll tell you one thing
It's always better when we're together

Mmm, it's always better when we're together
Yeah, we'll look at the stars when we're together
Well, it's always better when we're together
Yeah, it's always better when we're together

And all of these moments just might find a way into my dreams tonight
But I know that they'll be gone when the morning light sings
Or brings new things for tomorrow night you see
That they'll be gone too, too many things I have to do
But if all of these dreams might find their way into my day to day scene
I'd be under the impression I was somewhere in between
With only two, just me and you, not so many things we got to do
Or places we got to be, we'll sit beneath the mango tree now

Yeah, it's always better when we're together
Mmm, we're somewhere in between together
Well, it's always better when we're together
Yeah, it's always better when we're together (mmm)

I believe in memories, they look so, so pretty when I sleep
And when I wake up, you look so pretty sleeping next to me
But there is not enough time
And there is no, no song I could sing
And there is no combination of words I could say
But I will still tell you one thing
We're better together |
December 03, 2005
banana pancakes

hey hey!
this week started pretty dramatically, but thank you God, its ending on a really nice note. an E if its on a piano maybe. ha-ha-haaa corny.
so yeah, yesterday was really awesome. i loved yesterday. nathan and i went to botanical gardens to feed the swans and a duck cheap 90 cent bread. oh and the turtles too, by default. i think the botanic gardens is one of the nicest bits of singapore. so yeah, that was really fun :)
then, we had a mini youth get together at city hall which was really, really fun too. we ate at the food court at marina square even though carl's junior was incredibly tempting. we bumped into liz, val, stephen, eddie, and dan there so i did get to steal some carl's junior :) then we took a long walk to starbucks and talked there. we were supposed to discuss christmas caroling but we kept going off topic. nick told us that BETTY CROCKER ISN'T REAL! isaku said that my face when i reacted was something like a golden kodak face. then i started to think about whether or not julie's or khong guan was real... i can't believe it though, betty crocker never existed.

oooh ruth just called and she wants me to go to this wedding dinner thingy at york hotel. yay! good food. (haha just when i thought i could laze at home a little bit. oh well :) good food!)

will continue my post later or something. |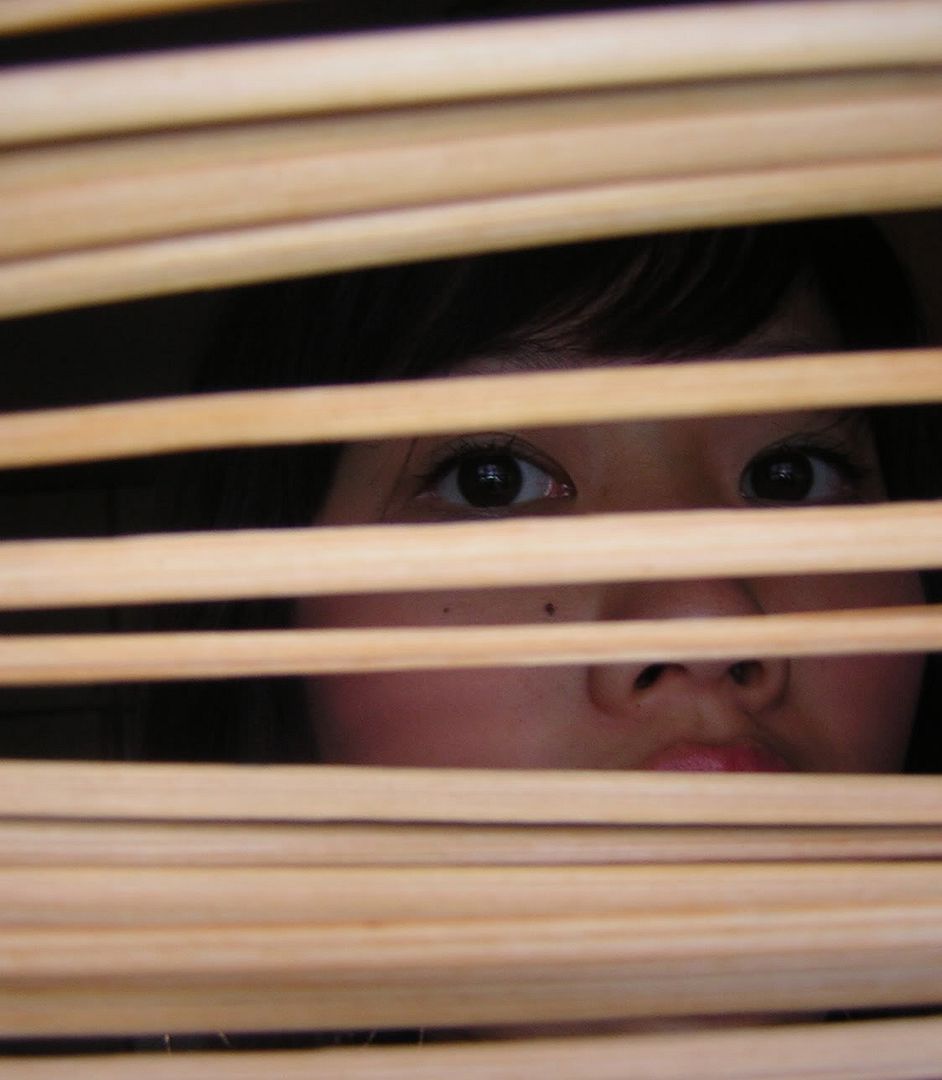 What goes "oom oom"?