The muzak: Sleep All Day - Jason Mraz


March 31, 2006
oh

hello!
this morning, i decided to make the egg toast thing v made for natalie portman. i had no idea how to make it but i tried anyways. the result was absolutely disgusting! crispy bread emersed in oil, i felt so unhealthy. but the process of making it was a lot of fun :) i like the sound of oil sizzling in the frying pan. so i ended up making two sunny side ups. but isaku wakes up, comes into the kitchen and decides to rub it in that i really can't cook. he professionally adds WATER into the frying pan to make his sunny side ups. the result: puffier and nicer looking eggs. i didn't know you had to add water! oh well, the next move he made wasn't very smart though. he broke a chopstick trying to open a soy sauce bottle.
and i'm so shocked by the amount of toe hair he has! throughout all these years, i never knew about the vast amount of hair sprouting out from his two big toes until church camp one night. i was so amazed, i fell asleep thinking about it.
china team's coming back tomorrow! woohoo. hope they had an awesome time and are ready for the hot singapore weather. it's been so hot.
so last night, i was lying in bed and thinking. thinking about how God wants the best for every single person on this earth, and how he has a plan for all of them. but how the world's still so messed up. so that made me really realise how sooooo many of us aren't going along with the "best" God wants. like, i saw madonna on tv, and it's so obvious she isn't doing what God wants her to do... imagine how almost-perfect the world would be if every single person sought out the "best" God wanted and lived by it. we all know that God wants the best for us, but we need to seek it. it'd be sad leaving this earth and not have experienced the BEST. as ruth says, "mediocrity is the KILLER."
and bitterness is one thing you really don't want to have creep into your life. bitterness blinds you from all the good things. bitterness turns something good into something horrible. and you don't even know it! life becomes a pain when you have bitterness. don't let bitterness rob you from happiness :(

so now that i've said everything that i've wanted to say,
it's time for art! :D |
March 30, 2006
click!
some weird johari thingy.
| hola!

i finally finished my first big piece :D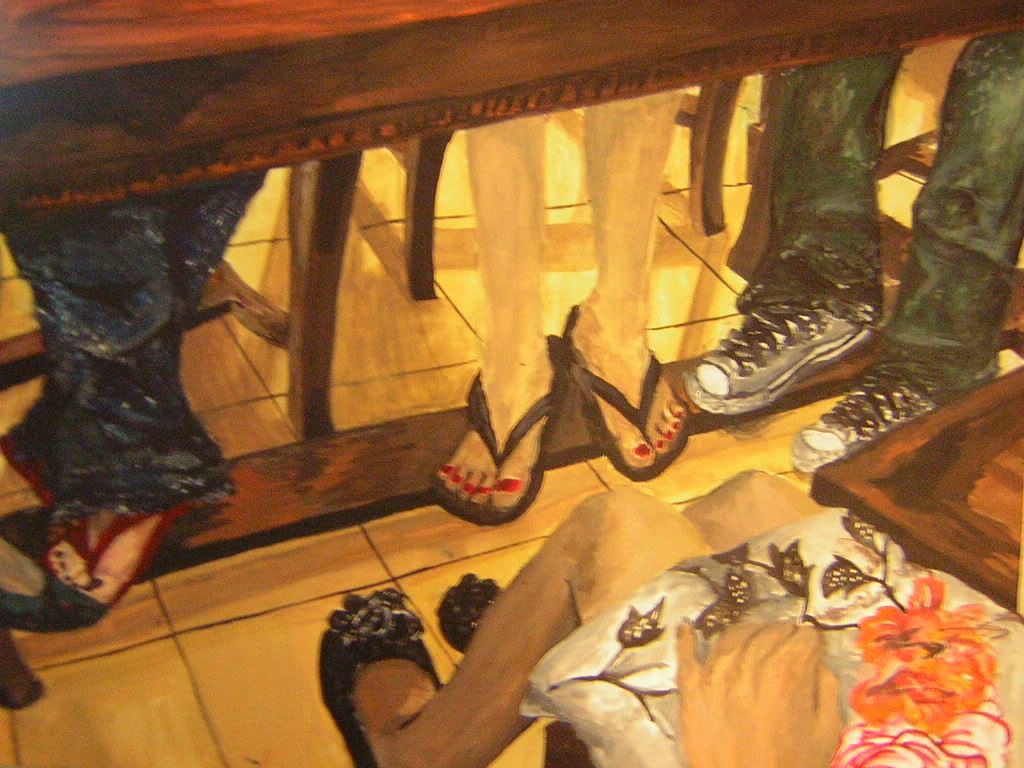 it evolved from this photo i took. i haven't had time to be running around singapore taking cooler pictures :(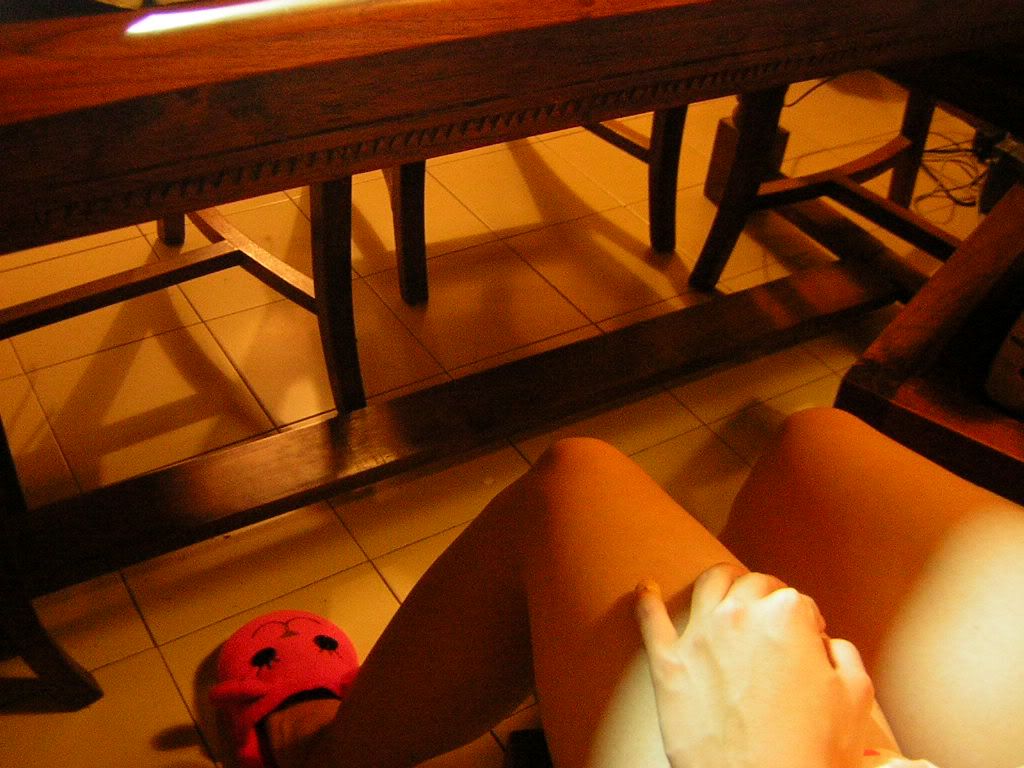 so now that i'm done with my first piece, i'm gonna avoid art for awhile! i need a break! i've been working all day yesterday (except at night when we had prayer meeting) and all morning and afternoon today. but i've realised how much i love painting. it makes me wonder why i don't ever paint. and why my easel's become a makeshift belt hanger in my room...
i'm definitely gonna want a little studio type thing in my house next time. a room where i can shut myself out from the outside world and PAINT. and i could have a jukebox like v and play some lovely jazz. and i still wish i could play jazz. i think jazz is just the coolest music genre ever. and the hardest to learn of course. do i have the determination to learn? people who have gone a loooong way to be really good at what they do- i really admire them. i admire my brother for spending hours on his electric guitar. laziness is one of the worst things to have here. but determination and perseverance is a good thing to have. but i guess some people are just happy at being where they are. not because of laziness. just happy. i'm not happy! well, i am, but you know what i mean. i still haven't had time to try making steak even. time is another good thing to have i guess. and it's cool how every single person on earth has the exact same amount of time, but they all use it so differently. which is good cuz the bathrooms would be flooded if not for that. and a lot of other things. but one thing i really want right now is.. to.. go.. shopping!
the pigeon never came back after my dad chased it away. my 50 cent ant float's doing a good job at covering the corner of my window where the birdy's collected twigs for its nest. the person who made the ant float would never have thought it would serve such a purpose.
half of spring break has already gone, but i feel like i haven't gone to school in a very long time. and i'm not wanting to go back! as nick put it, i have been able to wake up by myself. meaning, waking up when i actually wake up. without the help of an alarm clock, or my mom.
i can't wait til the summer!
and i'm thinking. i think one of the best parts of your life would be your honeymoon. at least for me i think it will be :) cuz i'll get to go places and not worry about anything else but being happy. and being happy with the person you're gonna spend the rest of your life with. hahaha i think i'm thinking too far ahead.
i'm looking forward to tomorrow. well, tomorrow night. i'll finally get to go out of this house and chillax at pac coffee! haven't been there in awhile. and tomorrow, kiyoko's coming over to work on the banquet poster. i'll show her the wonders of a mac computer, and what indesign can do. yay!
this morning, i made pancakes. i've been craving pancakes for the last 2 mornings, but always ended up finding hawker food on the table. i do love hawker food, but pancakes for breakfast! mmm! it's totally different. so i woke up this morning and happily found nothing on the table. so yay! i thought i'd make some pancakes, but realised i had no idea how to make them! :( i didn't know how to make pancakes! so i called my mom at work and asked her. one egg, a cup of milk, and flour. i mixed them up and poured the mixture into the frying pan. the first pancake looked really gross but i ate it anyways. i looked nothing like a pancake. it didn't have that lovely brown color. i ended up making 3, but none of them turned out brown! so disappointing. so i gave the 2 other pancakes to my brother, and resorted to having scrambled eggs instead. scrambled eggs are so good :)

anyways, back to arty fart. |
March 29, 2006
,

got this from timothy's site :) i'm waiting for my dad to print out pictures for my art stuff anyways, so i've got time to KILL.

1. What time is it? 11:48 am
2. Name- Megumi
4. If you were a skittle,what color would it be? orange!
5. male or female: female
6. zodiac sign: -
7. Hair color: dark brown
8. Eye color: dark brown
9. Height: 167cm
10. Favorite Color(s): orange
11. Glasses, contacts or neither: both
12. Shoe Size: 8
13. Piercing/tattoos? pierced ears
14. Birthplace: singapooore
16. Siblings names: isaku

******HAVE YOU EVER*****
17. Cut your own hair?: tons of times
21. Skipped school?: yes
22. Bungee jumped?: no
23. Went to a concert?: yeah! avril and franz ferdinand
24. Kissed the same sex not related to you? eww no
25. Kissed a stranger?: no
26. Stared at the stars for hours?: don't think so. that'd be nice though
27. TP'd someone's house?: huh?
28. Won something?: yeah (haha timothy i remember your umbrella) we would've won a free t-shirt if we went to hardrock last night.
30. Been rejected?: in a asking a guy out sense? nope.
31. Been to a funeral?: yeah. rach's dad and my grandfather
32. Used a lighter?: yeah but only for birthday cakes, my messed up stove, and sparklers
33. Been on stage?: yeah loads of times

******FAVORITE*****
35. Food: i have soooo many. where do i begin. japanese food's the best definitely. and the healthiest. indian food, peranakan, thai, nick's cooking, seafood.. haha i'm being so general, but that's how much i like food.
36. Ice cream flavor: chunky monkey and strawberry cheesecake for ben and jerry's, soy chocolate obsession for gelare, and tartufo for venezia.
38. School subject(s): i'd still say art. and bible.
39. Breakfast cereal: starwberry blasted honey comb or froot loops!
40. Number(s): 2, 26
41. Book(s): bible, matchstick men, used to be the shopaholic series, but they are sooo shallow. i want to start reading some GOOD books.
42. Movie(s): matchstick men, 13 going on 30, raise your voice (right ruth), LOTR, legally blonde (ooooh love it), zoolander, dodgeball, FATHER OF THE BRIDE!! cheaper by the dozen (both 1 and 2) and lots more.
44. Drink: sobe elixir, heaven and earth green tea, mango smoothies
45. State: it's gonna be new york!! woohoo, just kidding, i've never been to any state... :(
46. Place: my home, the beach, the mountains, the mall, the botanic gardens.
48. Sport like to play: basketball, soccer, softball
49. Fav type of music: i like different kinds. i listen mostly to solo singers who can either play the guitar or piano.
50. Letter(s): umm.. i've never thought of that. A for a grade :)
51. Fast food: pasta mania
52. Cartoon Character: i dunno. i used to love doraemon.
53. Holiday: christmas
54. Name for a son: elvis? haha what about george! my dad would be so proud.
55. Name for a daughter: natasha maybe. i really don't know.

******DO YOU PREFER*****
56. Chocolate or Vanilla? chocolate
57. Long relationships or one night stands? long relationships
58. cat or dogs: dogs
60. Scary movies or comedies? comedies.
61. Silver or gold?: i like gold. silver looks so bad on me.
62 Croutons or bacon bits? croutons


******FIRST THINGS THAT COME TO MIND******
64. Hedgehog: isaku's stuffed animal
65. School: building
66. Green: peas
67. Cow: farm
68. Canada: maple leaf (such cliched answers haha)
69. Mouse: ugly
70. Hand: nail polish

******THE PAST 48 HOURS, HAVE YOU******
71. Watched a movie? nope. no time for that :(
72. Talked on the phone?: yeah- first thing i did when i woke up
73. Cried?: nope!
74. Threw up?: noo
75. Drank a glass of water?: no
76. Talked to one of the opposite sex?: yeah just talked to my brother
77. Read a book or magazine?: yeah. the really horrible issue of seventeen i bought the other day.
78. Watched TV?: yeah. watched some travel and living yesterday. it was on new york apartments.
79. Looked in the mirror? of course
80. Taken a shower?: yes
81. Taken a picture?: yeah for art stuff
82. Listened to music?: yeah!
83. Kissed someone? no
84. Done your HW? yeah that's what i've been doing mostly :(
85. Told someone you loved them & meant it?: yup!

***DO YOU BELIEVE IN....******
86. Heaven?: yessssssss
87. Aliens?: hahaha no
88. Fun for the entire family?: i guess..
89. Freedom of speech?: to a certain extent
90. Love?: yeah!
91. Magic?: no

*******SOME RANDOM STUFF*****
92. Last movie you saw in theaters?: v for vendetta
93. Are you listening to music right now? isaku's electric
94. What clothes are you wearing right now?: pyjama shorts and a snoopy shirt
95. Do you like your middle name? don't have one
96. What is the best thing since sliced bread?: apple products
97. What's your GPA: don't know
98. Where do you want to live when you're older? somewhere not in singapore
99. What time is it now?: 12:14pm

oooh perfect timing. my dad just finished printing the pictures.
okay time for art! | gooood morning

the pigeon's back at my window again!
i thought hitting my window would be enough to scare it away.
so here's a picture i managed to take this morning.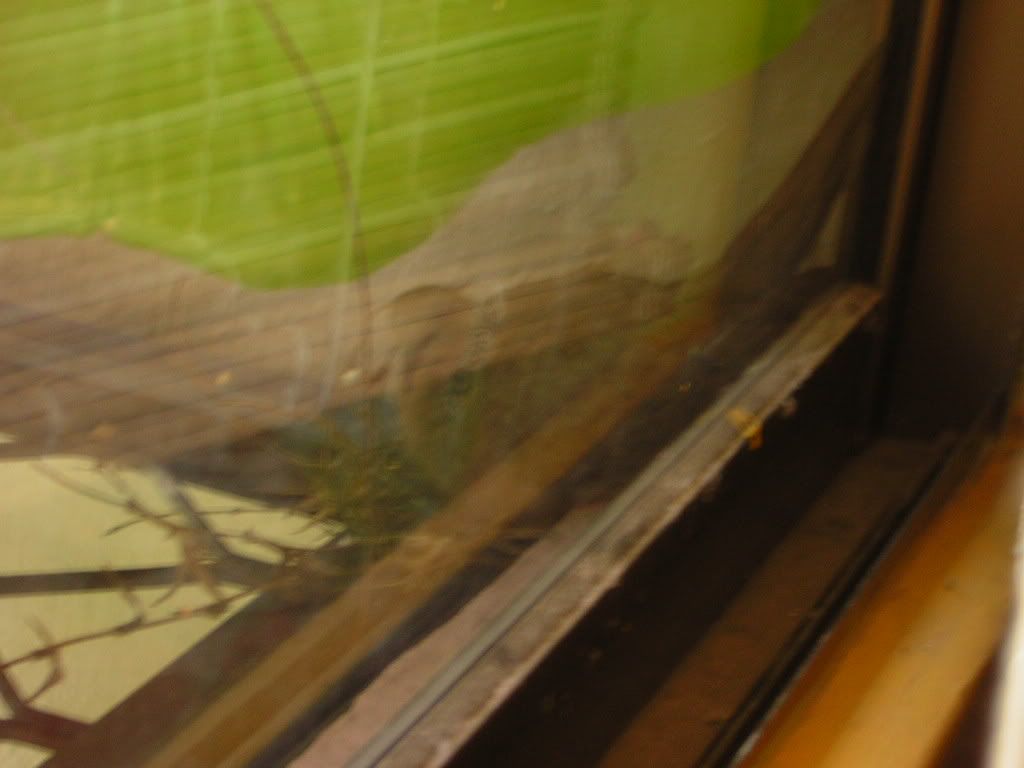 i mean, it's so cute and everything, but i really don't want my room to be infested with mites. |
March 28, 2006
art day

i've been working on art all day. it's pretty tiring. and the ideas i have seem to always exceed what i am capable of. i'll have all these ideas pop into my head, but drawing them out is soooo hard. it's frustrating when your drawing doesn't match the image you have in your mind. but milo always keeps me going. "it's fantastic what milo can do for YOU!" hahaha i love milo. it's funny, my dad prefers making milo from scratch (not really scratch, but you know what i mean), than making it from 3 in 1 packs. "it's more personal," he says.
anyway.
another pigeon's decided to build a nest right outside my window, and after seeing the amount of mites that's infested our kitchen (after the first pigeon family settled their nest there), i had to shoo it away :( poor pigeon.
it's quite scary. march is ending soon, and then there'll only be two months til the summer! and after the summer, i'll be a senior. so fast so fast sooo faaast. this year's really gone by so fast. but i feel like i've been in ics for forever. and i'm very excited to graduate soon. but i need to be sure not to take my last year of high school for granted cuz it's gonna be gone forever once i graduate.
so, let me reflect back to my first day in ics. i can remember it sooo vividly. i had my hair in a ponytail, and had my dorky round glasses on. i was wearing the burgundy ics polo shirt, and navy bermudas. evie was the first one to say hey to me, and she introduced me to a bunch of people, i remember sanna being one of them. then i saw pat! she looked really flustered, so i didn't go say hey to her, but she came over anyways, going on about how dead she is. "i'm so dead! i'm sooo nervous, i'm so dead! aahh.." so she became my first friend. my homeroom was with mr. bryant. i was sooo nervous. i was experiencing major culture shock, i could barely talk. anna was the other new student who enrolled at the same time as me. her red hair was pretty shocking (cuz i had never seen red hair. or that many white people), but i loved her butterfly clips. my attempt at trying to make small talk was really sad though! "so is purple your favorite color?" cuz everything she had was purple- her binder, nail polish, pens, book covers. the lunch conversation consisted of eyebrows. a bunch of us stood outside the cafeteria and talked about how we all had different eyebrows. anyways, the day ended with me and pat having a crush on the same guy. haha what are the odds of that.
anyways,
me and ruth were talking the other night, and during our conversation, i decided that, as cliched as this might sound, we have to be really daring to always step out to find new opportunities in life (ooooooh, so cheesy!). if not, we wouldn't even know that they are there, and life gets pretty boring. and the risk of going for whatever opportunity is worth taking than not taking it at all and not knowing what you might find or get. and when i say this, i do mean it in a lot of different ways ;) so if you're hesitating to do something you really want right now, don't be scared.
well, better get back to art.
bye! |
March 27, 2006
make a mountain out of it

Test Your Decorating IQ
by Anne McKevitt

You scored 73% correct!

You're Ready to Go!
It looks like you are well on your way to creating your own beautiful interiors. Keep it up! Use your skills to do something truly original for your next decorating project.


Minimalist modernism is your room style.

You love to keep things simple, fresh and sleek so uncluttered interiors work best for you. Simply follow the 'less is more' rule next time you come to redecorate to achieve a style that suits both your personality and your lifestyle.
Take this quiz here


Toot toot! Your room tells us that you're retro!

It's not that you necessarily want to be Austin Powers, but we're guessing you wouldn't mind raiding his groovy pad for a couple key items. For you, retro-cool rules. As a result, you're probably on constant lookout for hipster accents to show off your retro style! While your friends may give you a hard time about your swinging image, they're probably just jealous of that funky egg chair or pop art stained glass picture frame. It's not easy to be so tragically hip.

Though you may dream of floor to ceiling shag carpeting, you understand that not everyone would fancy it. So, instead, maybe you should accessorise with conversation starters such as a brightly striped lamp and a great deco-look paperweight that reflect your throwback tastes. After all, your unique flair may be one of the ways you connect with some of your current friends. And while your décor might be a blast from the past, you're excited about making new friends and know a great way is in a room that's got your Yeah, baby, special touch.
Take this quiz here.

i came on the computer to find some inspiration for my 5 big pieces of art i have to do, but i found all these quizzes! fun stuff. the last one's pretty accurate cuz i looooove retro. second one's okay, i do like minimalistic, but it gets a bit boring.
anyways, my day started out early today. i've been able to manage sleeping late and getting up early, but this morning, i was sooo out of it. and i had to go to school to meet miss gorman to turn in my art pieces. so ruth and i took the same bus this morning, she got off at bestway to start her wonderful, lovely day at work- i wish i had a job too. she has an incredibly awesome job for a 17 year old. i continued my bus ride and got to school a little late (i really need to do something about my lateness! grrr.) so miss gorman made me fix some of my art pieces. i was feeling more awake then, so it was nice talking to her. nice hearing her tell me that i definitely should go to parsons :) except, the homework sounds so hard! 18 pieces in two weeks. i've done 18 in 1 semester and a half. they basically ask you to show a contrast between the words they give you, in your art works. and a lot of those words are words you've never heard of in your life maybe. but it'd really be so awesome living in new york and doing what i like.
yesterday was good. church service was really good. i realised how much we get affected by the little problems in life that don't really matter in comparison to God's purpose for us. it never really sinks in how big God's plans and purposes for us is. they are the VERY reason we are here on earth. we're so easily distracted. and i was reading ruth's HM magazine, and thought the lead guy from thrice made a really good point that a lot of christians think that their main goal is to convert people. but the first thing is to love everyone unconditionally- the rich or the poor, or the crippled, whoever. we shouldn't go out and try and convert every single person we meet, and give up on them when it doesn't work out. we should go out and just begin by loving everyone and leading them to Jesus that way.
anyways, i have so much art to do! hope everyone's having a fun spring break.
i am really craving to go on a shopping spree soon.
bye! |
March 26, 2006
horsies!
| church camp horses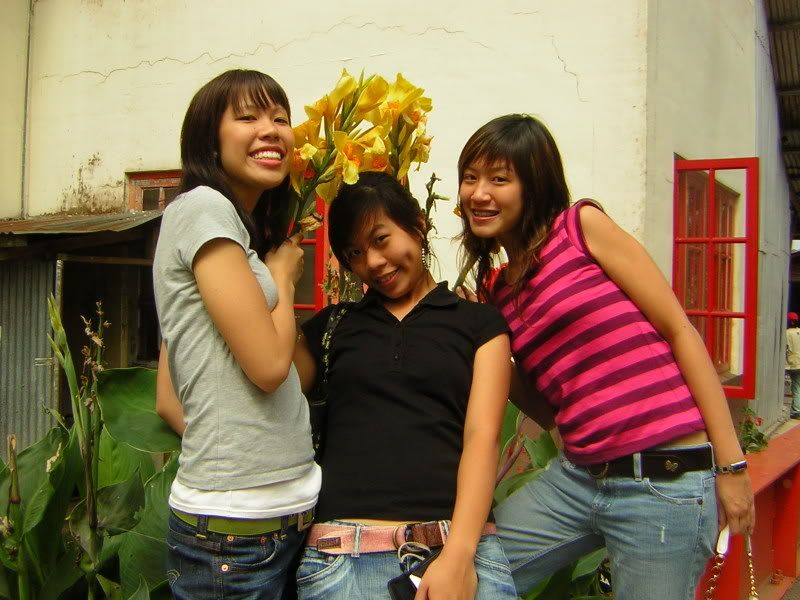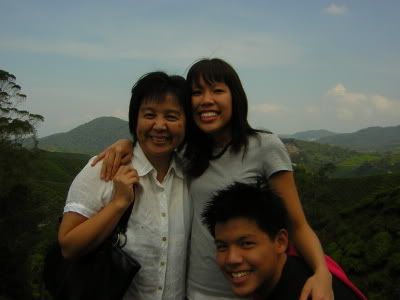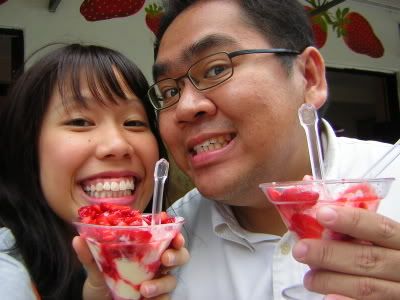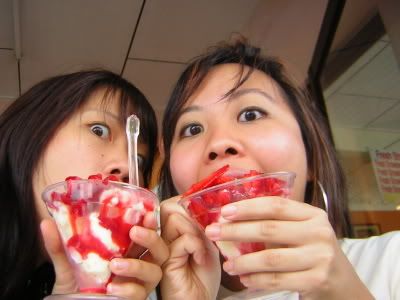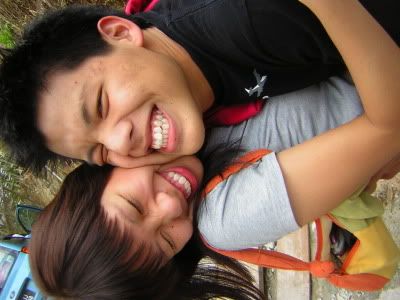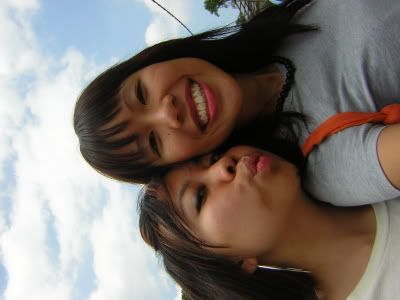 |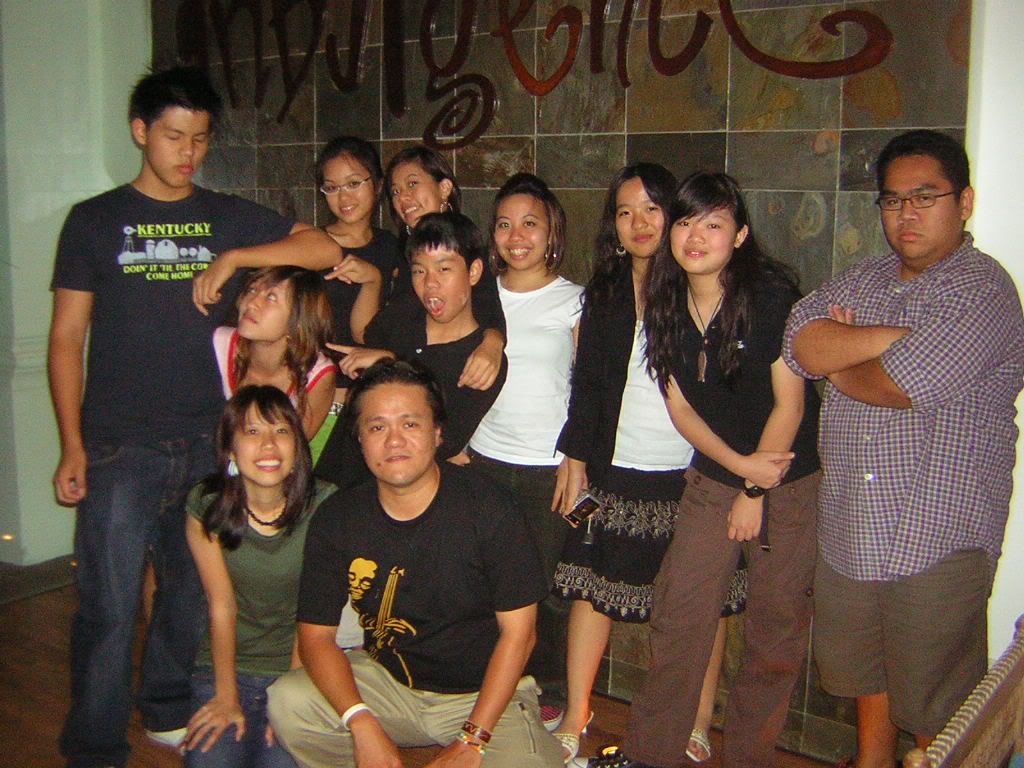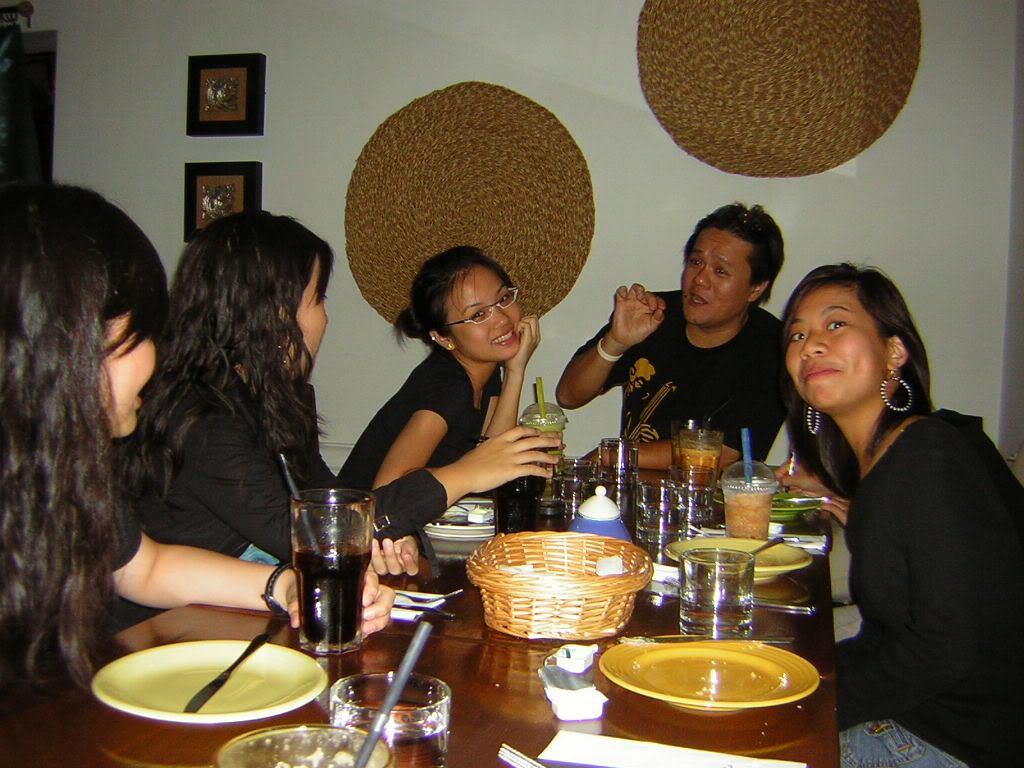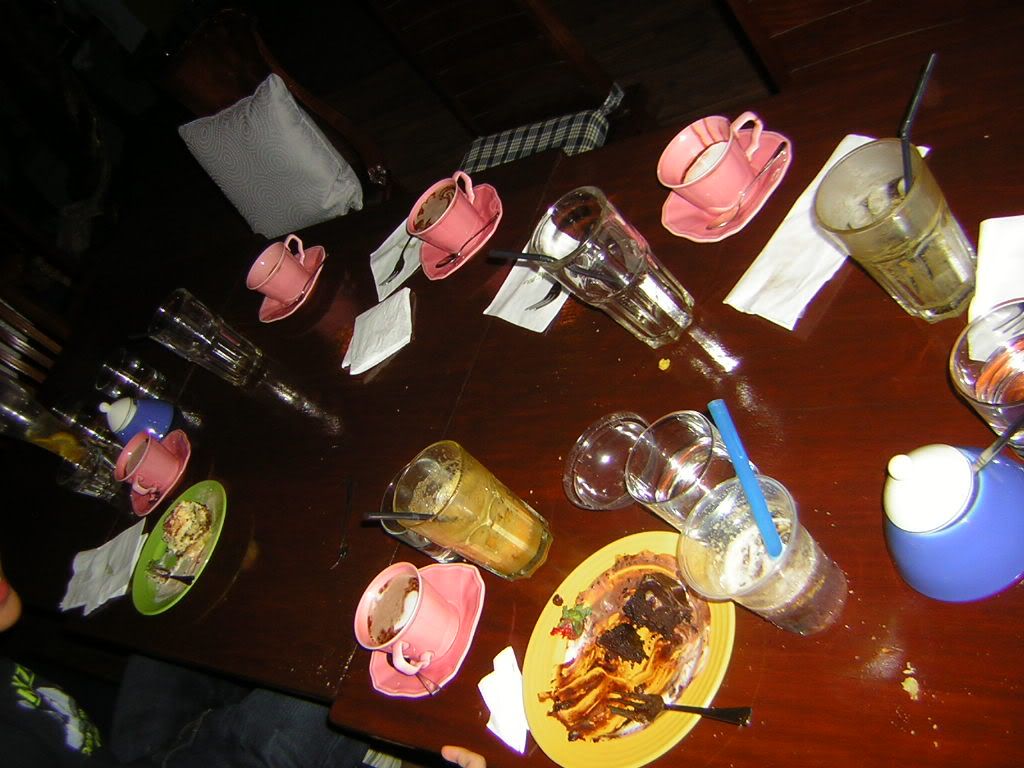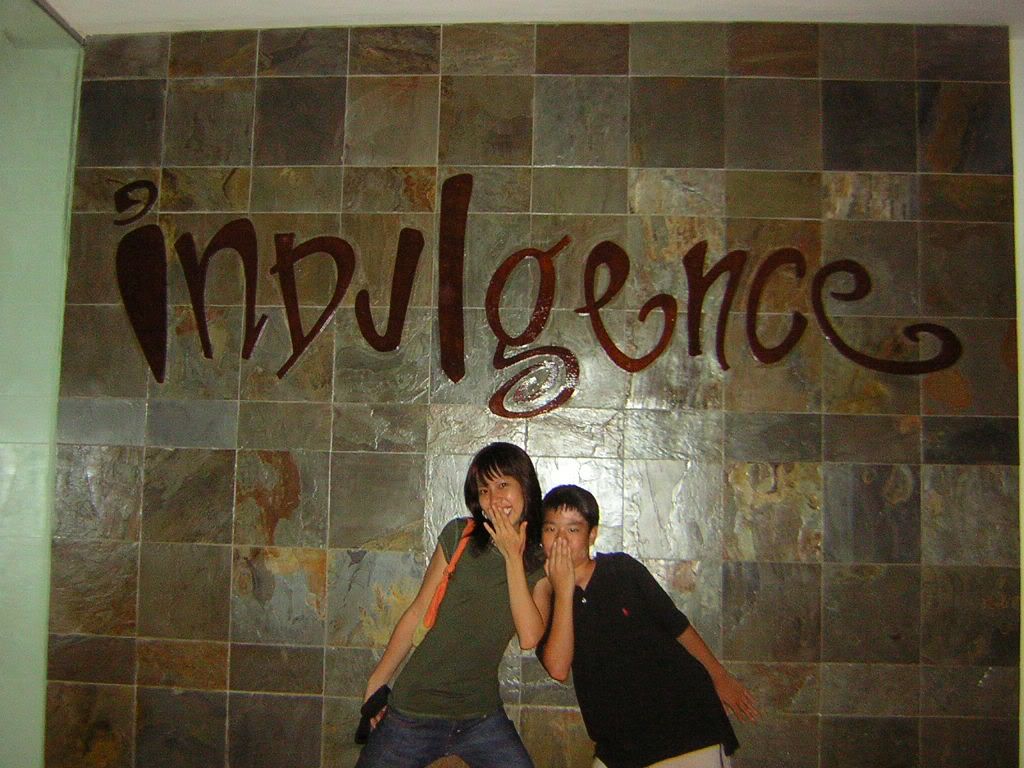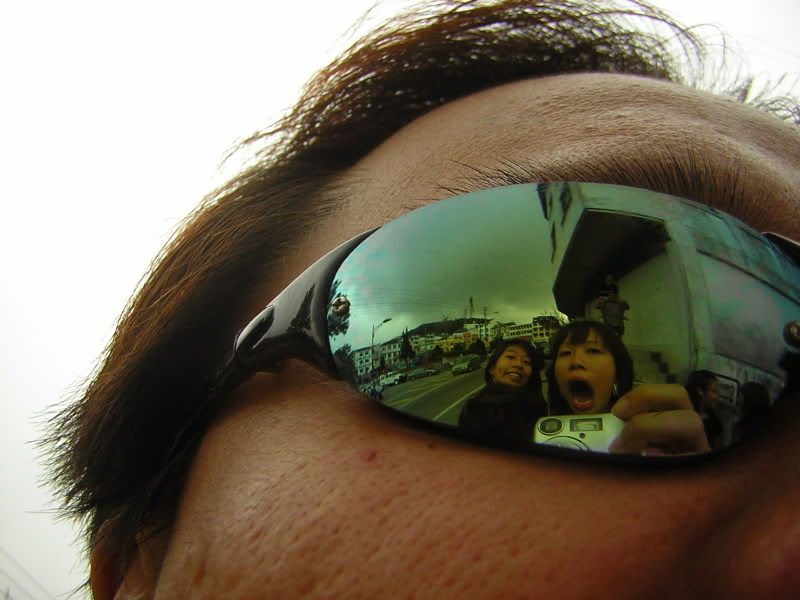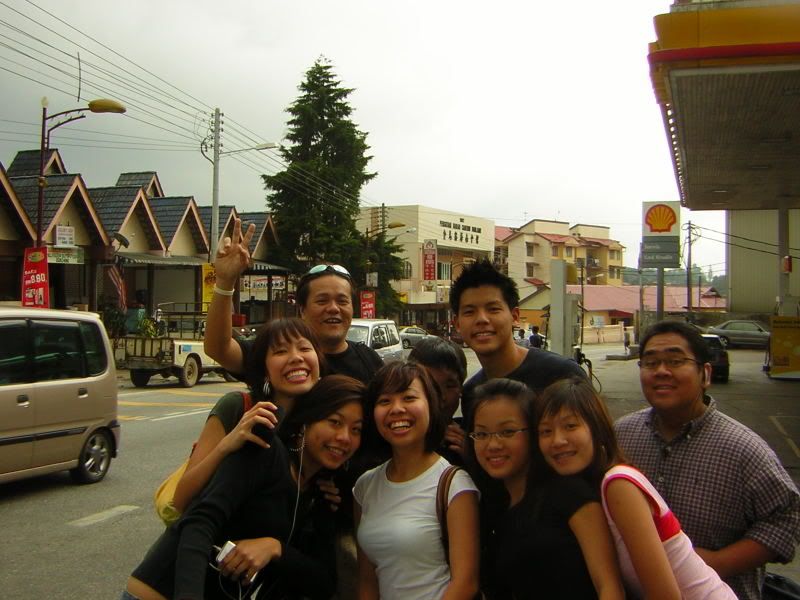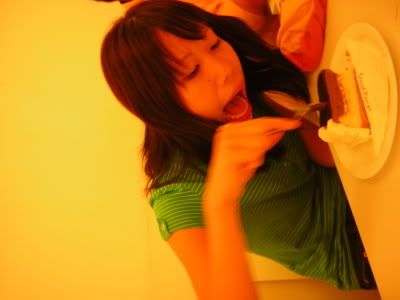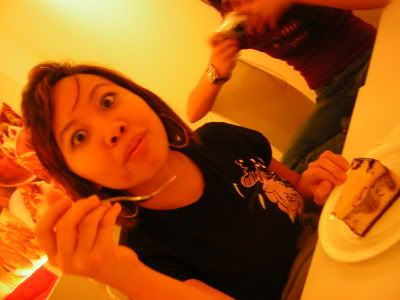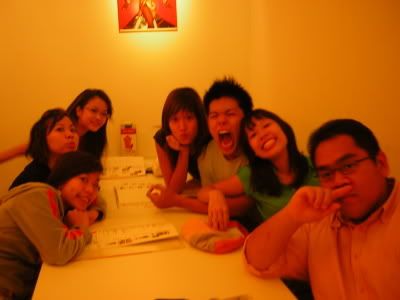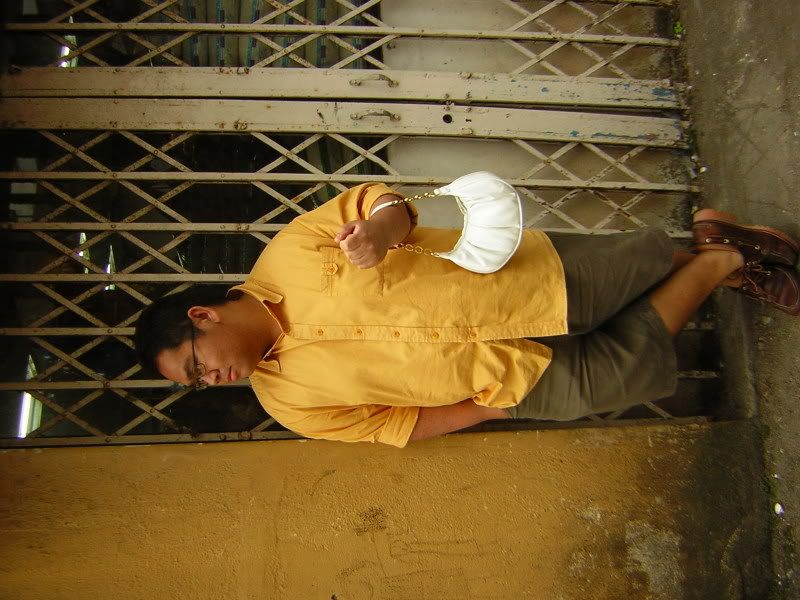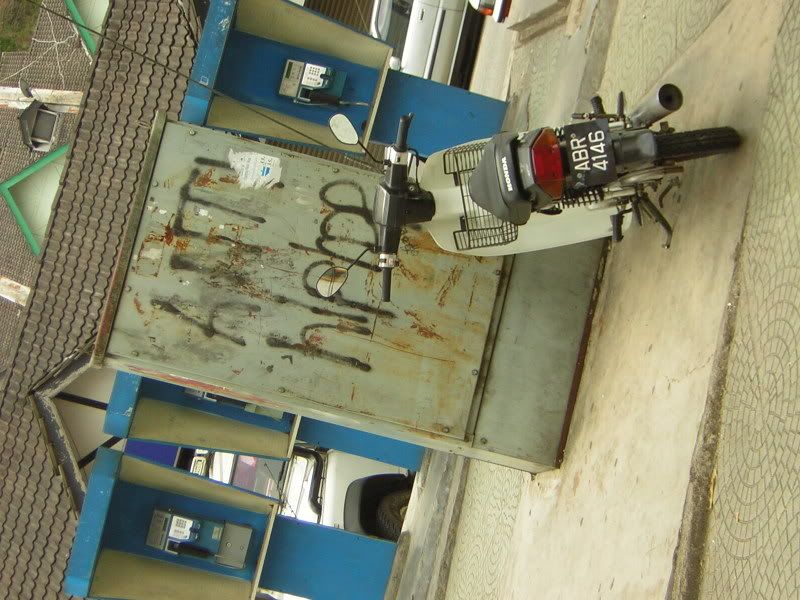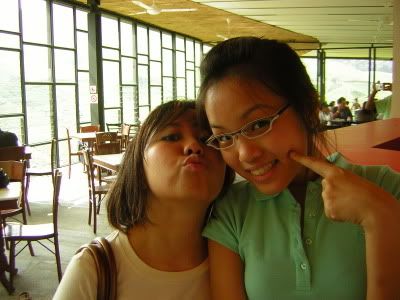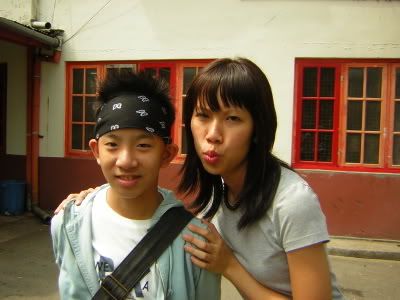 |
March 25, 2006
Sleep All Day



hey!
photobucket had a new feature called "bucket strip" so i tried it out.



and the "bucket stamp"

anyways, spring break just started. good start to spring break today. nick, rach, and i met for brunch at the cellar door. we were supposed to meet at around 10 but i ended up sleeping in and waking up at 10:40. so i got there at 12. i was sooo tired from my busy week of school. i calculated, i only had 15 hours of sleep in total during the 5 days of school. and i woke up this morning with my hair looking like a pineapple. i figured out that the more tired i am before i sleep, the messier my hair is in the morning.
anyways, i think i had the most expensive breakfast ever. $16++ for two sunny side ups, sausage, baked beans, bacons, and mushrooms. it was called "the worx." i was craving something greasy and breakfasty so it was really good. but 16 bucks! hahaha but i loved the place. we also checked out choupinette which was a few shops away, and it was really nice too. so we might go eat there soon for brunch. i couldn't stop wow-ing at the pastries, and the interior of the place was so pretty. i ended up getting 5 macaroons for $7.50. my new hobby might just become "cafe-hopping."
so this spring break, i'll mostly be working on the rest of my art. i've got 6 more pieces for the slides, and 5 big ones to do. it's so much. but i've really learned that i should never, ever procrastinate.
i was thinking about it today, and i decided i want to go to new york this summer. it'd be so fun, and i could check out parsons and actually know what it's like to be there. but it's only an idea, a really expensive one... and i don't have the money for it at all. esp since i know i would wanna shop like crazy when i'm there too.

okay, i'm putting up church camp pictures! |
March 18, 2006
camp horse

hey what's up!
haven't blogged in ages.
anyways, just came back from church camp at cameron highlands. it was soooooooo fun, i really didn't want to leave. right now i'm still in church camp mode but i got to slowly adjust back... and i have a lot of homework to catch up on this weekend. but it's okay, it's not as much as i thought it would be.
so, we arrived at cameron highlands at around 6 am on monday morning, after a long overnight bus ride. it was FREEZING, i felt like i was in japan. there were a lot of stars out which was really nice. i don't think i've ever seen that many stars before. i like overnight bus rides a lot more than day bus rides cuz it seems a lot faster. you just sleep through it. and i love sleeping on buses! this one was fun cuz the bus had to go around and around the mountain.
the second day was the most eventful cuz we got to go on a tour around 7 different places. or 8? i can't remember. the strawberry farm, the tea plantation, the BOH tea factory, the rose garden, the bee farm, and some waterfall. we were supposed to go to a butterfly park thingy, but we weren't really interested so we skipped that. it was really fun. i took lots of pictures so i'll put them up soon.
other than that, i got to learn a lot from the sermons. but i don't have time to blog about it now so i'll save it for another time maybe. hahaha

anyways, better get back to work! |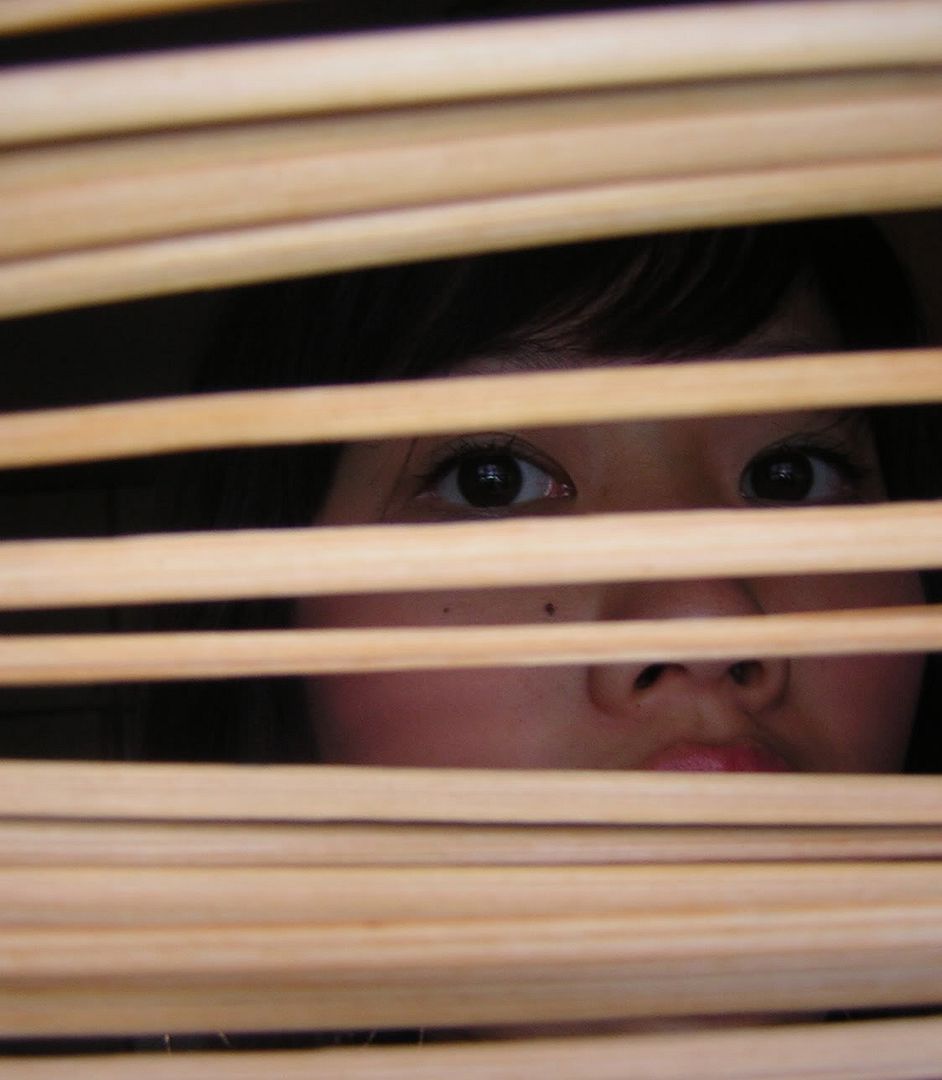 What goes "oom oom"?