The muzak: Sleep All Day - Jason Mraz


April 26, 2006
chimneys

i was looking at pictures of rooftops (for my next painting), and realised how you see chimneys everywhere in other countries. if i believed in santa, i'd feel sorry for him. i wish houses here had chimneys cuz they look cute, but too bad there's no winter. so i wish we had winter. but i don't wish there was winter here cuz i like chimneys, and knew there wil be chimneys if there was winter. but if there were chimneys, that doesn't mean there will be winter! so i guess i do wish we had winter so we could have chimneys.


|
April 23, 2006
lovely cloud shots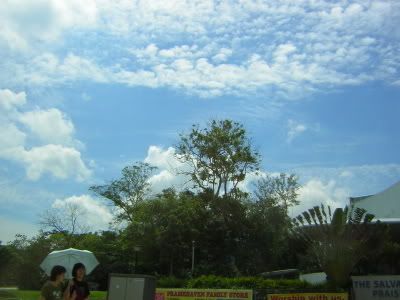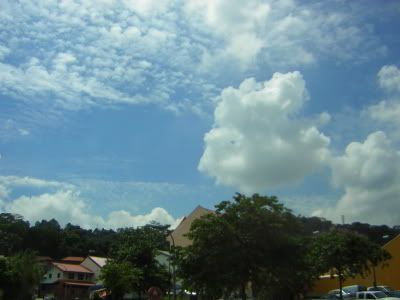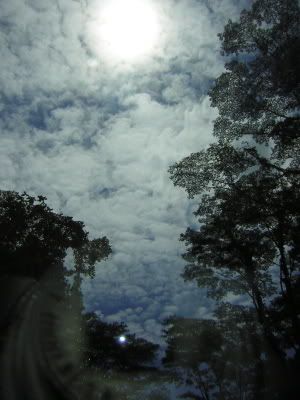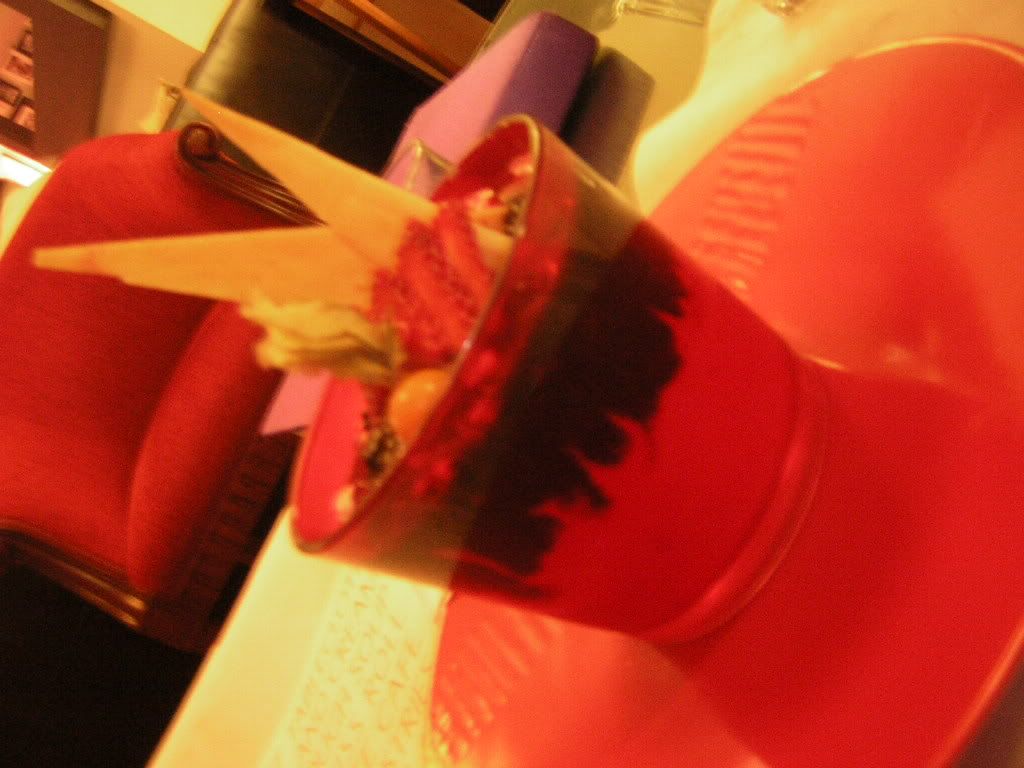 aaaand... me and nick's corduroy and finch's trifle experience! it was sooooo good.

i had a really sappy thought the other day. and it's not copying a walk to remember or anything. but i realised, love is like the wind. cuz its the strongest during the storms.
hahaha

well, that's all for now |

for us, there's no such thing as hopelessness. because God is a living God; and in God, there is always hope. |
April 20, 2006
CH-ing 4EVA.

hi!
the pictures on ruth's site are great. there are evidences of me cooking! and making scones (which didn't quite turn out as scones. oh well.). and me revealing my inner ah-lian just a little.


Яuth says: (8:03:29 PM)
sorryyy! stupid chicken game is timed

Яuth says: (8:03:29 PM)
hahhaa

meg CH-ing 4eva! says: (8:06:38 PM)
hahaha

meg CH-ing 4eva! says: (8:06:45 PM)
and you're transferring all your vocab skills to the stupid game

meg CH-ing 4eva! says: (8:06:48 PM)
instead of to me!

meg CH-ing 4eva! says: (8:06:49 PM)
:'(

meg CH-ing 4eva! says: (8:06:51 PM)
SOBBLES

meg CH-ing 4eva! says: (8:07:06 PM)
*sigh* is all you can say!

Яuth says: (8:07:25 PM)
hahahahhaha

Яuth says: (8:07:27 PM)
sorry!!!!

meg CH-ing 4eva! says: (8:07:46 PM)
yeah. sure.

meg CH-ing 4eva! says: (8:07:47 PM)
whatever.

meg CH-ing 4eva! says: (8:07:55 PM)
go.

meg CH-ing 4eva! says: (8:07:56 PM)
play.

meg CH-ing 4eva! says: (8:07:57 PM)
your.

meg CH-ing 4eva! says: (8:08:00 PM)
game.

Яuth says: (8:08:16 PM)
MEGSY DON'T BE SO DIFFICULT

meg CH-ing 4eva! says: (8:09:38 PM)
HAHA

meg CH-ing 4eva! says: (8:09:40 PM)
okaaaaayy

its fun chatting with ruth :) even though she's playing her stupid chicken game.

anyways, i cooked dinner for myself today. hehehe. i fried potatoes and onions and cracked an egg over it as my grand finale. it was good! even though i have no idea if it is actually a dish dish.
have been having quite a lot of deep thoughts lately. it's fun just thinking sometimes. but no time to post about any of them unfortunately. i have to do my homework.
bye! |
April 17, 2006
| long time coming

hey!
it's really hard to post something consistently since school's started. but i missed school today :) i was soooo tired from an incredibly busy weekend, i didn't even wake up from the sounds of isaku getting ready for school this morning, i slept through everything, and woke up "by myself" at 11.
but anyways, the weekend was really fun in spite of its busy-ness.
happy belated easter!
nick and i got to preach yesterday, or more like share. we decided we'd just share what God had put on our hearts during the week. and he did put a lot of things on our hearts, about salvation, and having a relationship with him. and we came up with lots of analogies to go along with it. analogies are so useful. the youth took over the whole service, basically, and it went reeeaaaally well. i've just been so encouraged by how God's been working in all of us, and in his church. and also how people were encouraged by me and nick's sermon hahaha it's always nice to have good feedback.
saturday was the busiest day. the day started with worship practice, a long one, since we had a lot more songs than usual. after that, we went to nick's house to cook. we made shepherd's pie, cheesecake, and biscuits (they were supposed to be scones but....) that was sooo much fun. listening to oliver james right now is making me feel sappy though.

i'd post some more but i have to do art!

condiments condiments. |
April 01, 2006
hearts are deep

hey!
today was really really fun.
the day started out early again cuz nick, rach, and i decided to meet up for breakfast again. this time we met up at choupinette's. and i actually got there EARLY! 10 minutes! hahaha yay. so anyways, i had a really expensive breakfast. again. raviole's in mushroom sauce for 18 dollars! but it was really good. and i really do love the cafe. rach had the jason's set, and nick had an apple tart thingy. the portion of the raviole was TINY but i got so full from it, it's amazing. i thought i could've tried all the other yummy looking pastries. but these cafes are seriously expensive... sad to say, i don't think i could be doing this every single week :( but next week, we're targetting botanic gardens. hahaha we haven't gotten enough of it yet.
and we wanna go somewhere exotic this summer. but all we can probably afford is bali. so i hope we can go!

oh yeah, technology is funny. i was talking to ruth on the phone one time with my old samsung phone. and it beeps every few minutes or something. and it so happened that ruth was saying something something freaking something something. and the phone happened to beep at freaking. something something f*beep*ing something. i'm like HUH! ruuuth!
and isaku's leg hair is a whole other epidermis in itself. a black epidermis.

anyways,
i got to read this passage in romans 9 (in the message version) just now. it was really something interesting to think about.
" What God did in this case made it perfectly plain that his purpose is not a hit-or-miss thing dependent on what we do or don't do, but a sure thing determined by his decision, flowing steadily from his initiative."
(should read the whole chapter in context)
it really made me realise how God's sovereignty still IS always above the free will that he's given us. all of us have a free will, but he's already made decisions that will never change. and it is true that God's plans are flexible, and that what we do seem to altar or affect it, but God is sovereign above everything. he hardens people's hearts when he chooses to (like pharaoh), and allows his goodness to be evident in certain people when he chooses to. then there will be questions like, "why does God still blame us for what we do? why can't he just blame himself?"
then the passage moved onto say that we should never question God's sovereignty. a good analogy it used was with a potter and clay...
"clay doesn't talk back to the fingers that mold it saying, 'why did you shape me like this?'"
sooo in the same way, we should never question the things God does.
it was reassuring though, how God's already have fixed plans for our lives as well. nothing we do can change it. i could mess up over and over, but those plans will never change. so nice :)

well, tomorrow's the last day of spring break :(
saaad.

oh yes, greetings from japan.
uncle jonathan sent me a picture of victoria :)
it's spring now, and cherry blossoms are blooming everywhere in japan. i wish i was there! i've never seen cherry blossoms, and i know i'm missing out.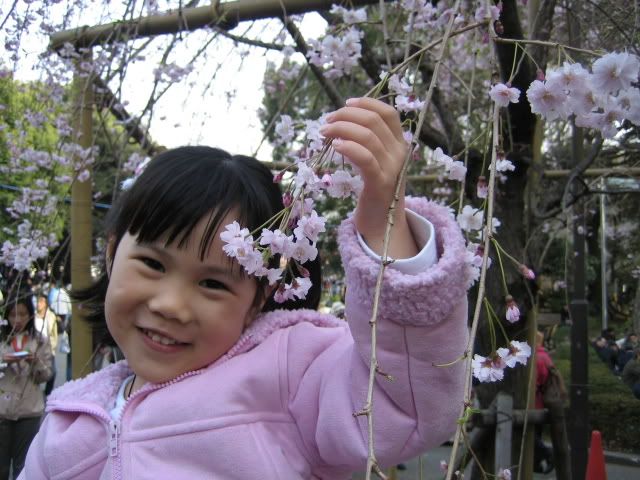 awwwww.

okay well, i better be off now.
bye! |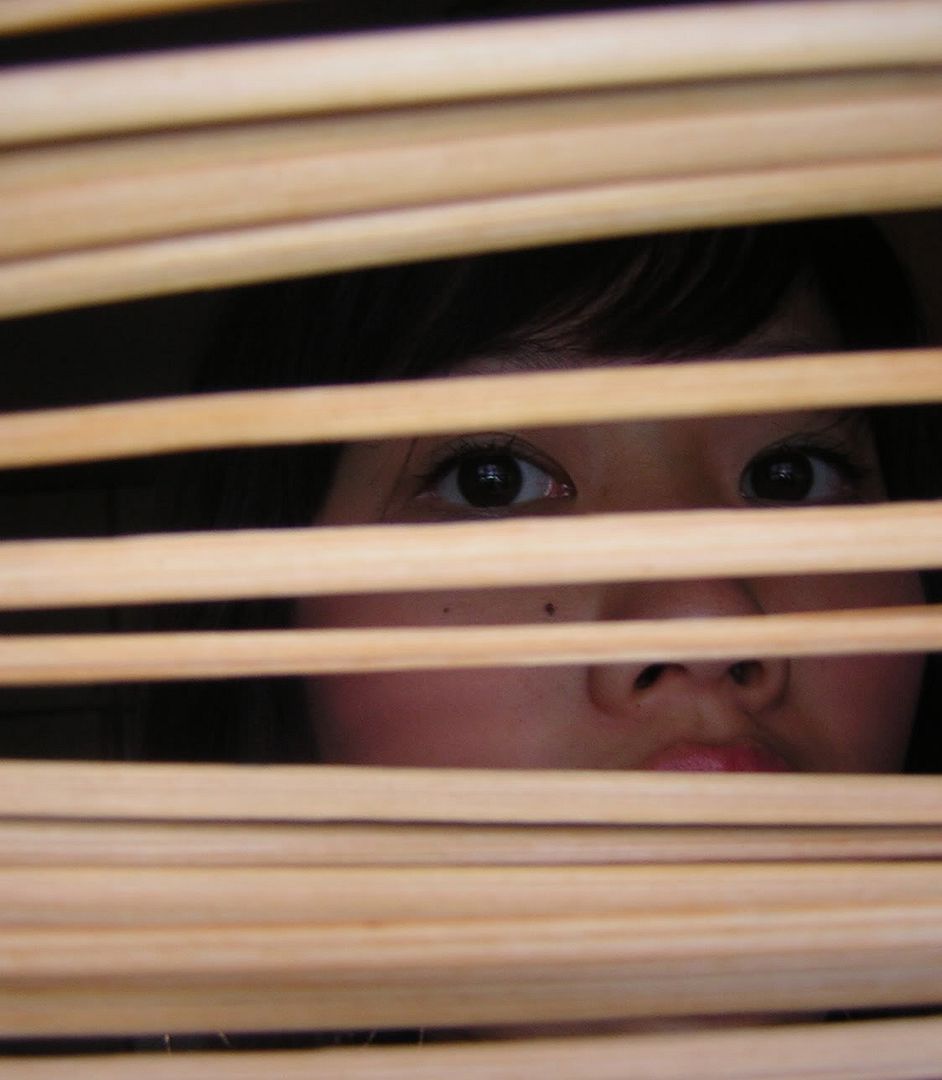 What goes "oom oom"?