The muzak: Sleep All Day - Jason Mraz


May 31, 2006
now

exams are finally over!
and my most busiest high school year has practically ended too. next year will probably be busy too, but in a different way. in a non-ap art and non-pre cal way. which is a relief, esp with pre-cal, cuz that really messed with my brain. and my grades.

i am soooo sleeeepy. but i'm in the mood to stay up since i don't have school tomorrow! i might drop by to help out with the moving, except isaku said the boxes were REALLY heavy, so i might just be in the way instead of helping. but ooh well.

not much to say right now.

i'm excited about the summer! i can sleep in. i wanna rearrange my room again. my couch and bed looks too squished together. and need to make it look less cluttered. FIX UP MY CEILING LIGHT! but that can only happen after i thoroughly get rid of every bird lice remnant. the pigeons have finally flown away, so i can have my room back soon. its just frustrating, having to ditch my room for the sake of two baby pigeons!
and i wanna go to australia maybe. or maybe bangkok for 3 days. i'm going to malaysia on the 5th of june. so soon! but a good start to my summer :) earn some money by selling my junk at a flea market. produce lots of paintings, and maybe sell some (oooh).
i just reread that paragraph and realised how fragmenty it is. |
May 29, 2006
BLOOD


ignore my cutesy face!
the point of this picture is to show that, ruth's camera is SO cool.

oh, and that i've overcome my fear of BLOOD.

just kidding!

i still don't like blood even though i can spell it out with my hands. | BOOKS!

i have sooo many books i want to buy! ever since i read blue like jazz (which has been, by far, the best book i've EVER read), i've been craving to read more books. not just any books though. books that are actually meaningful, and not just for entertainment. and blue like jazz was awesome cuz it did both. oh i loooove that book.
so right now, i want a bunch of C.S. lewis books, and donald miller (the blue like jazz author) books.


and i have another c.s. lewis book i want called reflection of the psalms but couldn't find a picture...



and just in case you wanna buy blue like jazz too (hahaha i'm sooo obsessed or something. but really, its a great book.)




other books i want to buy by other authors.




so that's 7 books! whoooaaa. where am i gonna get the money. ruth just said "you have the summer! one week one book!"

anyways, this week is exam week. and its quite unbelievable that the summer is coming in a few days! this year's gone by soooo fast. and next year, i'll be a senior, and the year will by zoom by even faster, and i'll soon be done with one huge section of my life. kind of like a rite of passage. then i'll move on to becoming a college student... and before i know it, i'll be married or something, and have kids, and be old and retired. life is indeed like a vapor. |
May 25, 2006
i love these things

1. Spell your name out in foods or drinks.

M-melon
E-eggs
G-ganache
U-unagi!
M-meringue
I-ice cream!

2. What song makes you cry?
some worship songs

3. What do you like to listen to before bed?
nothing

R i g h t N o w:

PANTS YOUR WEARING?
i'm wearing a skirt

WHAT SHIRT ARE YOU WEARING?
school uniform

WHATS ON YOUR MIND?
need to call ruth later!

WHAT SONG ARE YOU LISTENING TO?
we belong together - gavin degraw (such a good song!!)

WHAT TASTE IS IN YOUR MOUTH?
pear, i just had pear

WHAT'S THE WEATHER LIKE?
welll, its at night so its night weather. but there are more stars than usual

HOW ARE YOU?
tired, and a little sick

D o Y o u:

GET MOTION SICKNESS?
not as much as i used to!

Have a Bad Habit?
LOADS

GET ALONG WITH YOUR PARENT(S)?
yeah, but only because they are REALLY patient people

F a v o r i t e s:

TV SHOW:
i like the travel and living channel, boyaling point (not really, just felt like typing that), america's next top model- but they don't have that anymore...
i don't watch tv anyways

MAGAZINE:
VOGUE living! (love the natural sunlight, right nick!)

H a v e Y o u:

BROKEN THE LAW:
yah

RUN AWAY FROM HOME:
nope

MADE A PRANK PHONE CALL:
yeah!

USED YOUR PARENTS' CREDIT CARD BEFORE:
they don't own one

FALLEN ASLEEP IN THE SHOWER/BATH:
no

CHILDREN:
huuuh.

YOUR CD PLAYER HAS IN IT RIGHT NOW:
don't have a CD player, but in my stereo, i think i have a burned cd.

WHAT MAKES YOU HAPPIEST?
God!

WHAT'S THE NEXT CD YOU WANT?
gavin degraw, if he has a new cd. but if not, an elvis presley cd with all his good songs

LAST TIME YOU GOT AN E-MAIL:
just now from ROAF

LAST TV PROGRAM YOU WATCHED:
singapore idol!

LAST MOVIE YOU SAW AT THE THEATER:
the da vinci code

WHAT WAS THE LAST THING U ATE?
pear

Do you wish on stars?
no

Last person you spoke to on the phone?
ruuuuth

Favorite drink?
non-alcoholic: milo, water, green tea, soy bean, CARROT JUICE!, snapple, ribena, fruit punches, (sorry i think i'm in the mood to list drinks) sobe elixir, mugicha, lemonade, milk tea, mango lasi, mocha, hot chocolate...
alcoholic: dessert wine! or fruit wine? are they the same thing? i like white wine that tastes sweet and fruity.

Favorite sport to watch?
basketball, baseball, and ice skating is fun to watch sometimes

Have you ever dyed your hair?
tons of times

Do you wear contacts or glasses?
both

Any pets?
dog and fish

Favorite month?
december

Favorite food:
almost everything. but japanese food's the best. and i LOVE spicy food so much

What was the last movie you watched?
the da vinci code

Favorite day of the year?
depends

What do you do to prevent anger/fights?
be as politically correct as possible? well, sometimes i do that. but i think the best way's just to remember to love everyone.

What was your favorite toy as a child?
my doll house. it was the start of my interior designing career :) i'd spend more time furnishing it rather than playing with it

Fall or Spring?
spring, cuz i've never experienced fall

Cherry or Blueberry?
blueberry. i like purple colored cherries though. just those marachino ones are gross

What do you do in your free time?
talk on the phone, go on the computer, play my guitar, laze in my room, sing, hang out, eat, snack, watch tv?,

What is on the floor of your closet?
bags, scrabble

Who is the friend you have had the longest?
well *duhhh* who else hahaha. ruth!

What did you do last night?
went for prayer meeting

What are you afraid of?
cockroaches, and the bird lice that's infesting my room right now! *shudder*

Number of keys on your key ring?
2

How many years at your current job:
don't have a job

What's up tomorrow?
skooool lah what else lah |
May 18, 2006
hallo

gavin degraw has a new song! oooh its such a great song.

"we belong togetherrrr"

rach and i were talking on the way home from prayer meeting, and she was telling me about class 95, how they play old sappy love songs, at night. and how she's been tuning in. i like old sappy love songs. and it was nice being able to share that like with rach :) sappy love songs we listened to in the 90s and stuff (ooh thats when we were 10 or 12). LOVE IT!

battle of the bands tomorrow. i get to play leaving on a jet plane on my guitar, and i hope i don't mess up.

ah, i'm being chased off the computer. |
May 15, 2006
BANQUET 2006!

picturesssssssssss.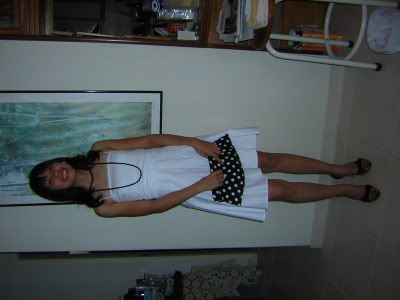 me! and my polkadotted clutch my momsy made.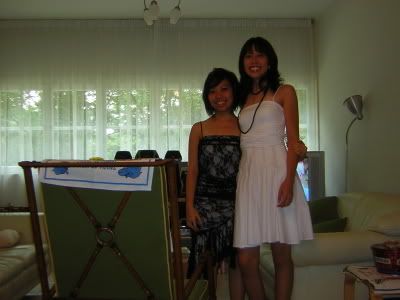 me and ruuuth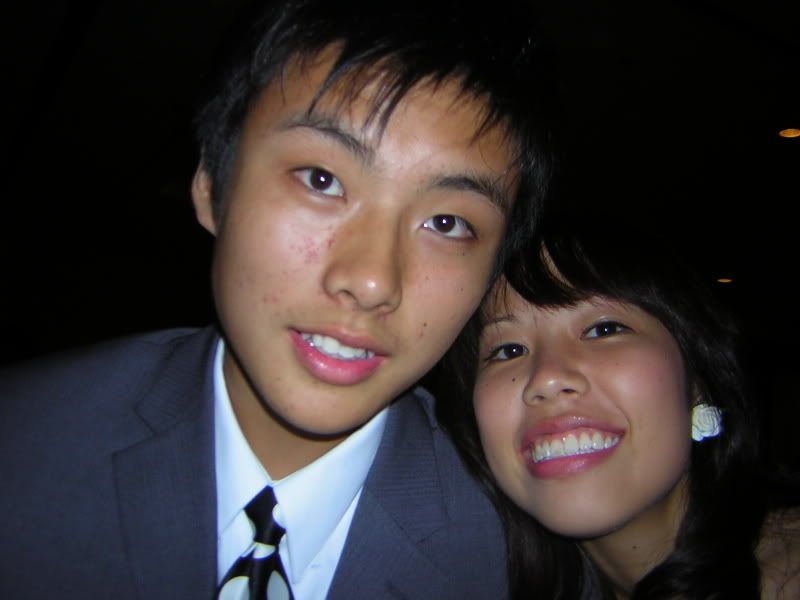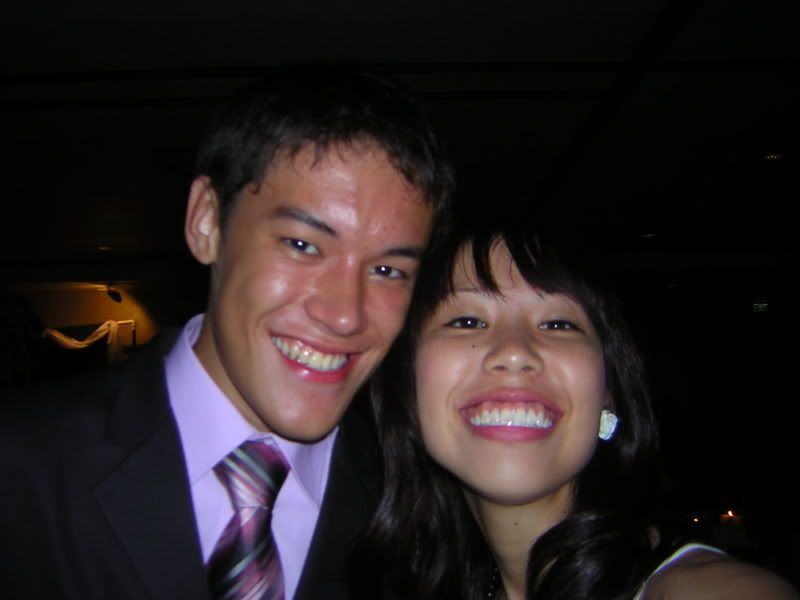 (left) me and nathan! we won 2nd place cutest couple :) woohooo.
(right) me and tim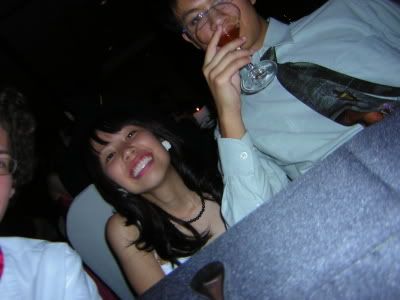 (left) sarah, me and mimi
(right) a bit of aric, me, and ariel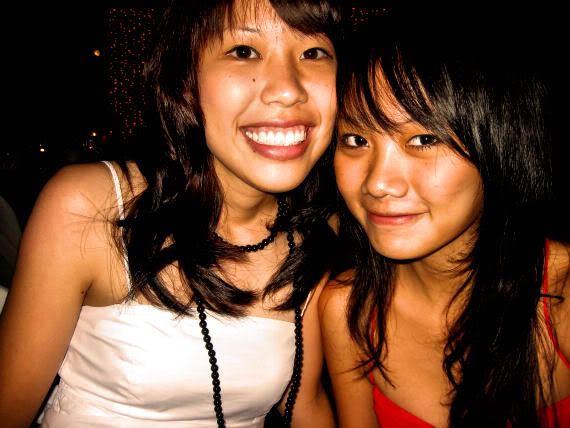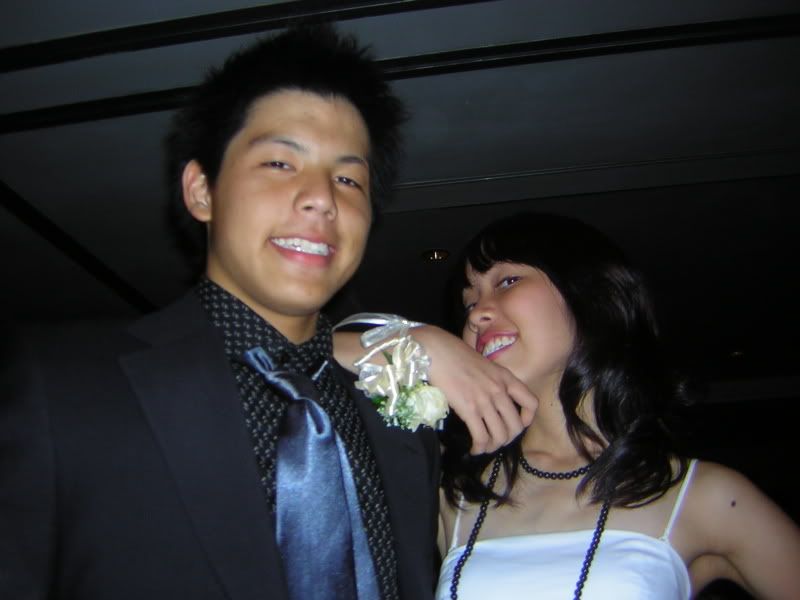 (left) me and val
(right) me and isaku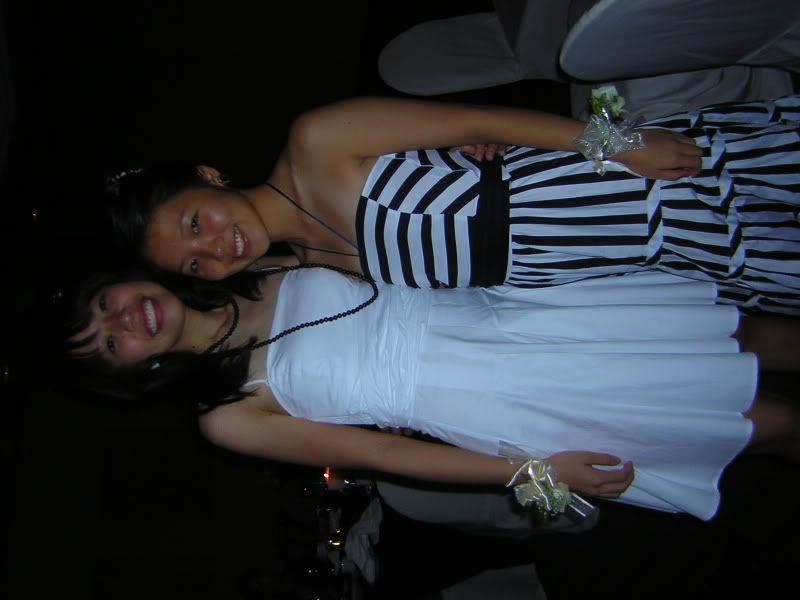 me and christina- i lovelovelooooved her dress


me and anna,
yay i'm a flapper! | more art

hello! i'm talking to ruth on the phone, and somehow i was suddenly reminded that i wanted to get an elvis presley cd. since last christmas.

"i can't help falling in love with you..."

"its now or neverrrrrrr..."




and now i'm singing steve green songs :)
good songs. |
May 07, 2006
visual persona

halloooo.
a tub of ice cream sounds so good for a hot day like this. i still want to try the marsha marsha marshmallow.




anyways, what i should be saying right now is that ALL my AP exams are finally over!

i didn't study much for my US history but it wasn't too hard. the essay questions were good, and that's as far as i am allowed to talk about the history exam.
so after that val, nathan, mimi and i had to take our art exam, which i thought wouldn't be much. just filling out stuff, mounting our art pieces on to poster board and sticking them inside the envelopes. but it turned out to be the longest exam EVER. i don't think i should even state how long we took... all of us had never done it before, including miss gorman. so we were all guinea pigs that day. it was tedious but it was fun :) this past week's been hectic. staying til really late at school from wednesday to friday night. miss gorman let us order pizza on thursday night though. that was really sweet of her. so after about a year of stressing over our portfolios, we'll be going on as many field trips as we can. we're freeeee :D it's weird though, not having to do any art anymore for awhile. aaand i'm glad i took the class (even though i was regretting it so much when i was so far behind) cuz i never knew i could actually paint. and produce that many pieces of art in such a short amount of time. and i had been completely neglecting art before i took the class. so it's been good. it also taught me not to procrastinate.

anyways, picture time.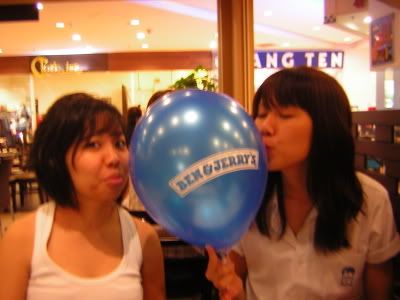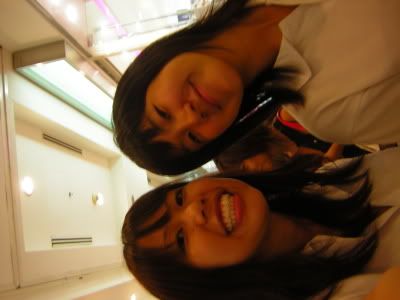 twas FREE CONE DAY at ben and jerry's!!!! so kiyoko and i joined the long queue and got some. and went for seconds too.
ruth and timothy went to watch 16 blocks. i would've watched it but i wasn't allowed to have a social life that week. and speaking of movies, the last movie i watched was v for vendetta! that was early march? so crazy, i used to watch movies all the time. so i can't wait for the da vinci code to come out.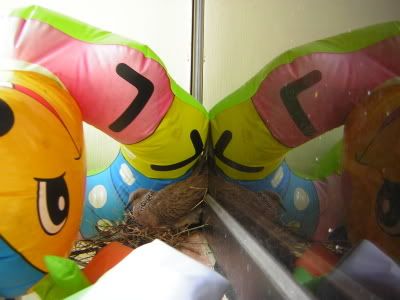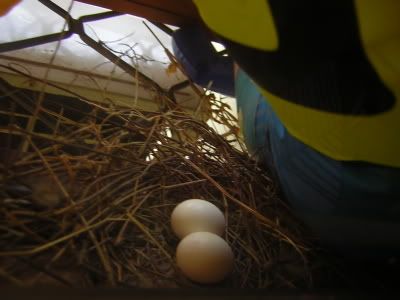 the stupid pigeons that built a nest outside my window. i wouldn't mind if they didn't have lice. but the amount of lice their babies carry are deadly. it was a nightmare trying to get rid of them when they infested our kitchen. i'm just wondering why they like our windows so much... oh and you see, the pigeon's mooning me through the window. how rude.

aaand some of my latest art pieces.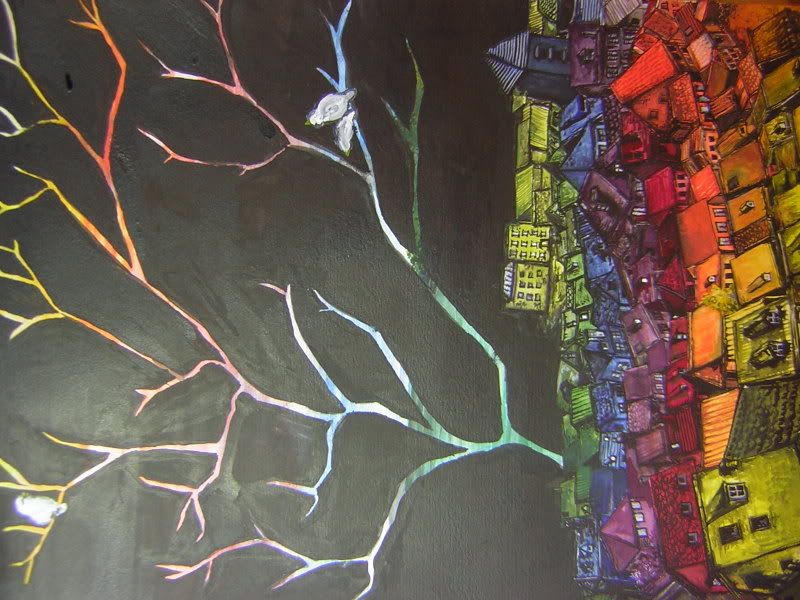 banquet's coming soon, and i'm excited :) it's so fun to dress up and everything.
yes yes,
oh, i got to go to a flea market yesterday. it was cool cuz i've been wanting to go to one for the longest time, and pat suddenly called me out of the blue to tell me she's gonna be selling stuff at one, and to come shop. so that was nice. it was at some warehouse next to riverview hotel at havelock road. the place was SO CROWDED and HOT i could've passed out, but i got to buy two shirts and two bags that cost only up to a total of 24 dollars. how i love flea markets. things that people don't want that other people may want, and buying them for a cheap price, and then selling them again once you don't want it anymore, and letting it go around like a cycle. it's such a brilliant system- for shopaholics who don't have much money, and impulsive buyers who get sick of what they buy really easily. both descriptions fit me. i'm gonna sell all my junk one day. |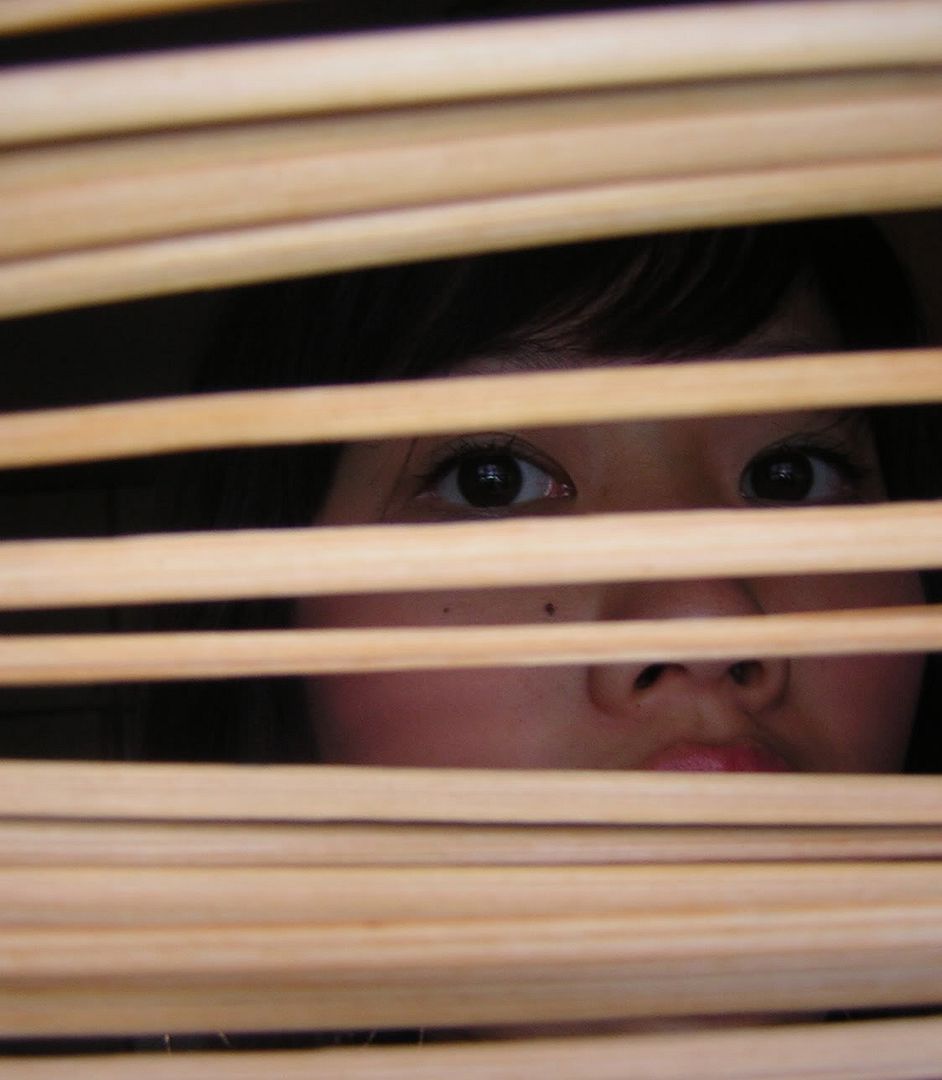 What goes "oom oom"?