The muzak: Sleep All Day - Jason Mraz


July 29, 2006
"i LOVE this cd"

hola, haven't posted in awhile.
right now, i'm very very hooked on john mayer's latest cd:


its one of those cds i actually feel a deep, deep affection for; and that makes you go "i LOVE this cd." i'm sure ruth can relate. i like how his singing sounds so effortless. compared to the diva-ish voice that makes the singer looks constipated; the kind you hear on american idol.

hahahahaha isaku's playing something on his guitar and my dad's just making up lyrics...
"..seagulls... oh yeah, yeah yeah, yoohoo hoo hooooooo"
hahahahahaha

just a few pictures from the past few weekssssssah!
sentosa


me and sarah!


the pizza was so so good. the crust was thin and crispy, had the right amount of cheese, and a very generous amount of toppings. and my first taste of lime margarita.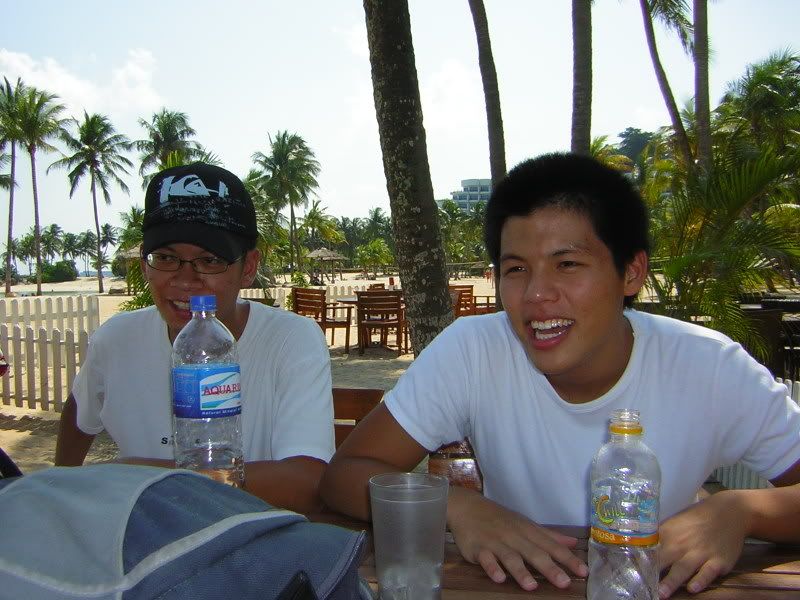 ansell and isaku.

when ruth sleptover.
one of those things where you're like "what the crap are we doing!" but you do it anyways cuz its soooo funny at that moment. even though it still makes me laugh, these pictures.
we reckoned people would look absurd if they happened to pose in their sleep. what do you think?
(and its in sepia tone, just for artsy measure ;) )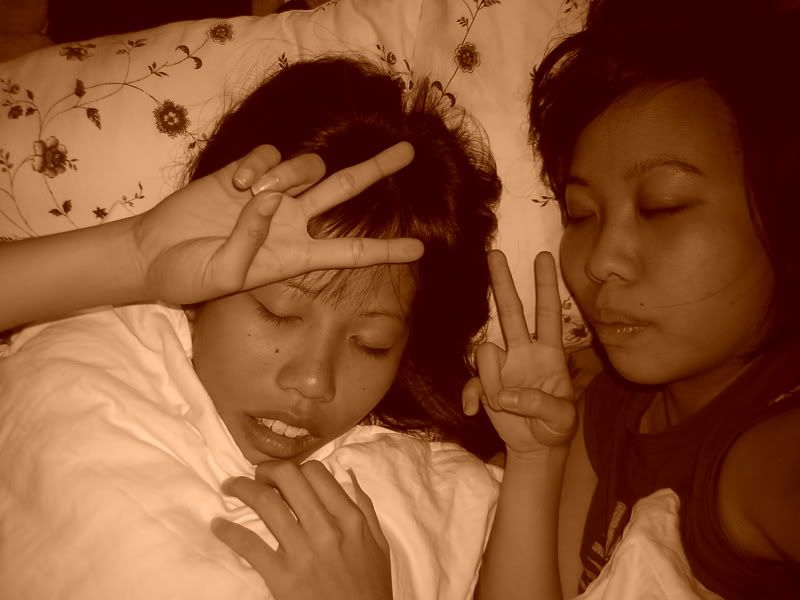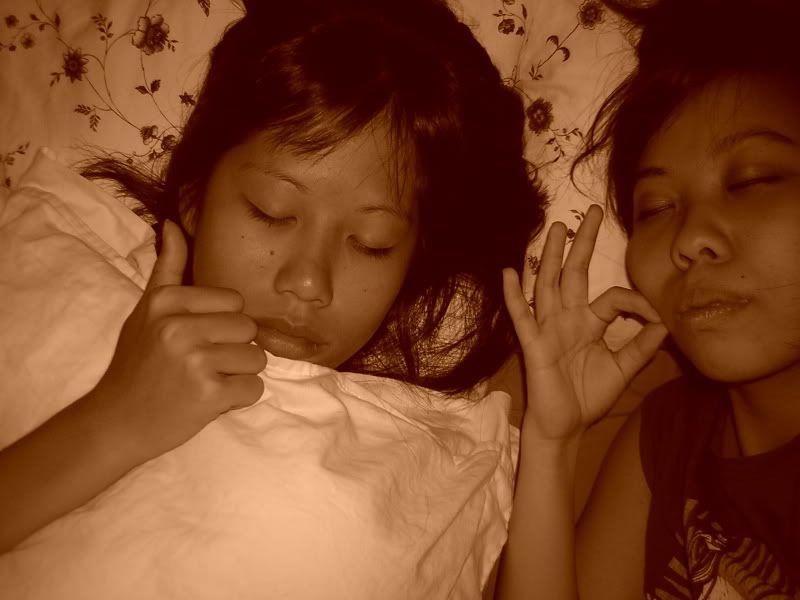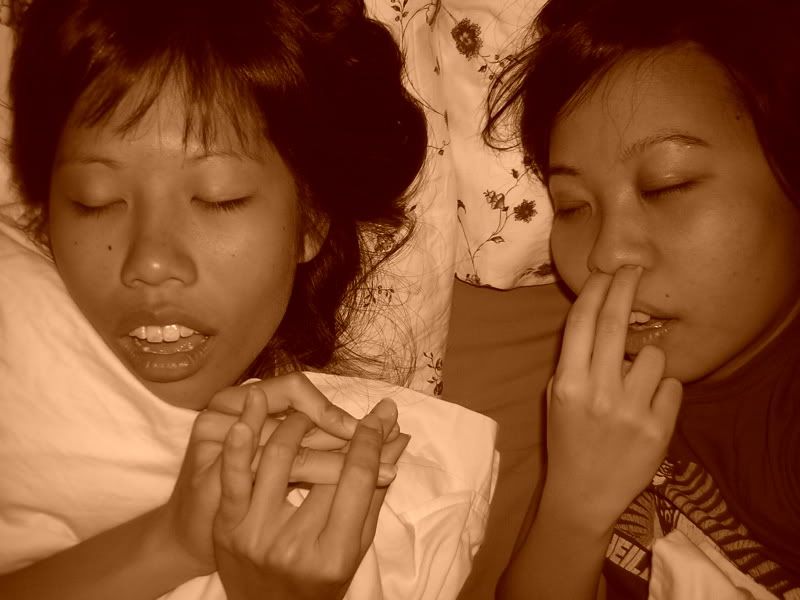 i know, we look sooo unflattering. oh well.
other than all the nonsense we did, i got to watch nacho libre! and pirates. i loved both movies. nacho libre was sooo funny. and pirates was funny too, and cute? hahaha i could never be a movie critic cuz i just end up liking most movies i watch, and not have very much to say about it. i guess i'm the one who read what the critics have to say and simply be entertained.
we've finally settled into our new church venue. yay! it looks great. and since i've been ending up there almost everyday, i've been able to eat bak chor mee everyday too. i don't think i'll ever get sick of the bak chor mee they sell downstairs. its SO good. ugghhh i can't believe school's starting in about 3 weeks. |
July 21, 2006
-

i don't know what to do |
July 16, 2006
i feel deep and thoughtful.

my tag board doesn't work. soooo weird. but oh well.
i'm just sitting in front of my computer eating a bowl of apples and feeling very dissatisfied with myself. i should do more with myself and my life. i'm in a thinking mood all of a sudden.
other than that, i'm uploading CD's i borrowed from nick and rach on my itunes now. jamiroquai, jack johnson, and john mayer. so J-ish! people with names that begin with J tend to be musically inclined i guess. no, never mind, mine starts with an "M." haha just kidding :D your name does not determine your giftedness in music. i'm sorry, i will not be narrow-minded.
so the song of the week is "hot tequila brown" by jamiroquai. it's a great, chatchy song. listen to it!
it's my ring tone right now, so i'm sorry if i take a while to pick up my phone. and i've learned that i really am very anal with my message inbox. i've got to delete my messages to specifically make it a number divisible by 5. hahaha God made me that way :)
well i have nothing really profound to blog as of now so i shall not waste my time and go. goodnight!

oh but i do have a profound quote:

"not all suffering is a result of sin, but all sin result in suffering"

ooooooh. yes, it does help you understand a big part of your life. |
July 14, 2006
fun fun

i should be sleeping now!
but today was so fun i feel like i must post about it. my waking-up time is getting later and later.
anyways, today isaku and i met up with nick (and then chris and julian came later) to have prata and al-ameen. had really good prata for brunch so that was a really good start to my day. except it was odd that they said they only made plain pratas in the evening when they made every other kind of pratas- cheese, cheese and mushroom, egg, onions etc. so nick and isaku kind of pondered over whether or not to ask the guy for "one cheese and mushroom prata! but without the cheese and mushroom" and see if he'd catch it. but of course, they aren't dumb...
never mind, i'm too sleepy to post about the rest of my day. but i found it soooo funny that nick suggested ewan mcgregor should've zapped off his mole on his forehead with his light saber. he should've! it was so distracting. hahahaha that still makes me laugh.
okay should go to sleep.
goodnight!
and i need to add that i got to go to ikea today :D i love ikea. except the interior design of the exhibition rooms (whatever you call them) weren't as great as they used to be. but it awakened my love for furnitures and interior design once again. |
July 11, 2006
sitting, waiting, wishing

hellooooo
i'm waiting for my mom to get ready so we can start our second round of errands today. the sun's out and i wish i could go for a swim and get a tan but unfortunately the day only offers me 24 hours, and i don't think that's long enough to accomplish everything i want to do on my mental list of things i want to do (i'm so longwinded!)
my mom's started doing some right brain training on me and isaku everyday. it's really interesting, all we have to do is stare at a piece of paper with zig zag lines and kind of outline them with your eyes over and over. and before that, i have to stare at a piece of orange paper with a blue dot in the middle for 30 seconds, and then close my eyes to see an inverted (the colors) version of that piece of paper in my head. hahaha, at least they're really easy.
well, we're starting the packing of our current church office today, to get ready to move upstairs. so exciting :D
and, i got a call from abby this morning! she's in singapore already so i'll get to see her tomorrow! it's been sooo long.
okay, hopefully my mom's ready now.
bye! | new phone!

helloooo
i got a new phone today!!!




ta-dah. the nokia 7360.
i really really wanted to get a flip phone though, and i found this really nice samsung one, but it cost a bomb. it was the samsung E870. it had this minimalistic look to it and i loved the buttons; and it had amazing features. oh well.
so it's been a long day today. running errands is tiring even though it was only accomplishing two things- extending my student pass expiry date, and getting a new phone. tomorrow, i'm going to get a new ic and hopefully, a hair curling iron. |
July 06, 2006
one more post


appear! | whyyy.

my blog's been taking aaages to load recently. and i'm guessing it's cuz of my KL pictures. so i'm gonna post stuff until it disappears into the archives file.

except photobucket's being stupid too. the pictures won't appear on my site for some reason. aaaghh! | meaningless stuff

i feel extremely unhealthy.
i just had a piece of greasy cheese sausage with fake machine-processed mashed potatoes (the maggi one), and 13 pieces of deeeeeeeeeeep fried fish with salt and vinegar, and fries from CHIPPY- the place that sells fried mars bars. "peckish" has been my word of the day everyday. somehow i go through phases where i feel permanently hungry, peckish, or not hungry at all. and i'm going through the peckish phase now. but i stuffed myself beyond what "peckish" can bear.
anyways, i haven't updated in a while. last weekend was really interesting... i feel too full to type everthing out in detail. my blood feels thicker. it was a nightmare climbing up the flight of stairs up to the fourth floor of my block.

saturday- really long worship practice. ended up helping a bunch of paya lebar mgs girls (they formed a little band) to sing cuz the singers were sooo afraid of the mic. they were going to perform for this 90 hour singing marathon thing organized by their school for a fundraiser, AND to enter the guiness world records. sooo if we get in the world records, ruth, jeanne and i contributed to half an hour of it :) we sang at millenia walk from 11:00-11:30.
sunday-ruth, nick, rach, and i preached! i had no idea i could be so longwinded, i went on about 40 minutes without knowing it. but everyone preached really well. it was really cool too, we decided not to discuss about what we were going to preach about, trusting that God will somehow put something on each of our hearts that will be tied together. and true enough, he did. we all talked about being part of the body of christ (a very broad topic, but our messages were all tied together).
monday- watched superman! with ruth, rach, daniel, and mar. then met up with ansell for dinner.
tuesdayhad dinner with ruth and rach. we had sushi :) sleptover at ruth's house with rach. helped rach dye her hair. watched lots of tv! discovered another drama that closely resembles laguna beach - 8th and ocean. they are so shallow. watched csi, an episode which made me slightly paranoid cuz both cases were about two people beaten/stabbed to death in bed. and catherine looks at the little boy's body and dramatically, but silently whispers... "people aren't even safe in their own beds..."
aah! csi is too morbid for me. i think i'll try to avoid it from now on. even though the investigating side of it really interests me. the forensic stuff. if i were smart enough, and brave enough, i'd definitely do something like what warrick and catherine does in csi.
wednesday- ruth, rach and i meant to wake up to watch the germany and italy game early in the morning (3 am) but ruth's alarm chose not to ring! so we completely missed it. i wasn't bummed though cuz i really am not into the world cup, but ruth was.
rach comes into the room at around 7 am in her school uniform ready to leave for school: ruth! you missed the game!!!!!
ruth gets up immediately from bed: oh crap!!!!
me: *groans* *goes back to bed*
ruth: i can't believe i missed the game!!!!!!!!!!!! : ( : ( : ( : (
ruth and i went to the church office in the afternoon. i sat at the church library and read dr. james dobson's life on the edge. it's a really really good book. it talks about the different things kids my age face. choosing colleges, relationships, love of money , emotional ups and downs etc. basically, everything.
and today- i cleared out my clothes to sell at the flea market from my closet. i had A LOT. and then i went down to the church office again to meet ruth! and had my very unhealthy dinner.

oookay. i'm done rambling! |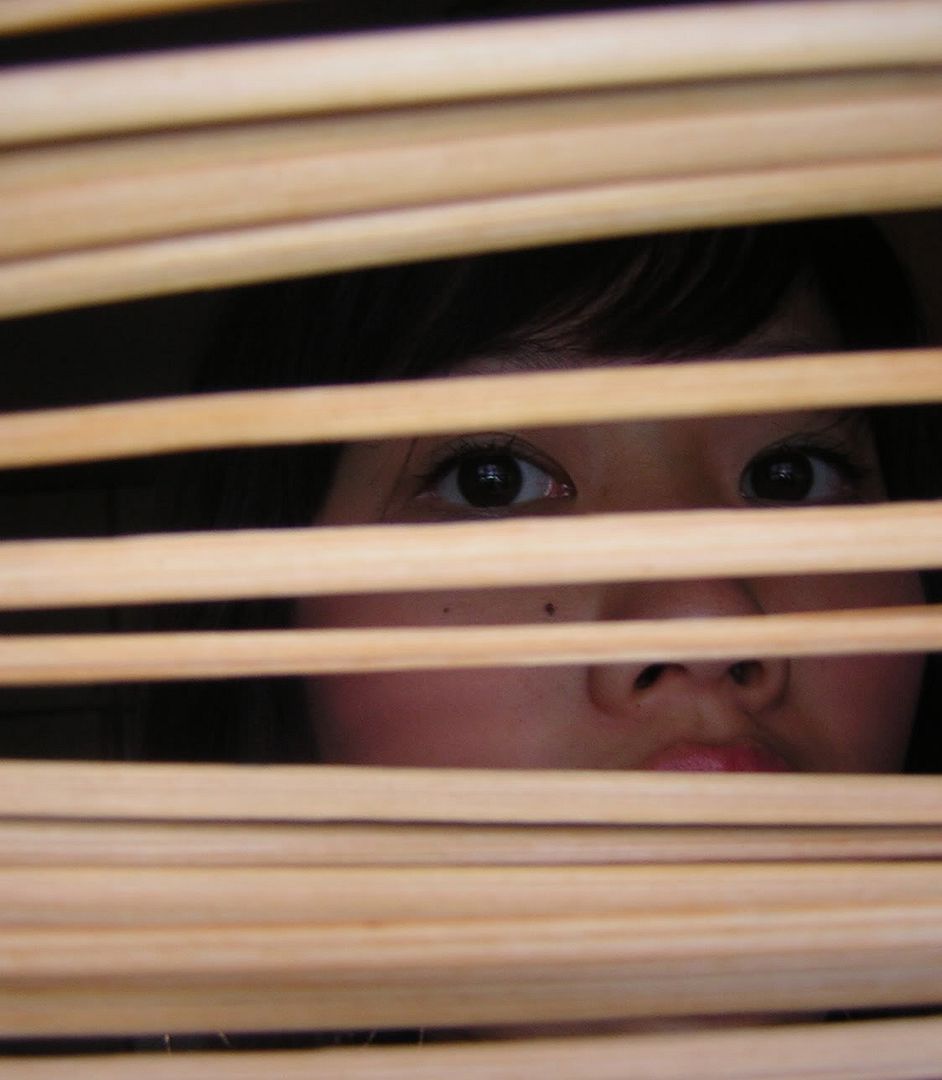 What goes "oom oom"?