The muzak: Sleep All Day - Jason Mraz


August 31, 2006
tell me more

hola, i'm in autocad class now.
my fourth finger got jammed so its really fat. well, this week's gone by really fast, which is really good. i can't wait til the weekend. i'll get to eat TEX MEX!
i also really really need to buy new shoes. have you ever had days where you really didn't have any shoes to wear? well, today was that day for me. yesterday, i ended up walking in the heavy rain to church and got my black ballet flats ruined (they were pretty ruined already anyways). and so i threw them away... i really loved them, so it was sad. and my two other shoes were just washed so they were all wet, and i tried drying my converses overnight under my aircon, but that didn't work out. so i'm wearing my wet pair of converse now. at least they are clean now! they don't smell anymore.
okay, the bell just rang. |
August 29, 2006
the nations are your inheritance

Greece



i'd looove to be there right now. |
August 26, 2006
yes

i'm just waiting for my papi to come pick me and isaku up right now. then we'll ride on our black stallions to church.

so, just to kill time...

THREE NAMES YOU GO BY:
1. meg
2. mi chang
3. megsy

THREE THINGS THAT SCARE YOU:
1. airplane toilets
2. deranged people or murderers (CSI stuff)
3. blood

THREE THINGS THAT MAKE YOU HAPPY:
1. people (my family and friends. "you know who you are!!!" *cheesy*)
2. shopping
3. painting

THREE THINGS YOU HATE:
1. having hair in my mouth (i just got one)
2. mosquito bites
3. raisins

THREE OF YOUR EVERYDAY ESSENTIALS:
1. i have to sing everyday
2. lipice
3. foood

THREE THINGS YOU ARE WEARING RIGHT NOW:
1. denim shorts
2. green tank top
3. undies

THREE THINGS ABOUT THE OPPOSITE (OR SAME) SEX THAT APPEAL TO YOU:
1. loves God
2. looks
3. personality (my answers are so broad! but i can't just boil them down to 3 things...)

THREE OF YOUR FAVORITE HOBBIES:
1. hanging out with friends
2. shopping
3. singing

THREE THINGS YOU WANT REALLY BAD RIGHT NOW:
1. a house
2. a vespa
3. plane ticket to greece

THREE CAREERS YOU'VE CONSIDERED:
1. artist
2. actress
3. detective

THREE PLACES YOU WOULD GO ON VACATION:
1. GREECE!!!
2. tuscany
3. bangkok (just for shopping)

THREE THINGS YOU WANT TO DO BEFORE YOU DIE:
1. go to greece (or just travel the world)
2. get married of course.
3. hug a polar bear (i don't know, i can't think of stuff i wanna do)

okay, my dad's home!

but isaku's not out of the shower yet..
so, yesterday was nick's 21st birthday. happy birthday! a bunch of us went to eat spanish tapas at laviva at chijmes. the food was faaaaaabulous. yesterday, was just an awesome day overall. singapore is beautiful. chijmes, clark quay, boat quay, the friends i have..
"LIFE...
EMBRACE IT PEOPLE!!!!!!!!!"
nick and i were so tempted to go up to someone and clutch them by their shoulders and say that to their face.
despite the quarter-life crisis, the senioritis, or whatever.. life is still awesome. |
August 24, 2006
autocad

hola, i'm in autoCAD class now. and apparently the license expired for several computers so everyone's just moving around trying to figure out the software. mine's working! so yeah. first period was debate in government. i have to say, after all that complaining to all my friends about how i really don't care, it was a very enjoyable debate session. david dressed up as a woman, because he was supposed to be mary wollstonecraft (it was so cute) with straw hat and a little fan and everything. good job. and karl marx (josh) was like a mix of derek zoolander and some indian man. the result was very very fierce. it was hilarious.
okay, back to autoCAD class... |
August 22, 2006
might be the quarter-life crisis

hello!
well, its about time i posted SOMETHING about school. since my last post was during the last bit of my summer. well, to be honest, i've been feeling very very detached from school. and already, i can't wait to finish school and just start a new chapter of my life; instead of debating about political philosophies of politcal figures who lived in the 1700s. those things really don't matter to me at all. but that's the way the world functions now, and i have to live with it. so today was one of those days i thought about life. and how if God wasn't in the picture, everything i do and have been doing would be in vain. really, it would. why else would i go to school? cuz i know God put me there for a reason. and everything is part of his plan. and it should never be the other way round. meaning it shouldn't be God being a part of MY plan. so i wanna do the best with this life he's given me even though school's not the funnest thing. but i am truly blessed to be in ICS. awesome teachers, and a rather relaxed school life compared to local schools. JC people are preparing for A levels now. i haven't even APPLIED FOR THE SATS. yes, that says a lot.
another thing that sucks a lot is that jeremy's in the army. i'm missing him so much :( the situation just makes me amount to a whining organism. i'm almost 18 and i still whine. but thanks jeremy for being the sweeeeeetest guy in the world. i really can't wait til november.
basketball practice on monday was a KILLER! hahaha seriously. i was probably the most out of shape out of everyone (even though i don't look it, i know. haha kidding.) i did 3 suicides and started seeing stars. so i had to sit out and steal someone's water. cuz i didn't have my own. hahaha aah. HORRIBLE. tomorrow's practice again, and i'm gonna do better this time. i'll bring my own water and somehow increase my audio skills to try and hear coach in our gym, where sound travels to places except to your ears.
i'm loving my schedule too. even though i'll love it more if i could take MUSIC. the music room's awesome. your voice echoes in there so singing sounds a millions times better. kiyoko and i spent our whole study hall period there singing. it was loads of fun. so i have government first period (bleaugh), and then AUTOCAD! which is awesome cuz we're eventually gonna start learning how to design houses. that is EXACTLY what i wanna do, and its gonna help me so much in the future. and then 3rd period, i have study hall! very nice. a breather before the other harder classes come in the way. after study hall, i have lunch, where i get to leave school :) i haven't eaten lunch at the school canteen yet. or maybe i shouldn't use the word "yet" cuz i'm not sure if i'll ever. the hawker is great cuz everything is so cheap. a generous portion of chicken rice, char siew rice, or duck rice costs 2 dollars. ONLY! it works well with my frugal-life plan. (i made this plan where i'll live a frugal life on the weekdays, and treat myself to one object during the weekends if i get to shop). it works well. and then after lunch, i have anatomy. i love mr. goode, so anatomy, even though its a science subject, is fun. then there's english, which is slightly a challenge. cuz i get so sleepy. and my tendency to zone out is probably the highest then. we watched a video today, and i literally have no idea what it was about. its amazing how a brain can so easily shut out when my eyes are clearly glued onto the tv screen. i saw grass, and gray colored walls (probably hadrian's wall since we've been talking about it). and i saw warriors fighting. that's all i remember. and something about sutton hoo's or something. after english, we have BIBLE! i love bible cuz mr. bridgeman is cool. and cuz bible is bible. the bible is a cool book. and we're learning about church history from the book of acts. very interesting. and after bible is ART! what a great way to end the day. and miss gorman's letting me do whatever i want. and so i'm gonna use that period to build my portfolio, or to experiment with large canvas paintings. i have so many ideas. i just need the money to buy my canvases.
so that's all the word vomit for today. |
August 10, 2006
deer

mr bridgeman wanted me to paint this on his classroom wall (a rustic version of it) but changed his mind. *phew*


| jaaam.

hey! i'm at the church office right now. waiting for jeremy to come get me and sweep me off my feet! just kidding. we're gonna have yummy bak chor downstairs. and gonna go to some green something place. can't remember the name...
so, school's starting next monday. i thought it would start on tuesday cuz that's right in the middle of august. but i guess it was more convenient to start on a monday... aah. not really looking forward to it. still got lots i wanna do. and i'm gonna be bombarded with lots i have to do that i don't want to do, so i won't be able to do what i wanna do...
as i was eating plain toasts (i didn't know what to spread on them) one morning, and flipping through an interior design book, a new room revamp plan popped into my head. i'm dying to do it; it'll be the best room revamp so far. i must do it! but school's gonna be such a huge hindrance. and i haven't done my flea market thingy. really, i feel quite crappy not accomplishing the things i had planned out. i haven't even touched a basketball all summer. but this summer's been the best summer i've ever had. ever! |
August 08, 2006
jam :)

i'm on top of the world!!!!!
- jeremy
- i got accepted into a really nice art gallery in arab street (a touristy area)
- i get to sell my art there
- and be part of some short plays maybe

anyways, i'm missing nick soooo much!
just feels like something's missing without him around. can't wait til saturday when he gets back from indonesia.
arab street is one of the awesomest place in singapore. they have the cutest shops. its my favorite hang out place right now.
school's starting next week, i cannot believe it. i'm not ready!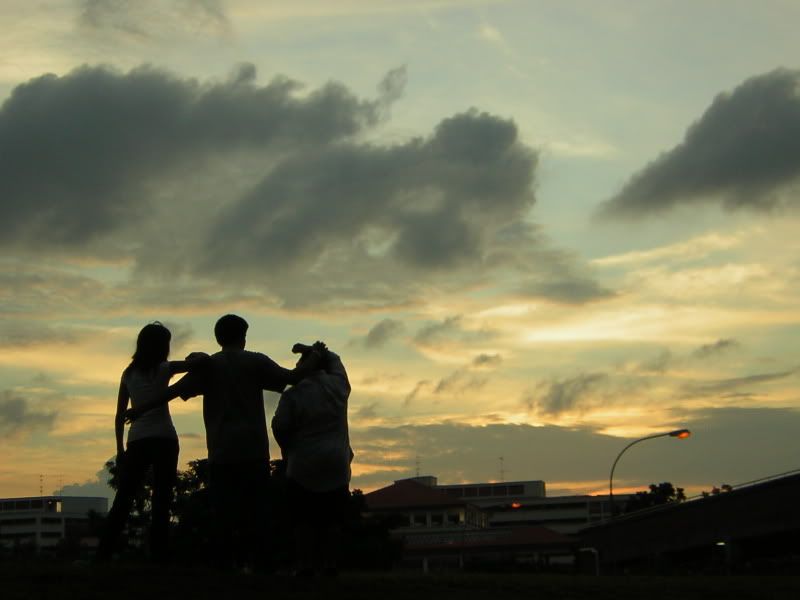 i'm so so so hooked on john mayer now.
"my stupid mouth" is the best song. for now.

i've been able to see glimpses of my future. it's so exciting.
don't know if i'm really making sense. i'm just typing whatever that comes to mind. explains why most sentences don't connect. oh well.
i gotta go eat breakfast now. |
August 03, 2006
interesting night

well, i ended up sleeping at 5 am last night/this morning. and it's weird getting ready for bed when you know in about half an hour, local school kids will be getting ready for school.

i stole pictures from ruth's blog!



bangs symmetry



my demon dog peering over at me and ruth from the stairs.



ruth seems bothered.



ruth curled my hair!



CAMP HORSE!



mar and i were watching the man, and his envelope which seems to contain something highly valuable...



ruth's fancy way of blocking the flash and taking a picture. we are red!



a man sleeping standing up, outside NYDC.



i love this picture



sailormoon bangs. in the shape of a heart... my heart. just kidding.

other than all that, update on my life: it has been so, so exciting. |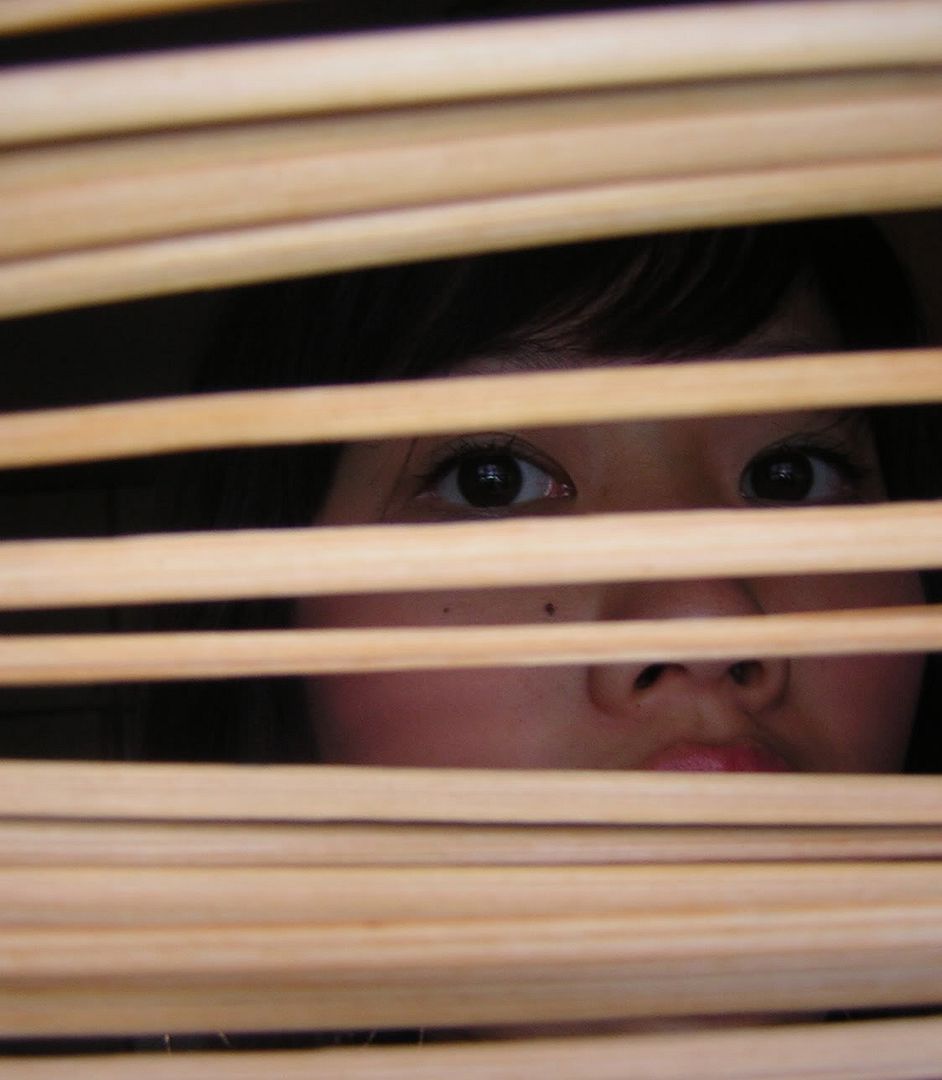 What goes "oom oom"?