The muzak: Sleep All Day - Jason Mraz


September 26, 2006
more pictures

Before...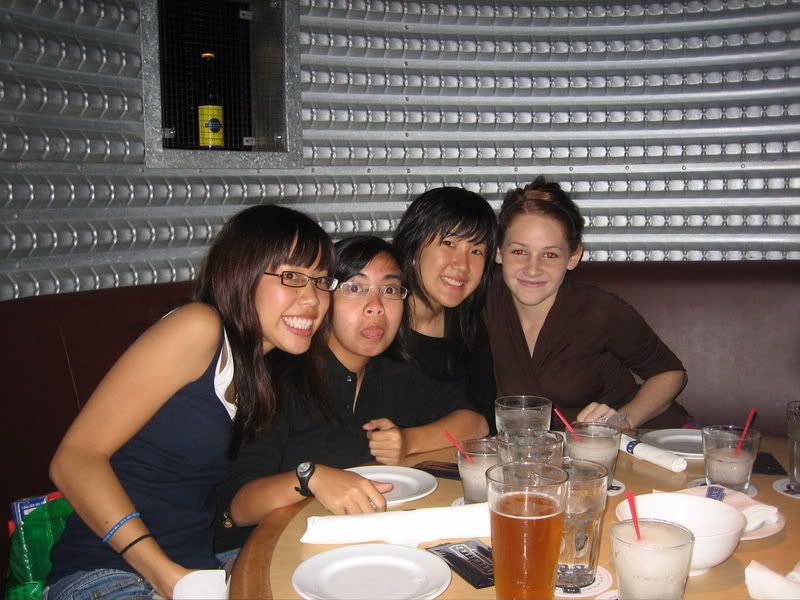 and after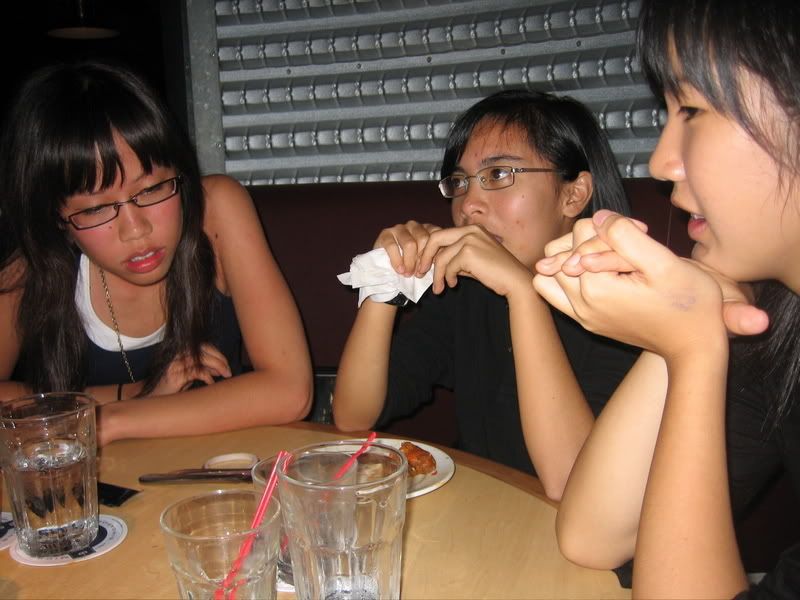 hahaha even my arms got darker. aah!
anyways, i just ate and i'm so so full.
i miss jeremy!!!!
"bloody army!" | some people want diamond rings

well, i'm sitting in isaku's room listening to s club 7 hahaha. good stuff :) brings back feelings of nostalgia. "never had a dream come true.."
anyways, school was pretty fun today. not really sure why, it just was.
i realised i didn't update on how the TTS game went. we won! yeah. 29 to 17. it was an okay game though. there's another game at TTS tomorrow. this time its with the TTS B team.
i'm more excited about soccer though. i mean, so far we've only had one soccer practice!!! (at least for me, cuz i missed the second one) i miss it. i gotta get soccer boots and socks soon!
the end of the year is coming up. so many things to look forwardd to :) year-ends are always so exciting. my birthday, other people's birthdays, christmas, holidays, shopping, SALES.. etc.
anyways, not much to say actually. just lazing. its been a tiring day. having to practice the japanese dance for international night, and sprinting for 5 seconds to the hawker. sprinting for 5 seconds already makes me out of breath! coach cannot expect me to sprint for 2 minutes!
tomorrow's See You At The Pole, so i get to wear my flag colors. hahaha the only time of the year i look patriotic. i can't be bothered on national day. but if it calls for FREE DRESS to school, that's a different story.


|
September 25, 2006
brewerkz!

happy birthday maria! we went to brewerkz saturday night to celebrate. it was so much fun. some pictures!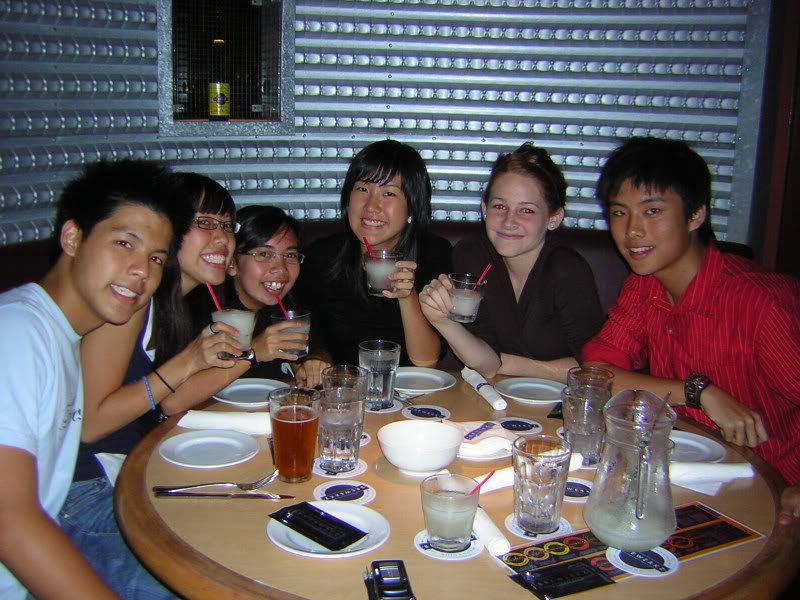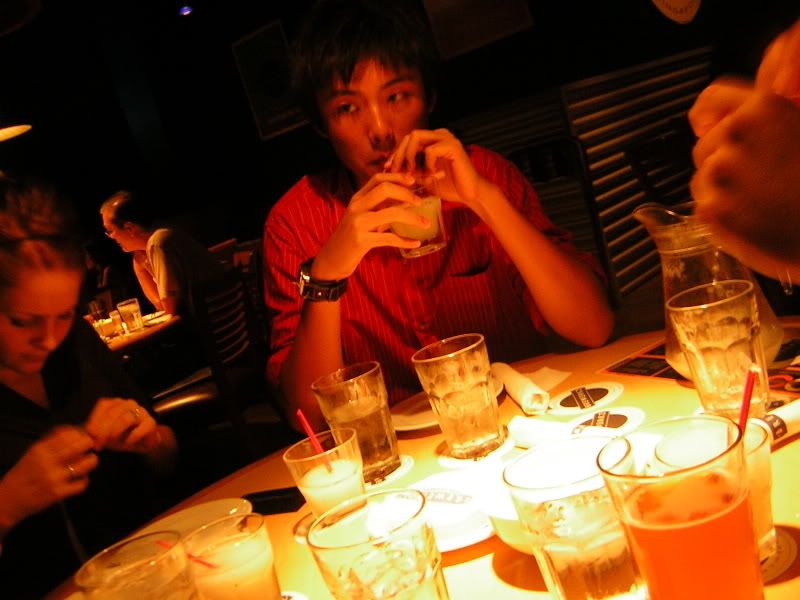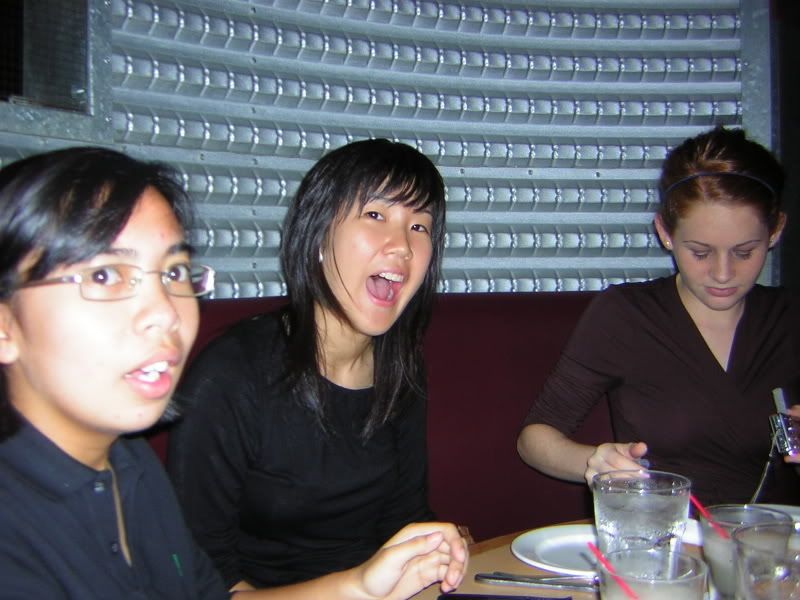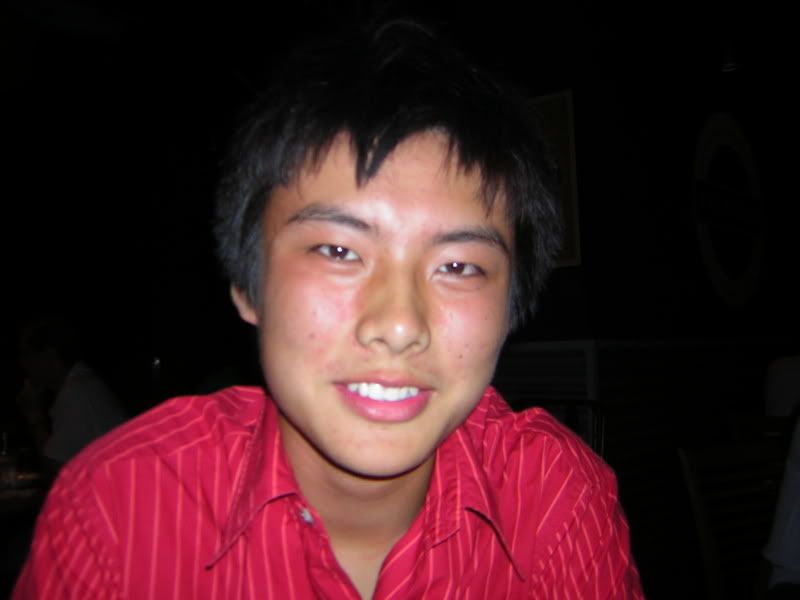 nathan was turning so red. hahaha.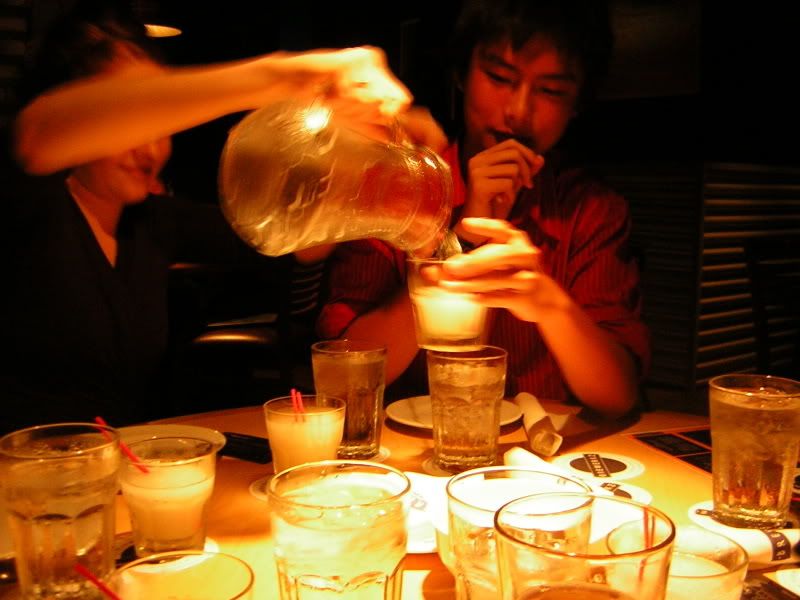 before the food came...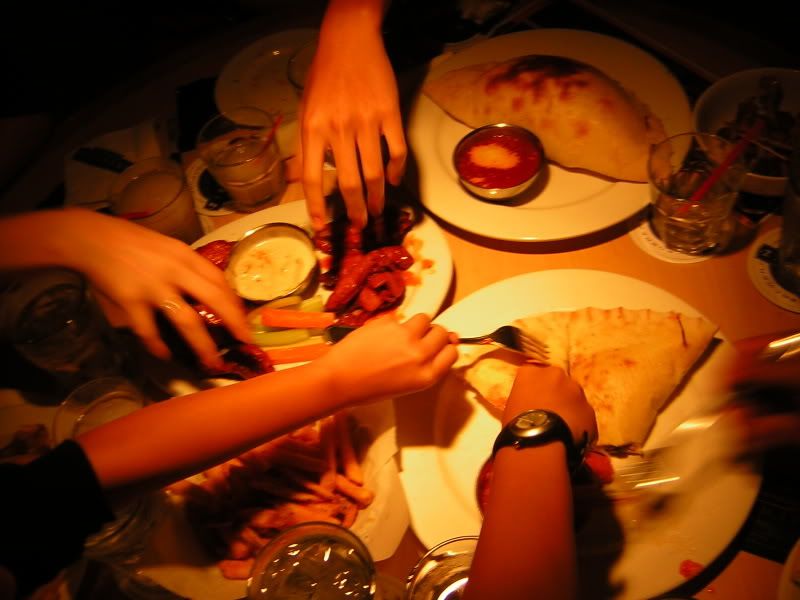 after the food came. the buffalo wings were the best!!
other than that, we got a seafood calzone, a pepperoni calzone, fries (they have the best fries), and a burger and more fries.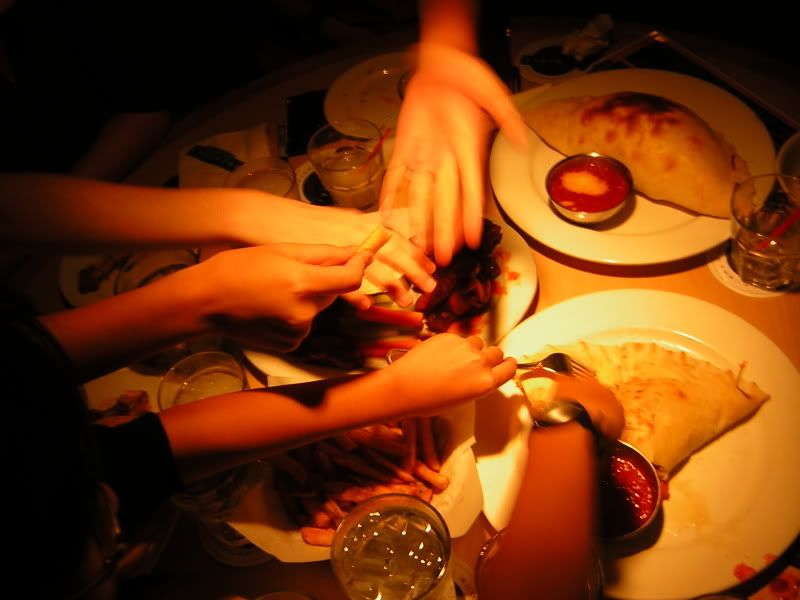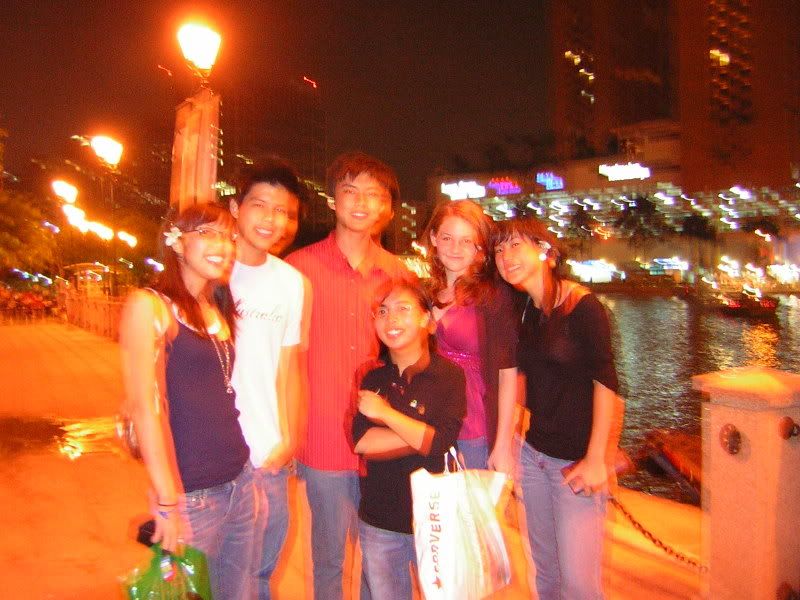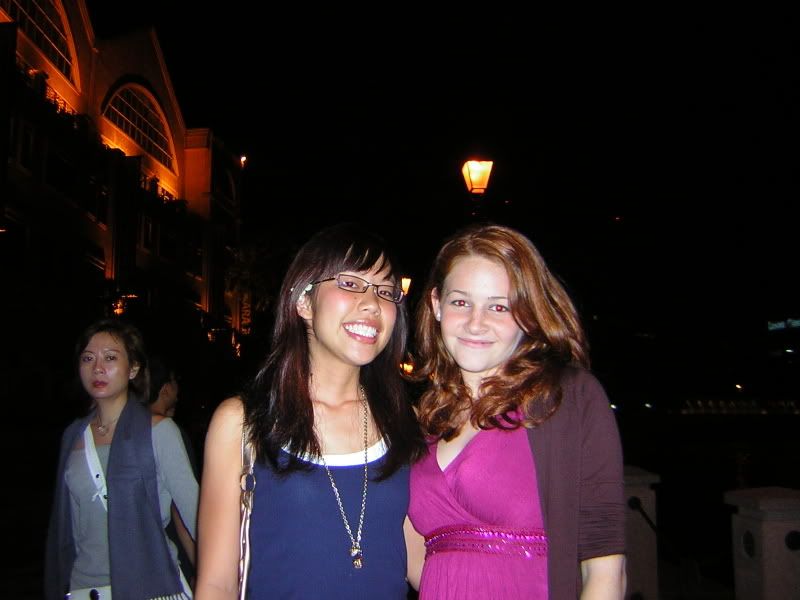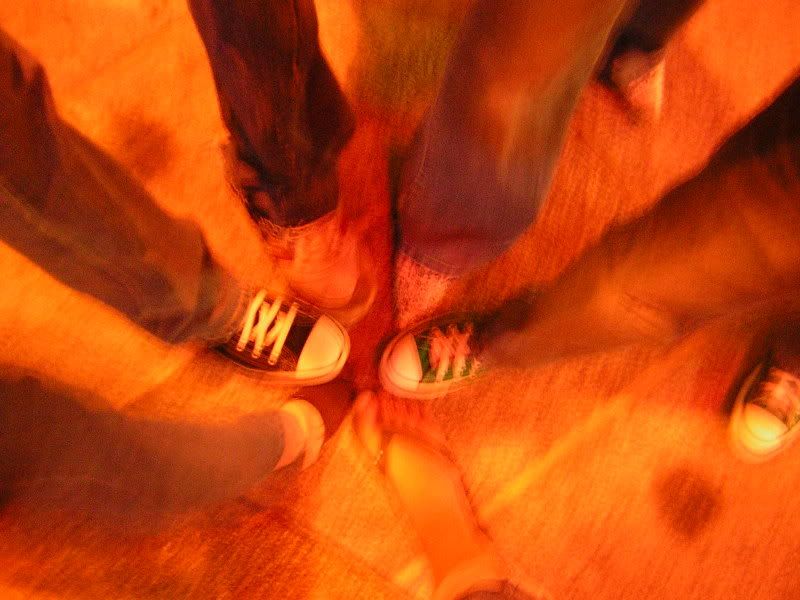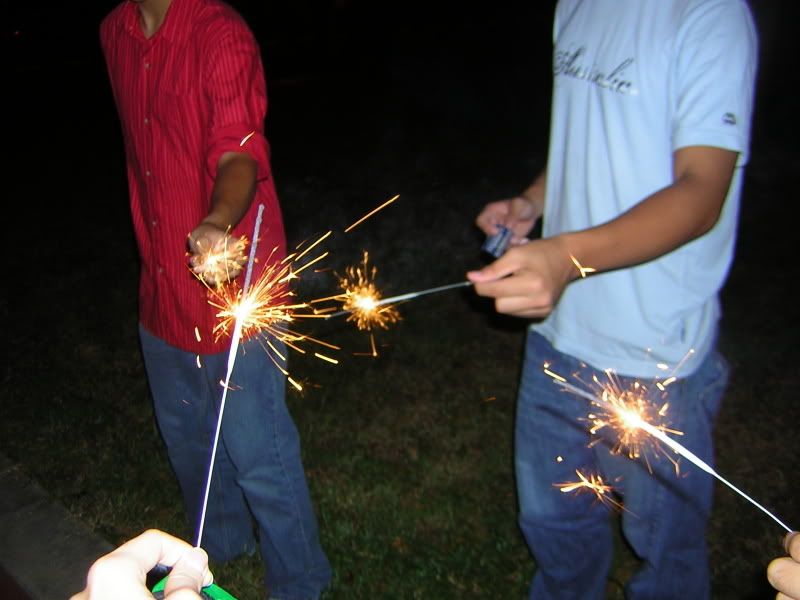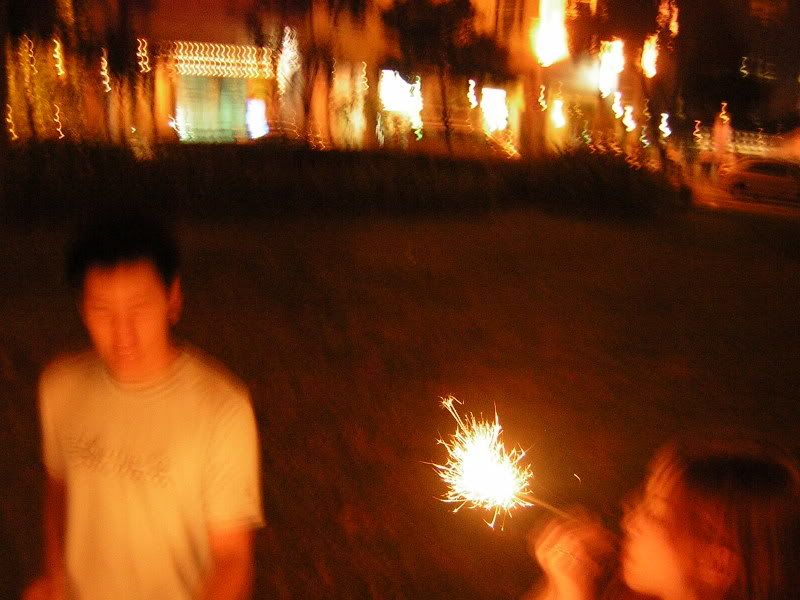 anna trying to smoke a sparkler. hahaha, nice :) |
September 19, 2006
tomorrow...

OPEN GIRL'S FIRST GAME at tanglin trust!!! | kaya toast

i remember, i said something about posting more pictures from the barbeque. well, i'm too lazy! so i stole some from ruth's site :)
cuz the previous pictures i put up from the barbeque were just pictures of me and jeremy, and it kinda looked like it was only the both of us there hahaha.




mmm, i'm hungry now, i wish i could be sucked into the picture.



jeremy's hand!




i'm craving ya kun kaya toast now. i wanna sit at a balcony and eat ya kun kaya toast.

i got a bunch of stuff with jeremy yesterday :) happy happy joy joy. i got two different kinds of in-soles for my shoes. one's washable, and one's throw-away, but more expensive. cuz it was some extreme odour DESTROYER one from scholl. so i hope it works. my feet feels cooled even right now as i type. an interesting sensation. or maybe its all in the mind. who knows, but it better work!!!!! cuz i scrubbed my feet with this lemongrass foot exfoliator i got from body shop yesterday.
and body shop sold this awesome lip and cheek stainer in a tube. 2 in 1! and its a stainer, just like lipice, so it doesn't go on like paint like lipstick. and it doesn't go on like powder (that rubs off really easily) like normal blush. it STAINS. and it looks natural. i love it. its so great cuz i used to try and add pink to my cheeks with lipice (and its not meant for that) so now i got something that's actually meant for both my lips and cheeks, and i know i'm being londwinded and going on about a cosmetic product, but i really need to stress on how great this product is! it is great.
ah, here's a picture


it is extremely liquidy so it does not make your cheeks feel gooey or anything. aaah i love it :D
tonight, me, ruth and rach: dinner at the new botanic garden's food court. haven't been there in ages. yaaaaaaay. |
September 17, 2006
craaave.

well, i had a really nice nap this afternoon, after having lunch at holland village. after trying to be debbie travis my arms were aching and my body felt so tired. i think sunday afternoons are made for lazing anyways. what other perfect way to spend a sunday afternoon than to just be yourself and relaaax. i was craving bread and butter for lunch! and craving to sit at a nice balcony staring out, eating bread and butter. and then falling asleep. but i had to come home to a house without balconies. and it made me realise how my house is so... closed concept? rather small windows.. no balconies. and now i know that whatever house i get in the future, it has to be pretty open concept with balconies and BIIIG WINDOWS with lots of natural sunlight streaming in.



You Are Lemon Meringue Pie

You're the perfect combo of sassy and sweet
Those who like you have well refined tastes



mmmmm pie is sounding very good now. esp lemon meringue. they read my mind! i love lemon tasting pastries.



Gummy Bears

You may be smooshie and taste unnatural, but you're so darn cute.



i'm bored. and i'm missing jeremy.



You Are Best Described By...

San Giorgio Maggiore, Twilight
By Claude Monet
Your 1920's Name is:
Lurline Robbie
You Are a Glazed Donut

Okay, you know that you're plain - and you're cool with that.
You prefer not to let anything distract from your sweetness.
Your appeal is understated yet universal. Everyone dig you.
And in a pinch, you'll probably get eaten.



ooh now i want donuts! i loved the krispy kreme ones reuben brought back from australia. bring back some again this year!!!



Your Career Personality: Idealistic, Service-Oriented, and Future-Oriented

Your Ideal Careers:

Alternative health practitioner
Architect
Environmental lawyer
Librarian
Magazine editor
Museum curator
Novelist
Nutritionist
Photo journalist
Playwright
What Your Soul Really Looks Like

You are quite expressive and thoughtful. You see the world in a way that others are blind to.

You are a grounded person, but you also leave room for imagination and dreams. You feet may be on the ground, but you're head is in the clouds.

You believe that people see you as larger than life and important. While this is true, they also think you're a bit full of yourself.

For you, love is all about caring and comfort. You couldn't fall in love with someone you didn't trust.



ah i love taking these quizzes! they are so addictive.



Your Japanese Name Is...



Ami Inoue



hahaha. i have another japanese name. yaay.



You Are 28% Addicted to Myspace

Your Myspace addiction factor is: Low

You're a typical casual Myspace user... you know what it's all about, but you haven't been sucked in (yet)!



hahahaha well, i'm glad.



What Your Face Says

At first glance, people see you as down to earth and reliable.

Overall, your true self is reserved and logical.

With friends, you seem logical, detached, and a bit manipulative.

In love, you seem mysterious and interesting.

In stressful situation, you seem like you're oblivious to the stress.
Your Scholastic Strength Is Innovating

You are the master of new ideas, techniques, and ways of looking at things.
You are talented at structuring thoughts, decision making, clarifying, and making deadlines.

You should major in:

Marketing
Psychology
Desgin
Cognitive Science
Economics
Photography



ooh, this one's pretty accurate.

john mayer has a new cd out! continuum. i think. i wanna get it. and his new song and music video's up on his site. aah i love john mayer.



Your Style is 1950s

High heels, pretty dresses, classic makeup...
You're a feminine beauty who knows how to play up her assets!
You are Sneakers!

You're an active girl, who's all about function
You dress for the occasion - comfort comes first
Your perfect guy? Someone who can keep up with you.
You'll find him - but you might have to slow down to see him!



whaaaaaat. i know you're laughing daniel.

okay, enough quizzes. tomorrow's the beginning of the school week once again. and im sooo not in the mood! blaaaahhhh. i'm craving a chocolate bar. i even had a dream about it just now while i was taking a nap. there was a mint chocolate bar. an after eight in bar form. no such thing, but it existed in my dream! sounds really good now.
30 weeks of school left til graduation. i think? it is gonna zoooom by. gotta go eat dinner! i'm craving something oniony!
ruth's mom's right. i don't know what kind of outrageous cravings i'll get when i'm pregnant. |
September 16, 2006
a taste of what debbie travis does

today, while the owner of the house was out, a bunch of us went to help out with the cleaning and painting of a house (just like one of those home maker over shows. e.g. debbie travis' face lift). it was realllly tiring and tedious work, but i enjoyed being in an empty house and contributing to its niceness (?). haha my blank canvas :) seriously, i've been hearing so much about people's plans to re-do their rooms, and seeing people move houses (rach, jeanne, and aunty joy). I WISH I COULD MOVE TOO! i really would love to start a house from scratch and completely furnishing it with anything thats up to my choice and my own taste.
and when i become an interior designer, every house i furnish will be my own art piece and people will be living in it. its so much more than painting on a canvas and selling it and seeing it being hung up on a wall somewhere. but people will be living in my art, and appreciating it everyday. *squeal*
anyways, pictures from today...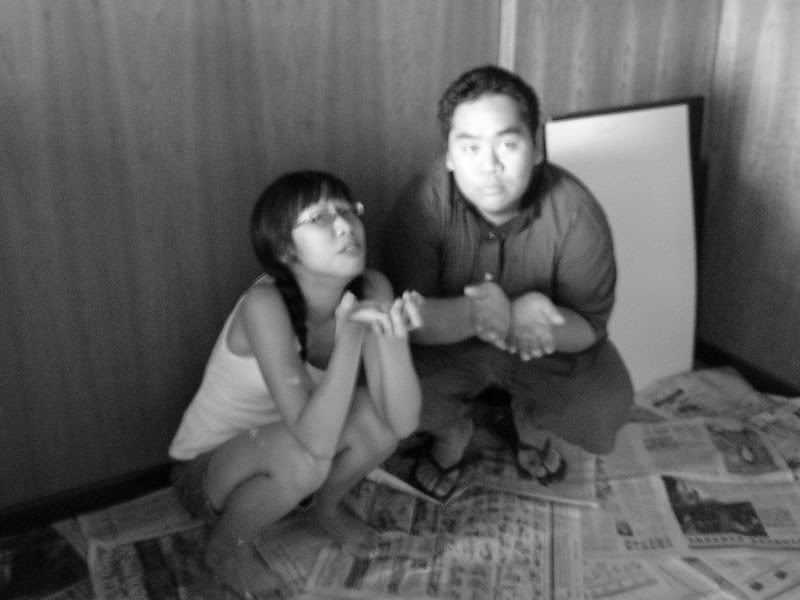 me and nick begging? at the corner of an unfinished dining area.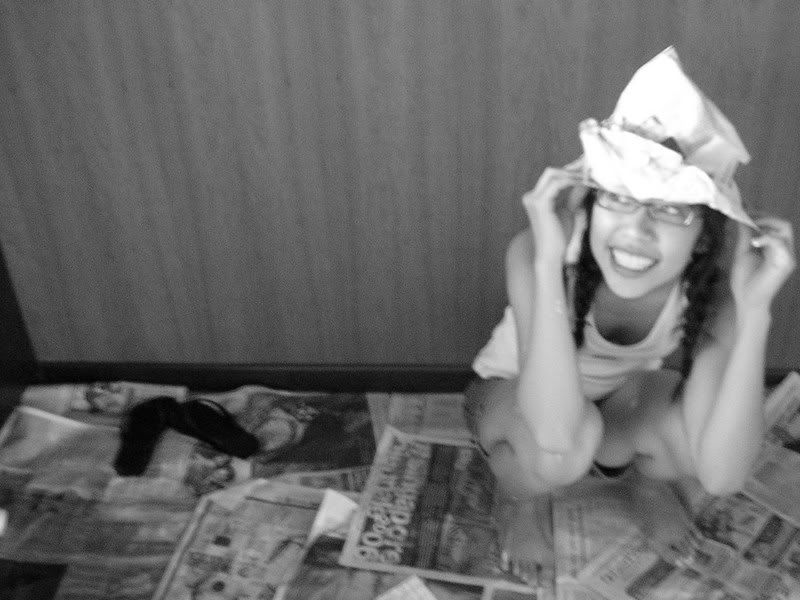 me and my own handmade paperhat! to prevent paint from splashing on my head.
it kept falling off though, so i didn't wear it in the end. oh well.


jeanne and nick! working on the ceiling paint.


awww, daniel!! i know, right now you're thinking "oi! you took my picture!! *aah!*"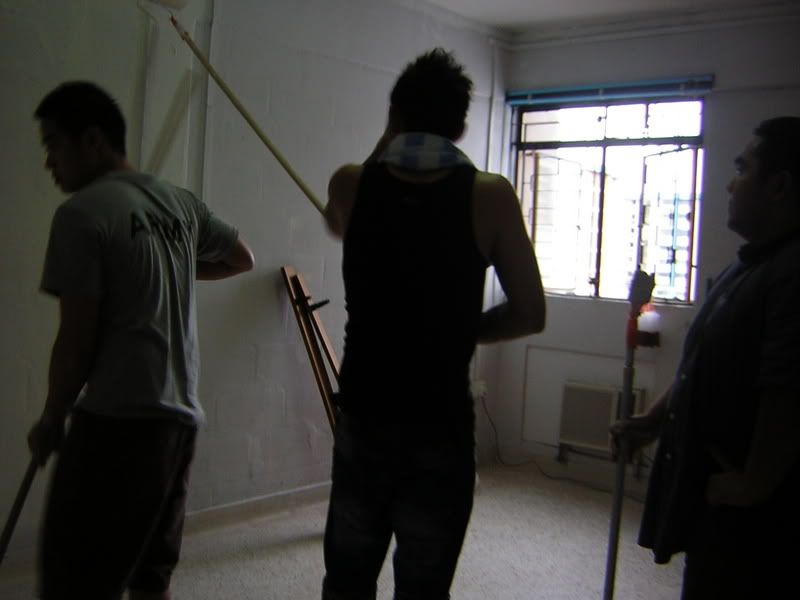 julian, jeremy and nick!

the pictures are kinda dark.. but oh well. and lots of black and white pictures too. hmmm. well i like them not only cuz they're artsy, but also cuz colored pictures sometimes turn out really unflattering with certain lightings. black and white pictures don't. anwaaay.
even MORE pictures!
me and kiyoko going hysterical at the back of the bus on our way to watching sophie scholl on a field trip. we had lots more of these photos but here are a few...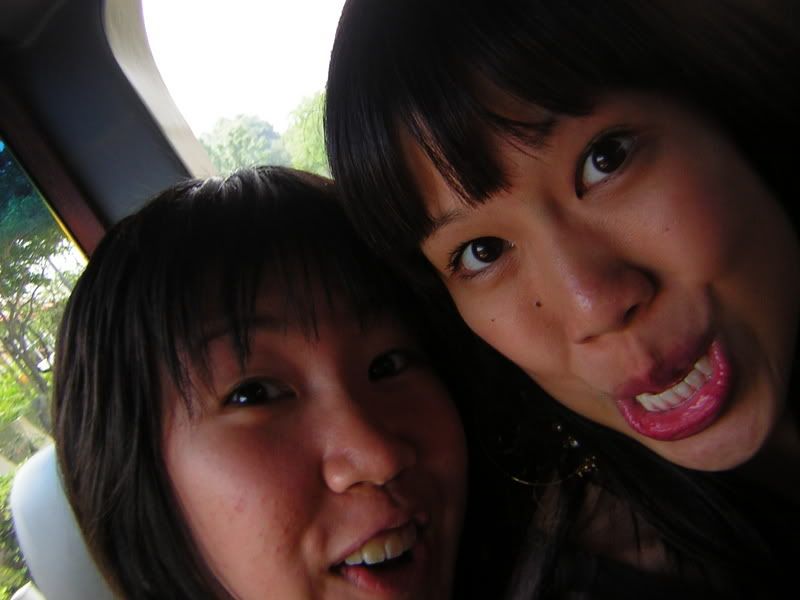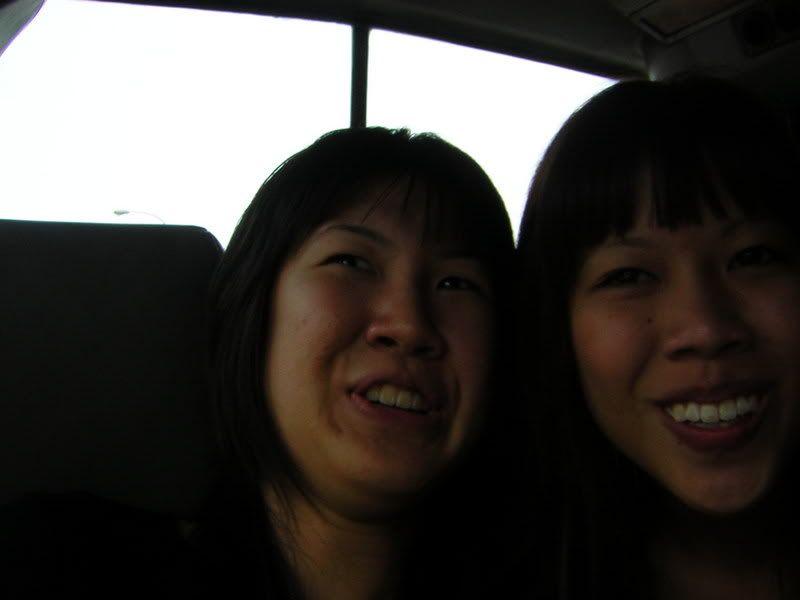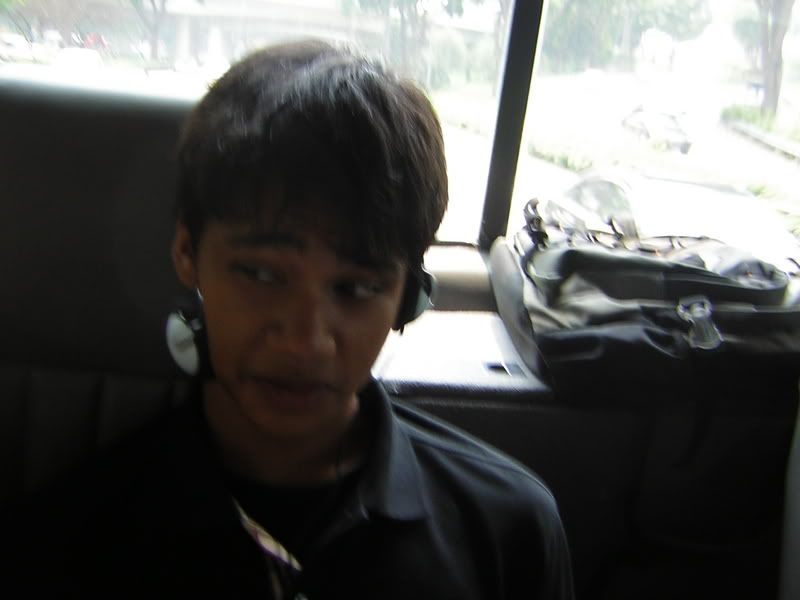 i LOVE kiyoko's face in this one. hahahahaha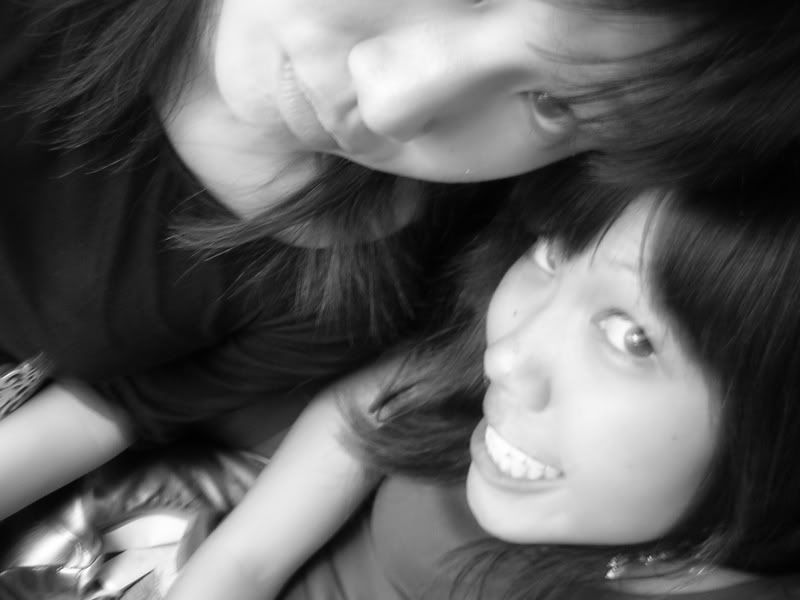 cutesy jap girrllsssssss.

well, i better go to bed.
goodnight! |
September 15, 2006
friday yay

a little snippet from my old old blog. i wrote this poem when i was craving ice cream, and when ruth was studying.. for something. that's right ruth you used to go to school! long gone are those days....

ruth if you were a...
cockroach, i will make snoopy eat you. (i hate cockroaches!!)
ruth, if you were a bird, i will feed you milo cereal instead of bird seeds.
ruth if you were a goat, i will feel you spicy lady's fingers instead of grass.
ruth if you were a butterfly, i would feed you nutella chocolate instead of flower nectar.
ruth if you were a bacteria, i don't think i'll even know you exist.
but i think i'll stick to you being human.

in study hall now. so so happy its a friday!
anyways, i had such a nice dinner last night with nick and jeremy at the cellar door. (so glad we went against the idea of eating at al ameen.)the service is really good and the fooood... *aahhhhh* yah, i really love that place. next stop: choupinette! for breakfast. i want my nice hot cup of english breakfast and bread. or pastry. whatever they have there. everything looks so good. and maybe a nice boook. i wanna indulge in more donald miller.
aw man, now i wanna be there. just sitting there and relaxing instead of sitting in class. of course.
okay, better go. |
September 14, 2006
function not fashion! for once.

i absolutely, absolutely adoooore this photograph.
the lamp in the corner as a makeshift sun is so cute, and i love the houses. i really love it.
i've been browsing through deviantart for the past half hour and i realised how much i love photography. all my added favorites are photos. and i can't get enough of them. now i'm really wanting a good camera. not a dinky little digital camera with the most minimalist functions that looks cute. i want FUNCTION. this time, I WANT FUNCTION. |
September 12, 2006
snowflake

hola!
i just made this snowflake in autocad.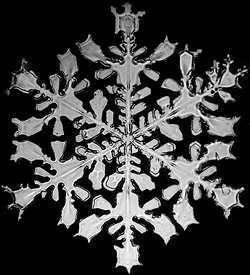 (i looked at this picture for reference)

twas the funnest assignment. can't wait to start on houseplans and stuff. autocad is soo easy to get the hang of. fun funfun fun! and mr. martin is such nice teacher.
i had such a horrible dream of my mom last night. she was in a wheelchair and she was really really sick. horrible dream. i can't wait til she comes back from japan. which is tonight! and tonight is oysters and beer with nick and teri. yaaay. |
September 08, 2006
ahlo

i'm at the church office now waiting to meet nick for dinner. and i read my old posts from this blog AND THEN i went back to reading the first set of archives from the chickencootiepower blog (me and ruth's really old blog) and my goodness we sound sooooo different! i still used "lol", and i guess i was quite obsessed with going online so i would type a post just to say that there are 10 people online but i'm only talking to 2 people and who those 2 people are... hahahaha brainless but those were fun days. and i don't think there was a single "deep" post i made on that blog.
well, today i had to skip soccer... which was sad cuz my bruise isn't going away. and basketball games start next week. wah lau wah lau. but i only had 4 and a half hours of sleep last night so probably would have almost passed out or passed out if josh made us play like last week! plus some of the girls are at the retreat so that would have meant A LOT more running. my stamina is equivalent to NO BRAND BATTERIES! i need more protein maybe. i've been learning that in anatomy. cuz we're right now going through the chemistry part. so protein's a catalyst for releasing energy or something? something like that. anatomy class is fun. mr. goode cracks me up everyday. picture day yesterday. i hope that this year will be the year that my pictures actually turn out good. there hasn't been ANY year after being in ics for 6 years where i had good yearbook pictures. none. sooo i'm counting on this year. and i did a fierce beauty look in one of them. if you've never ANTM you wouldn't know what i'm talking about. speaking of ANTM, its been crappy. the season with brittany was the best. i can still quote her haha.
wellllllll, my mom is in japan now. my brother is in indonesia. my dog is at some other family's house. so its gonna be just me and my dad at home til sunday night. i really wish i was in japan too right now. the weather must be so nice. and its autumn.. must be so beautiful. that's one season i've never experienced. japaaan... i'll probably be going during thanksgiving, so i can't wait. and jeremy might come along too so its gonna be so fun! and i wanna look at universities there. can't wait. |
September 05, 2006
any given day

I want to write a song
But my soul is trapped in this body
This body with music trapped in its fingers
These calloused fingers,
they feel so incapable
Incapable of playing more than the chords they already know
Incapable of writing a song worth singing
These calloused fingers,
they should be flipping thrugh the pages of Huckleberry Finn
But right now,
They'd rather be playing tunes they'd forget by tomorrow
Playing tunes to the words they'd forget by tomorrow

...some poem i wrote a long time ago while i was procrastinating with english homework. haha.
i still haven't gotten to write a song. i really want to but its so hard. it must be such a nice feeling making up a tune no one else has before (esp if its really good) and then putting words to it. i admire people who can do that.
anyways, once again, i've been reminded of selfishness during the past week. how selfishness ruins relationships and ruins yourself. because that wasn't what God created us for. He didn't create us for ourselves, but for HIM. what's the use of living solely to feed our desires? that's not where joy is found.


It is absolutely clear that God has called you to a free life. Just make sure that you don't use this freedom as an excuse to do whatever you want to do and destroy your freedom. Rather, use your freedom to serve one another in love; that's how freedom grows. For everything we know about God's word is summed up in a single sentence: Love others as you love yourself. That's an act of true freedom. If you bite and ravage each other, watch out - in no time at all you will be annihilating each other, and where will your precious freedom be then?
My counsel is this: Live freely, animated and motivated by God's Spirit. Then you won't feed the compulsions of selfishness. For there is a root of sinful self-interest in us that is at odds with a free spirit, just has the free spirit is incompatible with selfishness. These two ways of life are antithetical, so that you cannot live at times one way and at times another way according to how you feel on any given day. Why don't you choose to be led by the Spirit and so escape the erratic ccompulsions of a law-dominated existence?
- Galations 5:14-18 (from The Message version)

well, i missed school today! haha i absolutely could not wake up this morning. had a really long talk with isaku last night, and it was definitely worth staying up.
the word "disillusionment" has been swirling around in my head the past few days. how something good can immediately become a disappointment once disillusionment comes in. and disillusionment, is it true? i think its usually the truth that disppoints us. disillusionment is a type of truth that awakes us to the ugly side of reality. i'm the kind of person who dreams (sometimes pretty unrealisitically) a lot, so disillusionment is extremely hard to handle. but it'll never ever stop me from dreaming. it's too fun :)
i'm just in the mood to ramble right now. just letting my thoughts flooow. and i miss jeremy. it really stinks having to talk to him on the phone and not be able see him. isaku's watching armegeddon right now. can't see the tv but the background music is very dramatic. its okay, it kind of matches this post. hahaha.
dang it, i wanna be in the movie right now.
i wanna be in a super sappy and dramatic scene with tears in my eyes saying lines like "daddy don't go."
my mom said i can have a vespa when i go to japan. yay! i'll be riding around tokyo in my vespa. i need to graduate NOW.
just kidding, school's been pretty fun actually. soccer was fun to the MAX. even though i got my shin hit pretty badly i couldn't walk that night. its all purplegreenandblue now. didn't think girl's soccer would be that violent. but it's the only time in my life i have a good reason to be violent i guess. it was sooo fun. i realised how much i love it more than basketball. basketball's kinda blah for me to be honest. but SOCCER.. *squeal* hahaha okay...... anyways.
another picture of me and jeremy :) i am wearing swedish colors.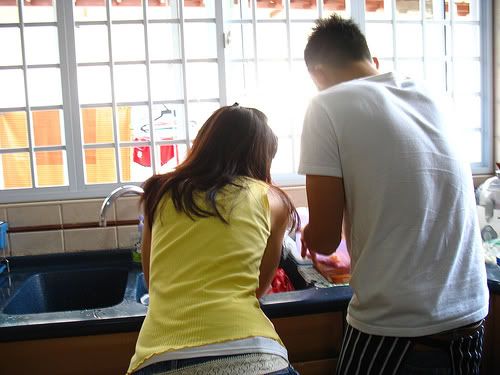 |
September 04, 2006
maybe...

i'll just put two pictures up first!
hahaha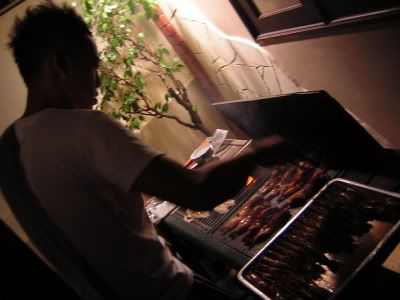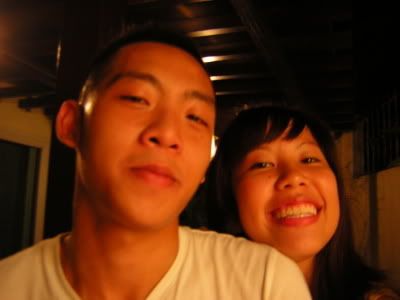 |
September 03, 2006
arty tarty

hola!
i'm gonna show off two of my latest art. midterm grades are due tomorrow or something so i had to get 3 done during this weekend. i've only got two so far. late night tonight baby.


tap by ~imugem on deviantART

more from my kitchen by ~imugem on deviantART

the second one's kinda dark but that's cuz of my camera. its actually brighter. but yes, these two were something different for a change; never done paintings like these before.
(oh and if the pictures don't appear, try hovering your mouse over the title at the bottom)

other than staying at home painting this weekend, there was a barbeque at jeanne's house saturday night. the food was amaaaazing. nick and jeremy were the chefs, and this barbeque wasn't your cliched frying sausages and chicken wing barbeque. i ate til i looked 2 months pregnant i think. i had so much fun :) i have pictures so i'll put them up later. i'm too sleepy right now to be staring at the computer and waiting for photobucket to upload them. too slow.
oh! and i'm gonna inherit my dad's current ibook. we signed up for better broadband (the one where its wireless internet air) and singtel's giving away free ibooks so my dad got one. i have a laptop now!
nick preached today, good job nick. everything was such a good reminder for me. and japan burnt in my heart when you said thailand burnt in yours. God has huuge plans for us. it is so exciting.
well, i could go on about some more but i should sleep. i'm so so so happy that its a half day tomorrow!
goodnight. |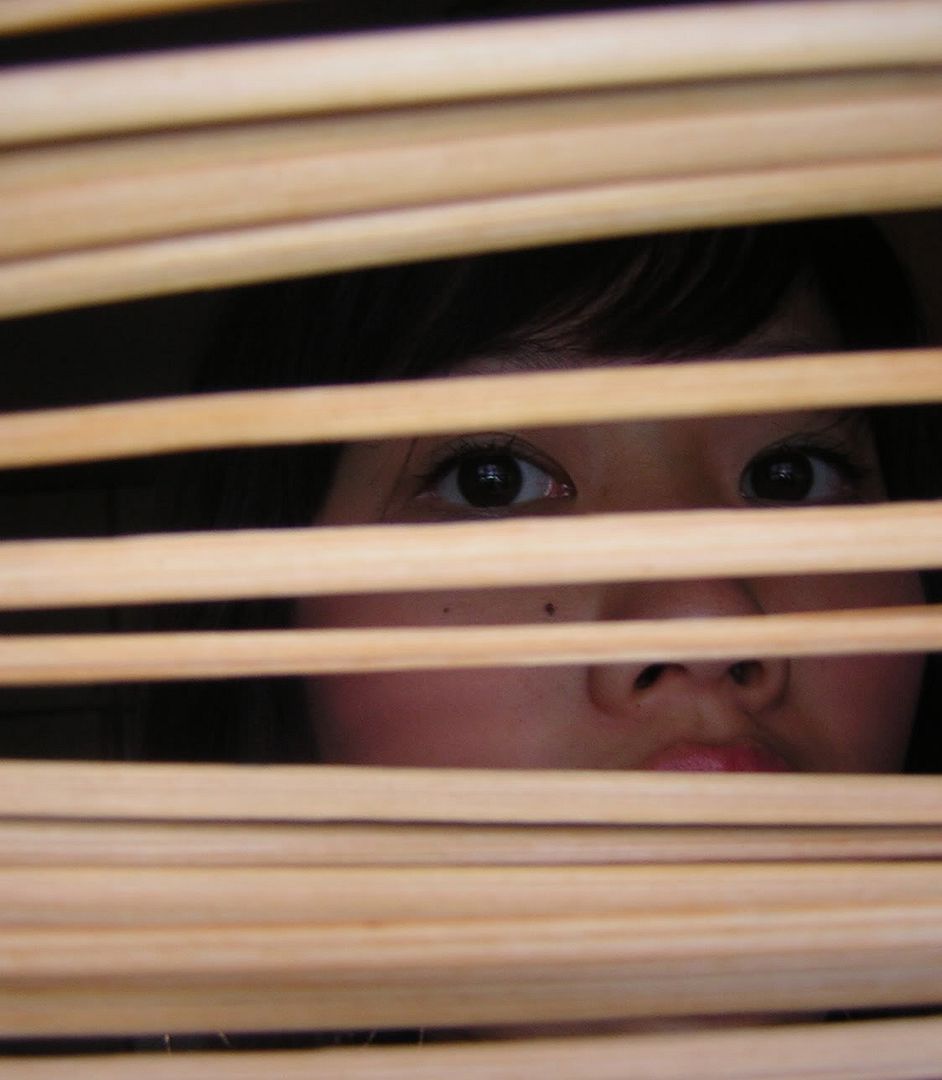 What goes "oom oom"?